Fujifilm X30 mirrorless compact camera review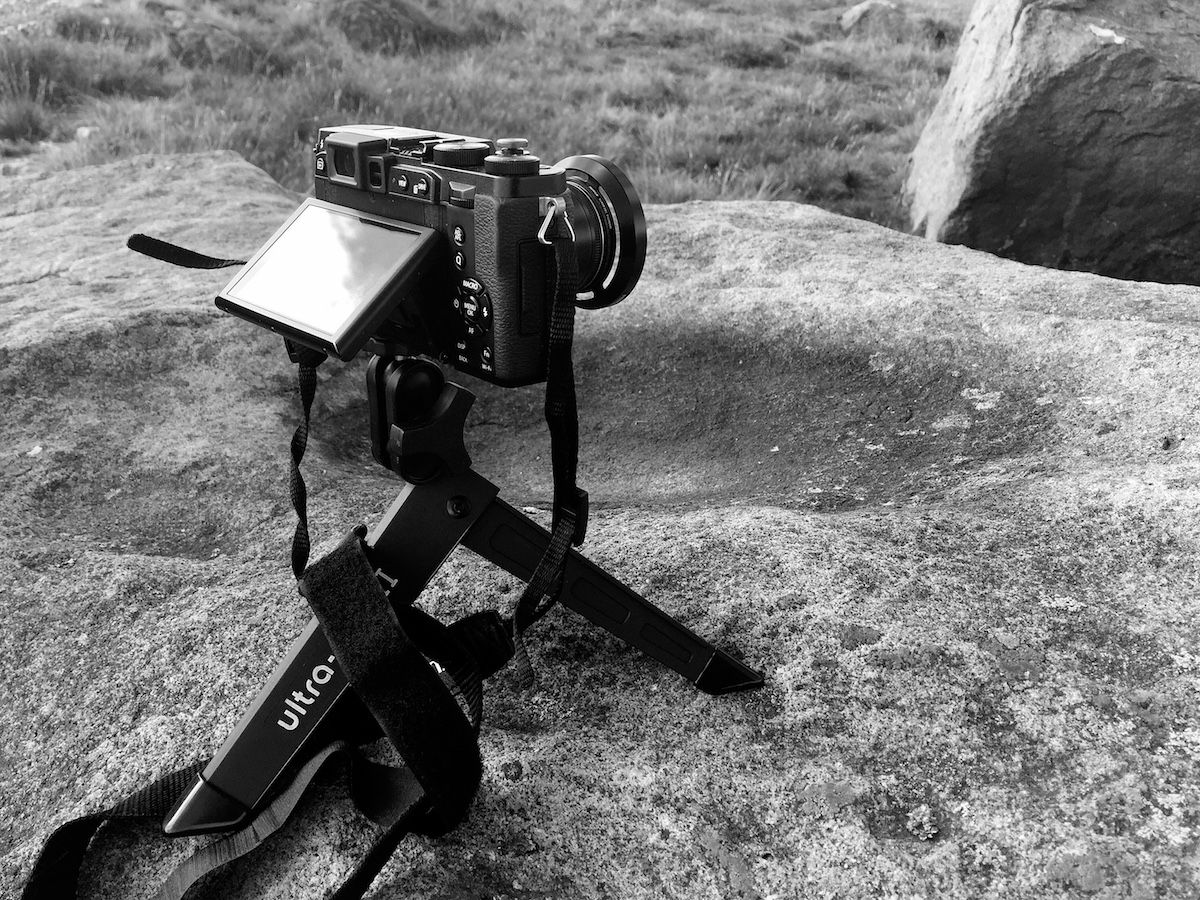 The Fujifilm X30 is a compact camera in Fuji's 'X' series of professional and enthusiast mirrorless cameras. While the X-Pro1, XT1 and X100T occupy the top of the range, the X30 brings up the rear – but is it a capable camera in its own right? I put it through its paces in the Yorkshire Dales to find out.
The hallmarks of the X series are excellent design, traditional manual controls, metal construction, and – above all – small, perfectly formed cameras that are easy to carry about and a pleasure to shoot with. They have been called 'retro' designs but I think that demeans what Fuji has achieved with this series. A physical dial is almost always easier and more intuitive to use than buttons or a touch screen.
The Fujifilm X30 is a fairly chunky compact camera equipped with a 28-112mm (35mm equivalent) fixed zoom lens at f/2–2.8 and a 12MP 2/3-inch sensor. Other features include a tiltable LCD display, WiFi, an advanced electronic viewfinder, USB charging, forward control ring, and two dials on the top plate to control the camera mode and exposure compensation. Sadly, it lacks the traditional shutter speed dial that many of the other X series cameras have resurrected from the film era. On the other hand, photographers from the digital age are more likely to be familiar with the standard settings of Program, Manual, Aperture Priority, Shutter Priority, and Scene Modes. It's a matter of personal taste. Considering the lack of dedicated manual aperture ring on this camera, it makes sense to omit the shutter speed dial as well.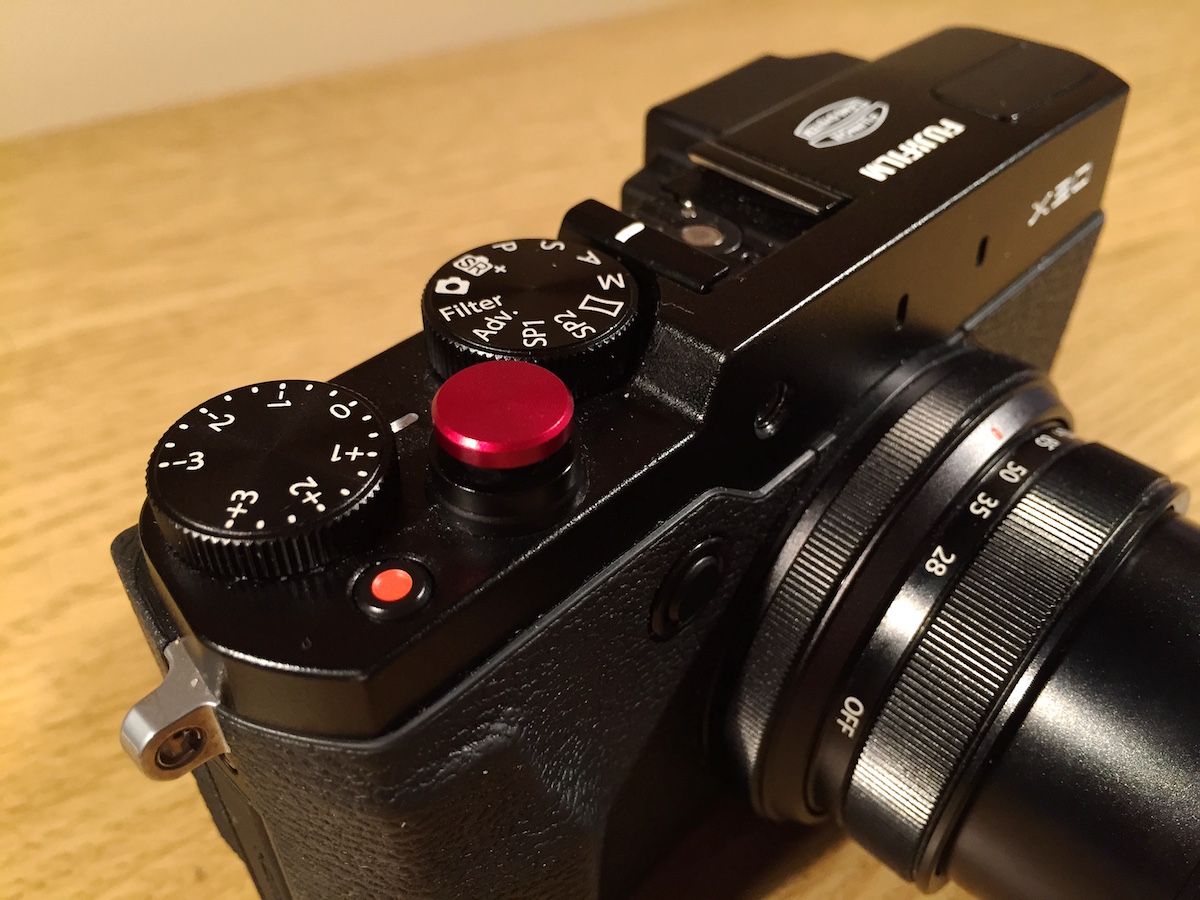 The body is styled like a classic rangefinder although some of the retro design cues in the X20 have been toned down a little, resulting in a design with clear nods to Leica and Olympus rangefinders of old, but with its own distinctive style. It feels absolutely amazing in the hand. The body is mainly made of metal, with a secure rubber grip that wraps around the sides. Every part of this camera is extremely well made. I chose the black version.
This is a small camera compared to film rangefinders or mirrorless system cameras, but it isn't a pocket camera. At just over 400g, most people will opt for a shoulder strap instead of a wrist loop.
One of the first things you'll notice when you pick the camera up is that the zoom lens is operated manually, twisting to zoom in and out instead of fiddling with a switch like on most compact cameras. I like the fact that twisting the lens to the 28mm position switches the camera on – there is no on/off switch.
Unlike interchangeable-lens mirrorless cameras, the X30 has a fixed zoom lens, but fortunately the lens you are stuck with is a quality piece of glass. f/2 at 28mm should be fast enough for most people. It could be faster to compensate for the poor low-light performance, which I'll come to later, but the lens is very sharp right to the corners and the optical image stabilisation makes it feasible to hand-hold remarkably long exposures, even when the lens is extended to full telephoto. Whether or not that trade-off is acceptable is up to the photographer to decide.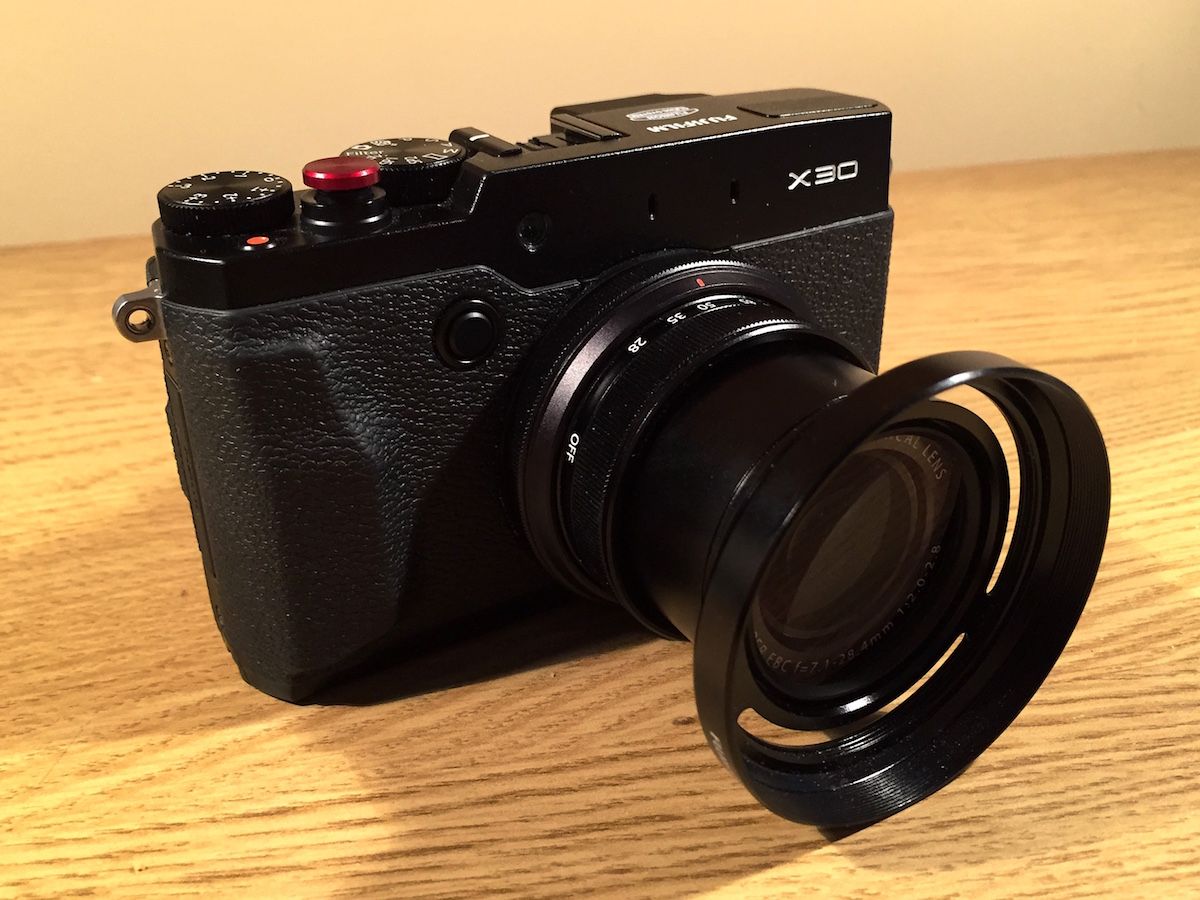 The camera handles extremely well while shooting. All of the controls fall naturally under your hands, and the EVF really is superb – it has 0.65x magnification and is perfectly crisp, with very fast response times. Given the amount of information it can display (exposure information, focusing scale, DOF, autofocus, live exposure preview, and virtually anything else) it's actually far better than any optical viewfinder I've ever used. The EVF is a major factor contributing to the success of the overall package.
You can also compose on the tiltable LCD monitor, which displays exactly the same image as the EVF. It doesn't fully flip out but can tilt up or down, which can be useful – especially when shooting from the hip, or using a pocket tripod. You can set up the camera to automatically switch to EVF when you raise it to your eye. This is the mode I have it set to by default. The 'view' switch cycles between these modes; another useful setting is for both EVF and LCD to be off by default, but to switch the EVF on when you raise the camera to your eye. This can save a dramatic amount of battery power.
The X30 includes most of the controls you would expect to find on any other mirrorless camera or DSLR. Many of the buttons are user-programmable; I've configured the right-hand button on the arrow pad to select ISO, and the bottom one to change the autofocus point. The front control ring's function changes depending on which mode the camera is set to. In Aperture Priority, for example, it changes aperture – but only when the camera is in autofocus mode.
When manual focus is selected the control ring is always used for manual focus. This is actually a little confusing and poor interface design because it violates the rule of predictability. If the function of a control constantly changes due to other variables then it's less easy to use. My preferred setup would be the traditional separate aperture and focusing rings. Most of the more advanced X series cameras use this configuration, and I wish the X30 did too – but maybe it would add bulk to the camera, which wouldn't be a trade-off worth making.
Manual focus is easy with the X30. The combined focus and DOF scale in the viewfinder contributes a lot to the manual focusing experience. You can also activate 'focus peaking' which highlights contours currently in focus with a colour of your choice, but I find this highly distracting and prefer the default focusing mode.
Autofocus is very fast and reliable – much better than any other camera I've used. It makes a fast, accurate lock in almost any conditions. I prefer to select the autofocus point for predictable operation but the camera can be configured to intelligently select AF points. A button on the back can be used to lock exposure, autofocus, or both (I use it as an AF lock).
Taking pictures is a pleasure with the X30. Twist lens to turn on, compose with the excellent viewfinder, set exposure with the traditional dials and thumbwheel if necessary, and squeeze the threaded shutter release. If you switch off the artificial shutter noise, the camera makes an almost inaudible tick when the shutter fires. It's fast and inobtrusive. For most purposes I keep the camera in aperture priority and f/4.5, which seems to give optimum sharpness and depth of field due to the small sensor, but I will of course open up the lens in low light or when I want to achieve bokeh effects. You can stop down as far as f/11.
Now, what about that 2/3-inch sensor? For this class of camera, you might reasonably expect a 1-inch sensor – or even Micro 4/3. The 2/3-inch sensor in the X30 has remained more or less unchanged since the first model, the X10. Naturally, absolute image quality is not going to be up to the standards of something equipped with a larger sensor.
But pictures taken at ISO 100-200 have very tightly controlled noise and, actually, the image quality can be superb if you shoot in raw. This is where the combination of a great fixed lens and the mirrorless design comes into play. With no mirror to slap up and down, and effective vibration reduction, it's possible to hand-hold slow exposures – and almost every image is extremely sharp. I was pleasantly surprised at the quality this camera can produce under the right conditions. I'm mainly a mountain photographer, and in good light at ISO 100 I have no doubts that this camera can produce technically very good, publishable photographs at A4 or larger sizes.
What about in low light? Here's the bad news. I've found that ISO 800 or above will introduce noticeable grain, and some noise can even be seen at 400 in dark areas of a picture. If you need noise-free images at higher ISOs then this just isn't the camera for you – spend more and get a Sony RX-100 IV or even a Fujifilm x100T.
On the other hand, grain isn't always bad if used wisely. In monochrome images it can give character and structure.
To minimise these limitations, shoot in raw. Jpegs straight from the camera can look great, but in raw you'll have more creative control after making the exposure – and you'll be able to pull far more detail out of blown-out highlights and very dark shadows. The final result is usually far cleaner and sharper too. To make the most of this camera's abilities you really need to be shooting in raw.
There are other drawbacks. You cannot access the high shutter speeds (e.g. 1/4000) at the wide apertures, which is inconvenient when you consider that there is no built-in neutral density filter. That means you will have to use a physical ND or polarising filter to use the lens wide open in bright sunlight. Also, there is no bulb setting – the camera is limited to a maximum shutter speed of 30 seconds. Combine that with poor performance at high ISOs and I'm sure you can see that this is not a camera for astrophotography. It can produce passable results in the right conditions but there are far better options for this kind of work.
The camera supports USB charging but does not come with a dedicated battery charger, which some photographers may find a pain. For my needs it's actually a great feature as I prefer to recharge on the go with portable power banks. Battery life is excellent at 450+ shots per charge – more if you use power-saving mode or use the displays as economically as possible.
Physical filters are a pain to find. The camera uses the decidedly non-standard 40mm screw thread. I managed to find a protector UV filter and lens hood, plus a polarising filter, but good luck finding anything else. You can add a step-up ring to a more standard filter size, but if you start adding too many bulky things to the front of the camera you will spoil the advantages of such a compact frame. The only accessories I use are a low-profile slotted lens hood, a UV filter, and circular polariser (I don't use a lens cap). The Mirrorless Mover V camera bag by ThinkTank is just the right size for the whole rig.
Conclusion
If you need a camera capable of technically perfect image quality in low light, look elsewhere. If you need interchangeable lenses, access to the 1/4000 shutter speed at any aperture, and a built-in ND filter, this is not the camera for you either.
But if you want a camera that includes many of the most advanced features from modern mirrorless cameras, with an excellent lens and truly beautiful handling – but at an affordable price and in a more pocketable format – then you will get on well with the X30. It's so fun and pleasurable to use that I find myself carrying it everywhere and shooting with it far more often than I would with a bigger camera. Regardless of specs or sensor size, the camera you have in your hand is better than the camera you left at home, and I've found that the X30 is actually capable of producing superb images if you work within its limitations.
Don't get hung up on sensor size, ISO performance or the shouting matches about specs and brands you read online. Those things don't matter. What matters is that this is a great camera that shoots well and will give you sharp, beautiful photographs.
I would class this as an advanced enthusiast camera, but a professional could get a lot more out of it. It's a great fit for a mountaineer and backpacker who seeks to take photos for published articles – which is the category I fall into, as it happens. There are better options out there if you have more money to spend, but for the price I think the Fujifilm X30 is hard to beat.
Disclaimer: I purchased this camera with my own funds and have no relationship with the manufacturer.
Alex Roddie Newsletter
Join the newsletter to receive the latest updates in your inbox.
Comments