Digital navigation in TGO Magazine – a response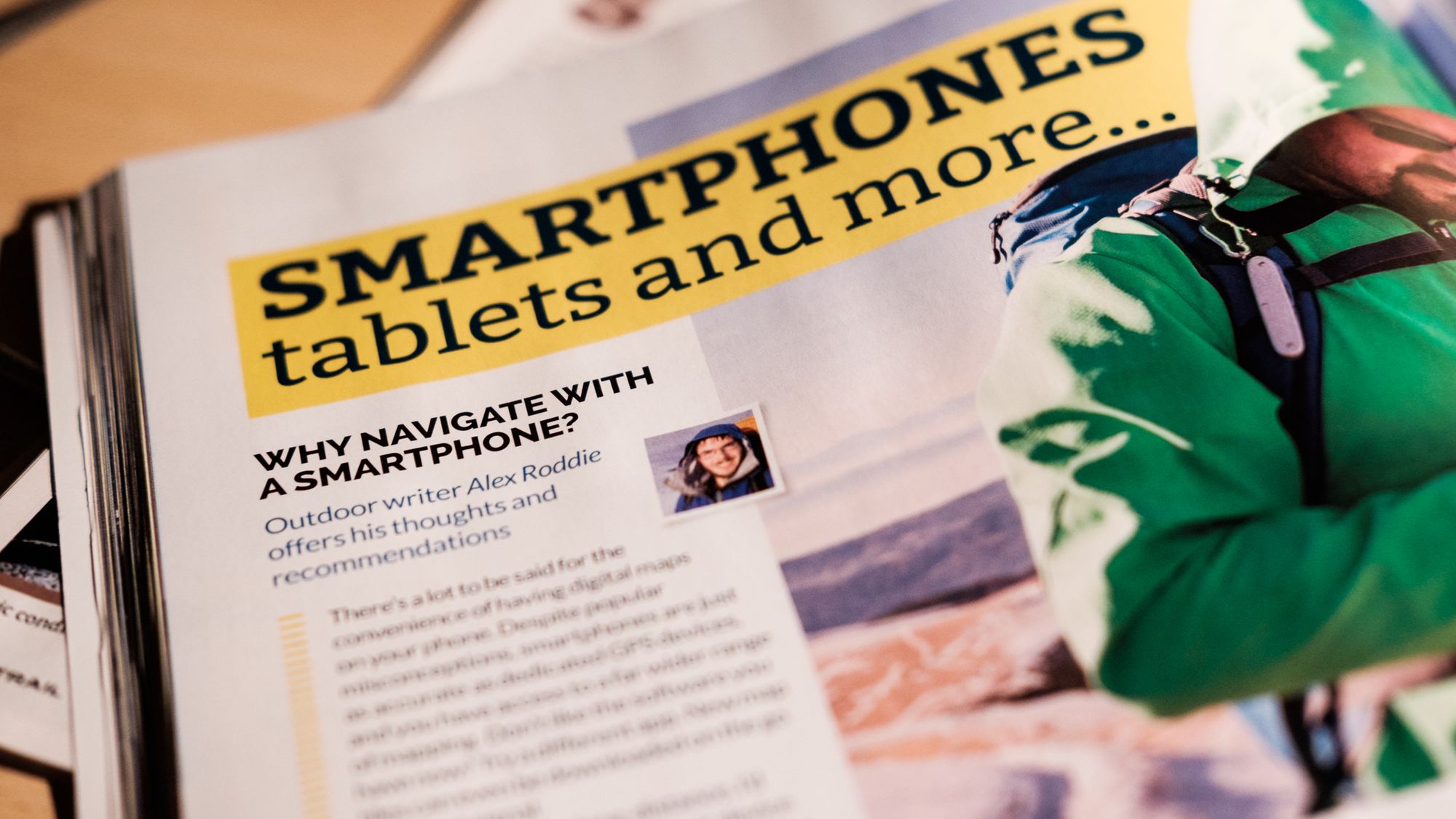 In the November 2016 issue of TGO, I contributed to a technical article on using smartphones for navigation on the hill. As ever, this remains a contentious subject. I was interested to read a letter from Colin Fisher, published in the January 2017 issue, and he makes a number of good points about the subject that I'd like to respond to here.
Here are the relevant portions of his letter:
Having read your Guide to Digital Navigation in the November issue, I would like to make some comments. I'm not an outdoors expert and I don't question what your correspondents wrote but I do have some personal thoughts, which I would like to share.
…
I am not technically competent to disagree with your comment that a phone GPS is just as accurate as a dedicated handheld. What I will say is that the accuracy greatly depends on where the GPS is carried. If a GPS/phone is carried inside a rucksack or even a pocket I do not believe it will be accurate in determining distance travelled and hence making a track. … Readings from friends' phones using well-known apps tucked inside pockets and rucksacks were way out of kilter in terms of distance measured. Making a reading of the exact location I'm sure the phone GPSes were more than sufficiently accurate.
I have my GPS on all the time and getting a location is not my main priority. I am setting out a track of where I have been. At any time I can instantly get an accurate position location. I do this so that if I have to find my way back I follow the track that I have recorded on my GPS.
…
A good GPS handheld can be safely hung on the rucksack in a position that can be easily to hand. … I have used my phone with a GPS map on an evening stroll in Northumberland: brilliant, except that my battery usage plummeted severely and when it began to rain the dampness on the screen rendered it almost impossible to use.
I would rather have a dedicated GPS specifically designed for the job than a high quality phone with a GPS app. You can't phone for help if your phone battery dies or if you drop it. If my GPS goes faulty I still have my phone and my GPS app to fall back on.
First, thanks to Colin for responding in a reasonable and intelligent manner. I think this letter highlights the fact that different people use GPS systems in different ways. Colin is a fan of keeping the GPS signal permanently connected in order to record tracks. This is something that a traditional GPS unit, with its low power draw, still does better than a smartphone. In the guide to digital navigation, Alex Parmenter from Glenmore Lodge specifically advises against recording tracks, and to use the 'single fix' function for quick position checks. This is how I use ViewRanger on my iPhone. I have successfully navigated with a smartphone for up to a week on a single charge, but if I'd been recording tracks that figure would have dropped to only a few hours. It's also very important to take the other power-saving steps outlined in that section of the TGO guide.
It's also true that storing a phone in the middle of a rucksack might affect accuracy if you're recording tracks. This is where the huge variation in smartphone hardware comes into play. Better, newer, more expensive devices tend to have very stable GPS connections even with stored in a pocket or in the top of a rucksack, but the accuracy of any device will suffer if bundled up a coat under a food bag. However, Colin makes an excellent point that dedicated GPS units can often simply be hung on the rucksack, because they're rugged and waterproof. This will improve signal. Even with a waterproof case, most people would be reluctant to treat their smartphones in the same way! I normally carry mine in the hipbelt pocket of my rucksack.
In my section of the article I mention that 'I still use a basic wrist GPS in winter, though. Touchscreens can be hard to use in the wet or while wearing gloves, and I'd rather have something simple that runs on Lithium AAA cells in very cold conditions.' The fact is that no one device perfectly fills every niche just yet. Although a smartphone is a competent digital navigator 95% of the time (as good or often better than a dedicated unit), there are still some niche circumstances in which a traditional handheld or wrist GPS will be better: when extended battery life is required for recording tracks, in extreme weather conditions, or when wearing bulky gloves. That's why I still use a Garmin wrist GPS in winter.
If recording tracks is something you do all the time on the hill, then I'm in complete agreement with Colin: a dedicated GPS may be a better fit. But if you rarely record tracks, if you're careful with power consumption, and if you know how to keep your device safe, there are many advantages in using your smartphone for digital navigation in the mountains.
Alex Roddie Newsletter
Join the newsletter to receive the latest updates in your inbox.
Comments