Backpacking in the Alps – a mini-guide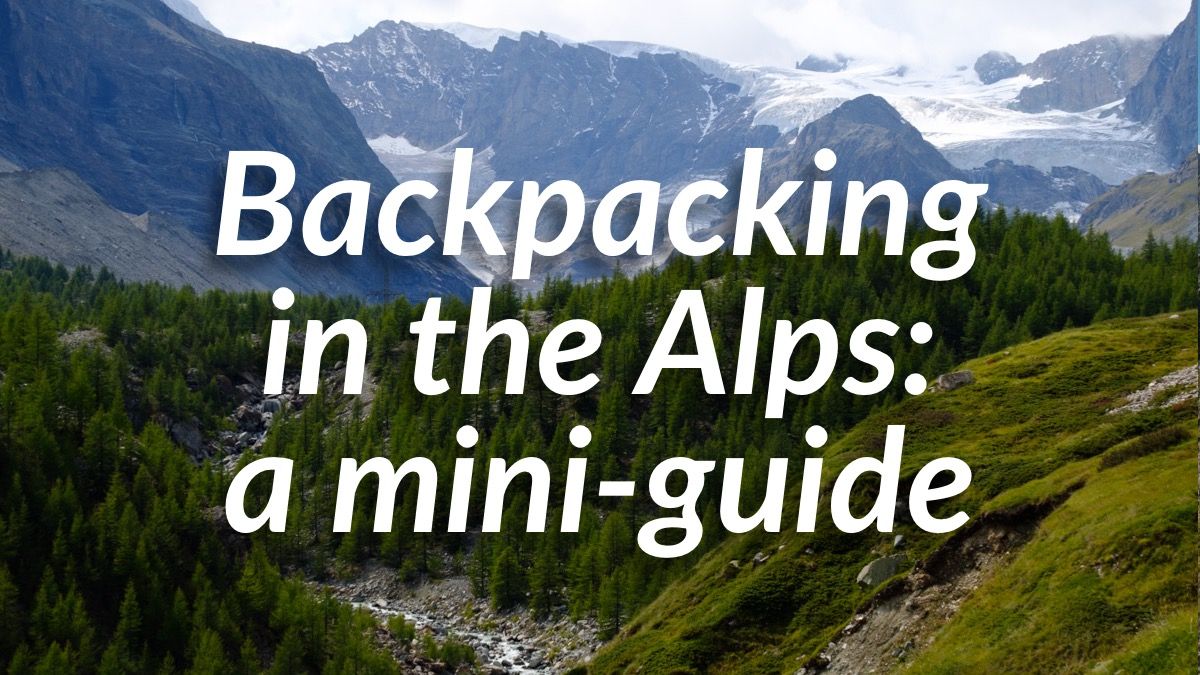 E-BOOK DOWNLOAD LINKS:
If you're a British backpacker looking to head across to the Alps for the first time, it can seem daunting at first. Here's my mini-guide to enjoying the Alps on foot with a rucksack.
This guide can be enjoyed either right here on the web, or as a discrete e-book. Use the e-book download links above to get a copy for your device. This guide is Reader View friendly on Apple devices.
Definitions and terminology
Before we begin, what do I mean by the Alps?
Broadly speaking, the Alpine mountains form Europe's backbone. They cover a huge area and a diverse range of landscapes, from the jagged, glaciated 4,000m peaks of the Valais to the lower elevations of the Eastern Alps – not forgetting the limestone spires of the Dolomites. Most of the guidance in this article can be applied to all of the Alpine areas, but my experience is mainly concerned with the Western Alps, so that's where I'll be focusing on.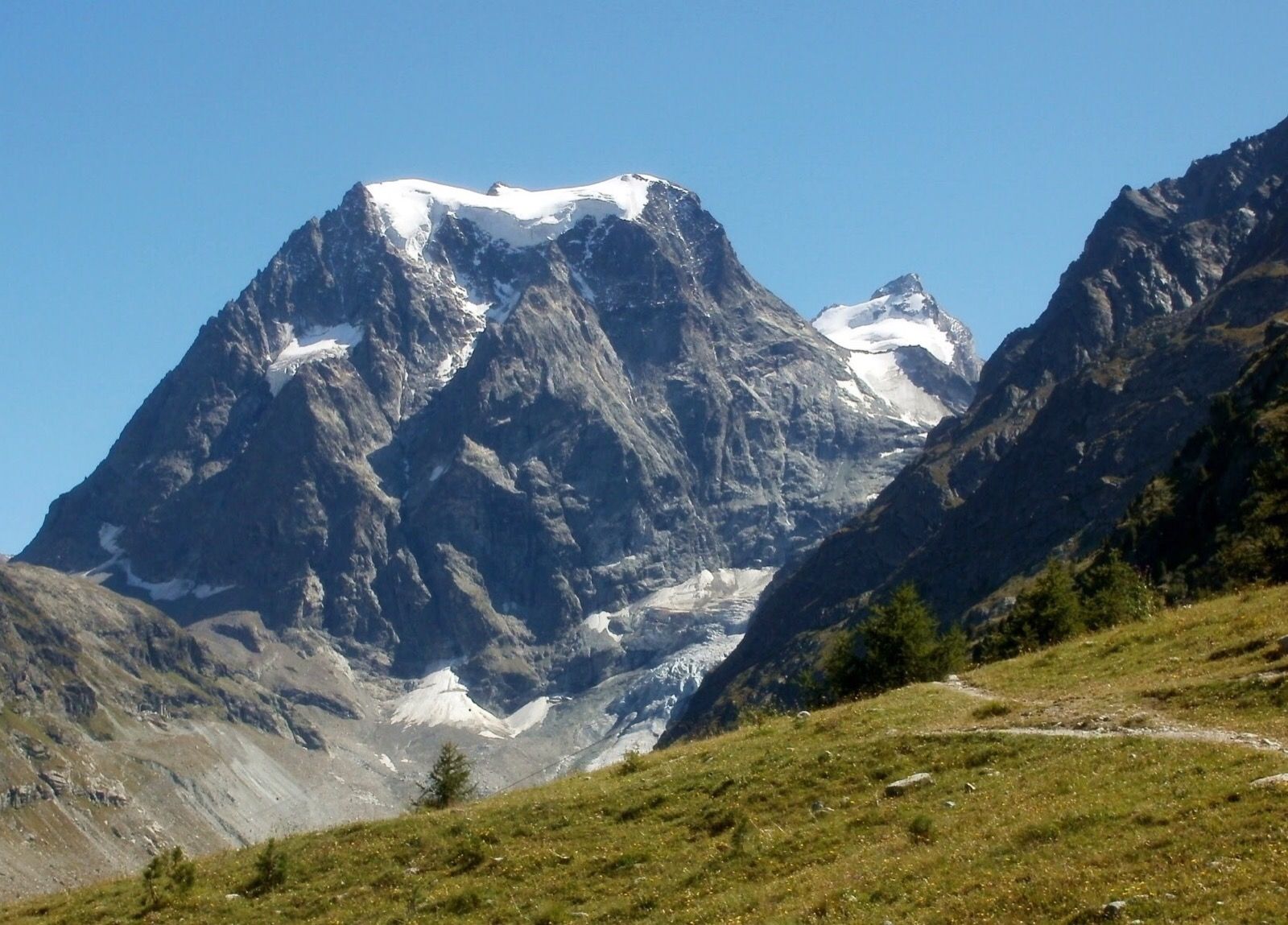 Although the potential for backpacking in other regions is limitless, I think there's an advantage in examining the heavily glaciated areas – this is often the most difficult terrain to cope with as a backpacker, and if you can travel long-distance in the Western Alps, you can probably do it anywhere.
This guide assumes you have experience of backpacking in the UK.
Why you should go backpacking in the Alps
In 1861, the mountain writer Leslie Stephen called the Alps The Playground of Europe, and it's easy to see why. The Alps are high and comparatively wild, yet they're in Central Europe, easily accessible from many countries. Every level of challenge and commitment you could wish for is represented in this landscape. If you want easy valley walks with stunning views, look no further. If climbing technically challenging high-altitude summits is what gets you fired up, you could spend a lifetime doing so in the Alps. And if you love nothing better than travelling long-distance from A to B through a varied mountain landscape, it's difficult to think of a better place in Europe.
I think the Alps offer a taste of big mountains without the commitment of genuine wilderness. For the budding wilderness traveller, with ambitions to visit genuinely remote parts of the world, the Alps offer an ideal training environment before taking the next step to bigger things. And for the rest of us – mountain lovers, wanderers, seekers of enchantment – it's a wonderful place to enjoy in its own right.
Is it wilderness?
Let's address the elephant in the room. I often call the Alps wild, and they are – when you're miles from the nearest road, on a glacier in a storm with darkness bearing down on you, it can feel like the ends of the Earth. But the Alps don't qualify as wilderness. Humans have lived, worked and travelled here for thousands of years, and they have left their mark everywhere. The highest and most technically challenging mountains were first climbed by 19th-century explorers with very primitive equipment, and even difficult glaciated passes were often in common use centuries ago. Today, almost every valley is heavily developed (often ski developments, energy infrastructure and tourism). As we'll find out later on, this can be both good and bad for the long-distance backpacker.
There are pockets of wilderness to be found here and there, and they can be enchanting. But don't be deceived – this is not a pristine environment.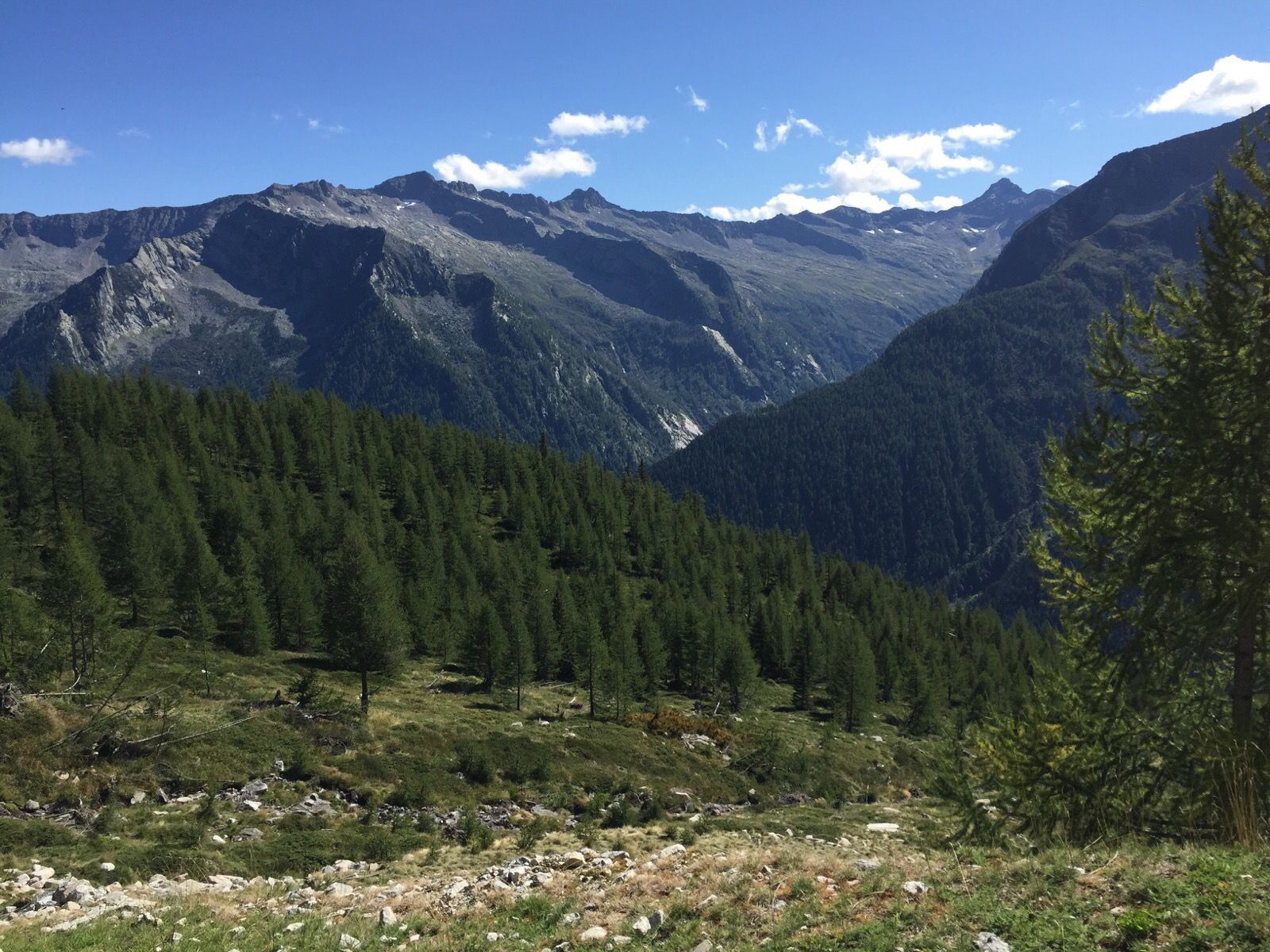 Wildlife and ecosystem
The Western Alps may be developed, but parts of these mountains are still host to relatively diverse ecosystems compared to the British hills. Due to the extreme ruggedness of the terrain, many of the upper forests remain packed with mammal, bird and plant species. It's a very different picture to the depleted uplands of Britain. When I hiked the Tour of Monte Rosa in 2015, I was delighted to see golden eagles, lizards, vipers, ibex, chamois, foxes, marmots galore, and a vibrant carpet of mosses and small flowering plants. There were even rumours of a lynx on the trail.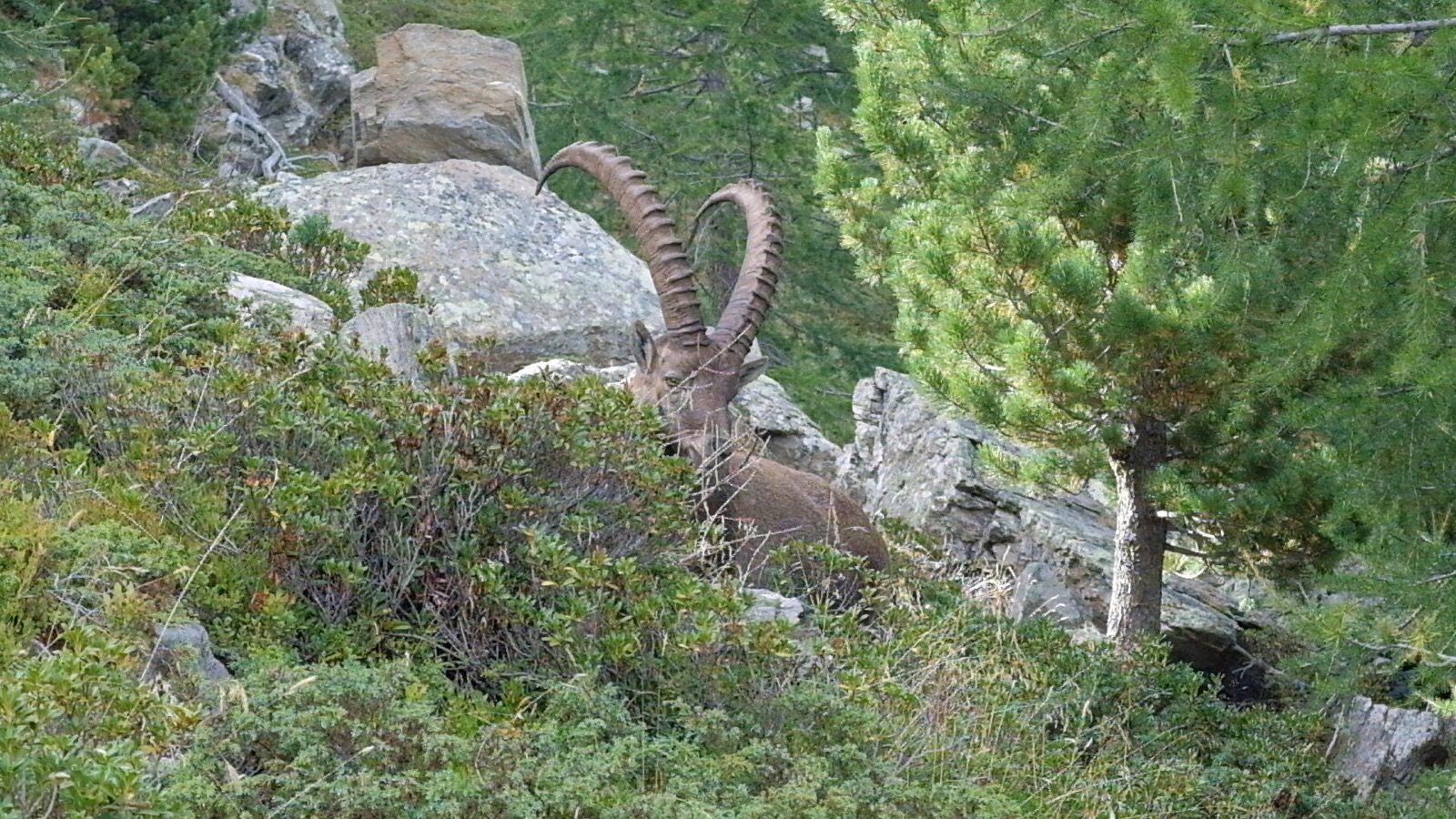 Of course, the gaps in the picture are just as conspicuous. There are wolves in the Swiss Alps, but they're extremely rare, as are bears. There are no bison or aurochs, and the vast majority of primordial forest in the valleys has been cleared.
The Golden Age of Alpinism
An appreciation of history often enhances the enjoyment of a long walk, and I think this is particularly true of the Alps. Wherever you wander, you'll be treading in the footsteps of the pioneers – not just the people who have lived and worked in these lands for millennia, but also the European explorers who surveyed and explored the high Alps in the 19th century.
Alpinism is the act of climbing mountains for its own sake. Alpinism began on the 8th of August 1786 when Jaques Balmat and Michel-Gabriel Paccard reached the summit of Mont Blanc, the highest point in Europe at 4,696m – an incredible and world-changing achievement. Tourism in the Alpine regions, especially Chamonix, gradually increased for several decades until a tipping point was reached in the early 1850s. By this time, Alpine trekking and glacier-walking was mainstream, but a new wave of exploration was about to begin.
The 'golden age' of Alpinism is commonly defined as the period from 1854 to 1865 in which most of the major 4,000m peaks of the Alps saw their first ascents – mostly by visiting wealthy Britons, guided by a new breed of Alpine natives who made a living from the mountains. The Wetterhorn was the first peak to be climbed in this period, and the Matterhorn famously the last. The golden age of Alpinism is often regarded as a British achievement – a function of colonialism and industrialisation – but in truth it was as much an Alpine achievement as a British one, because in an era without accurate maps and a far narrower margin for error than climbers enjoy today, no British explorer could have climbed an Alpine peak without his or her guides.
When you wander through the high Alps, learn about the remarkable adventures that took place 150 years or more ago. You'll look at the peaks around you with new eyes.
Do I need technical mountaineering skills?
As a backpacker, when you first start to think about the Alps, you might worry that you don't have technical skills you fear might be necessary. To think of the Alps is to think of glaciers, crevasses, huge walls of rock – beautiful, yes, but a forbidding and challenging environment compared to the British mountains.
The truth is that you may need some climbing skills, but it depends entirely on what you want to do. Later on we'll look at ideas for trips, and I'll demonstrate that while some routes require glacier walking and scrambling, some do not. The Tour du Mont Blanc, for example, is a popular long-distance walk with no technical difficulties. Other objectives, such as the Classic Haute Route from Chamonix to Zermatt, are more like long-distance mountaineering than long-distance walking.
The key is to be informed, and – if in doubt – to get the skills you need.
How are the Alps different?
If you're an experienced British backpacker who has climbed big hills in both summer and winter, you already have a good base of skills on which to build. The Scottish Munros are not as high as the Alps (we're talking 1,344m max compared to 4,000m and beyond), but they're still serious hills, and even in summer conditions they will prepare you well for non-technical Alpine routes such as the Tour du Mont Blanc.
The extra height is likely to be the first thing you notice, and for the long-distance walker this is arguably the biggest deal. On my last Alpine backpacking route, I was climbing and descending 1,500m or more a day, every day (and on one occasion 2,230m!). This was on a route with only one actual peak to climb. In the UK, you'd have to be enchaining multiple Munros a day to approach anywhere near this cumulative ascent.
So, if you want to train for the Alps, my first tip is this: do lots of really big hill days in Scotland. Do things like the Lochaber Traverse, crossing the Cairngorms via all the 4,000ft tops, or the South Shiel Ridge. Get used to big days with your rucksack on.
What about snow and ice?
This depends very much on your objective and the time of year. The Alpine summer walking season is, broadly, June to September. Outside this period you are likely to encounter problems with snow at much lower altitudes, and full winter conditions higher up. Even in midsummer, routes that go high enough will require some winter gear and the knowledge of how to use it.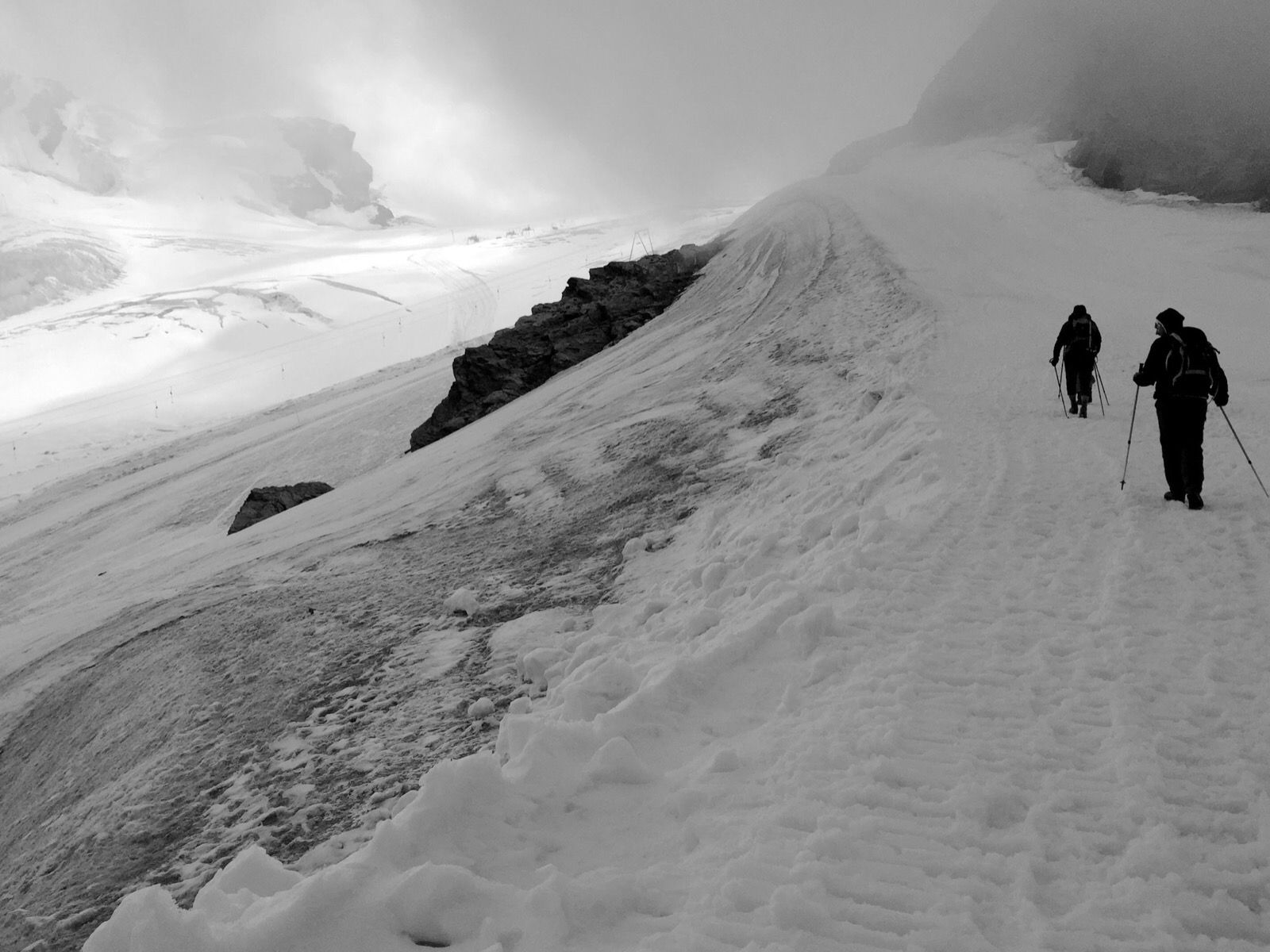 As a very general rule of thumb, in the summer season, you are unlikely to need ice axe and crampons unless you're going higher than 3,000m. Every route is different, of course, and some glaciers can be found at lower altitudes. This is where local knowledge is key. Some of the easiest glaciers can be safely crossed in trainers and with trekking poles; others might need Microspikes as well. Many glaciers require full-blown glacier gear. We'll come to that in a moment.
Above 3,000m, unless you know for a fact that your route sticks to rocky ground, it's a good idea to have Microspikes and lightweight ice axe at the very least. This combination can see an experienced climber safely over surprisingly challenging non-technical ground, but you do need to have the required skills. If you're experienced at climbing winter mountains in Scotland then you already have most or all of the skills you need.
If in doubt, go on a course. Don't be tempted to venture onto glaciated terrain without the right experience and equipment. It just isn't worth it.
Glacier travel
What about glaciers beyond the scope of trainers, axe and traction? How do you tell the difference? My rule of thumb is that if a glacier features notable crevasses and/or steep snow slopes, it's beyond what I can safely solo with lightweight gear. Terrain like this qualifies as Alpinism, not backpacking, and you will need mountaineering boots (rated B1 at least, light but crampon-compatible), full crampons, a harness, rope, technical hardware1, at least one climbing partner, and – here's the important bit – the appropriate training. Venturing onto technical glaciated terrain without a clue is a really bad idea and people have died making this mistake.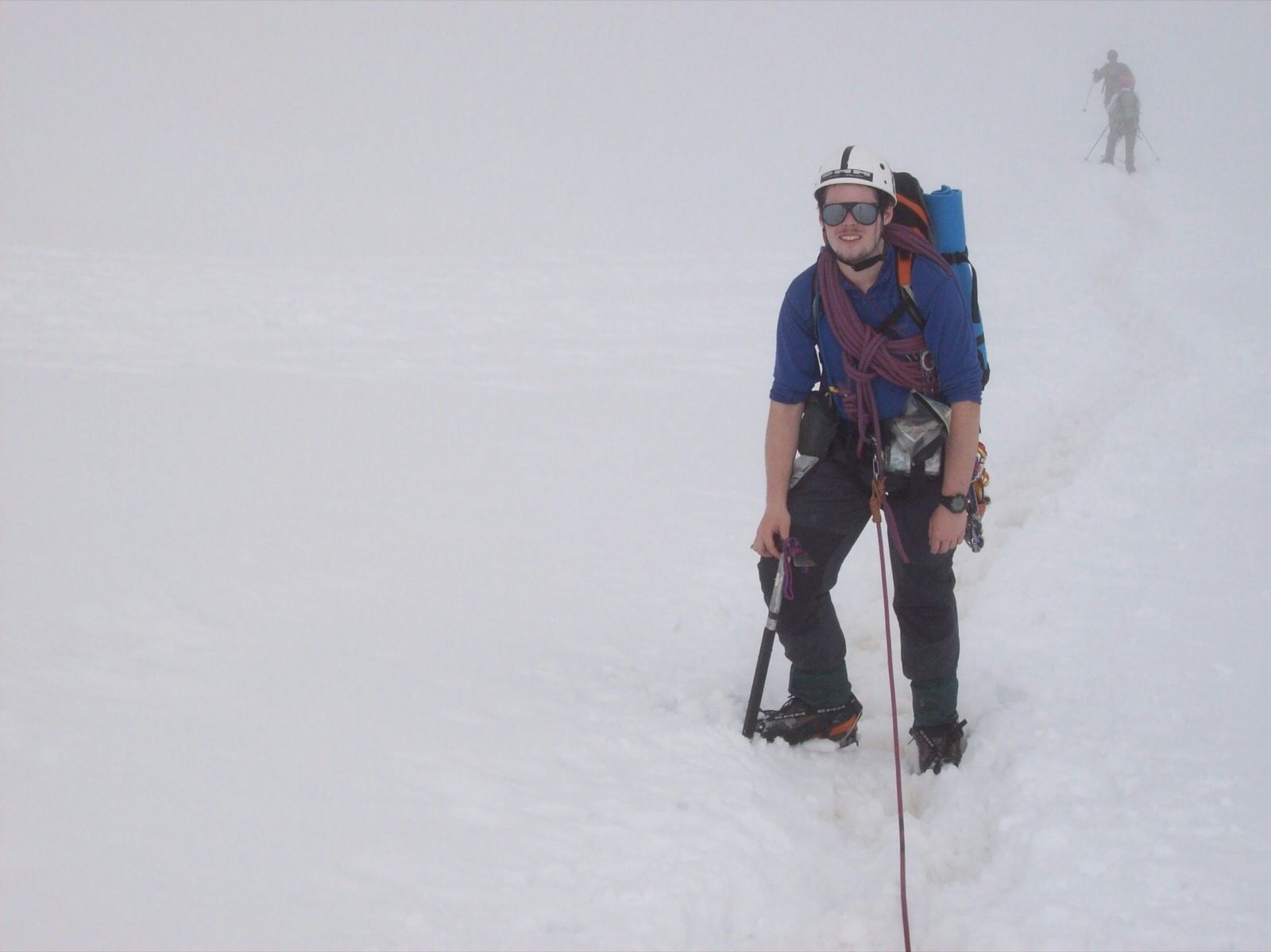 Why do you need all this stuff, then? Crevasses are a serious risk. On a snow-covered glacier, many crevasses are either partially or entirely hidden, which means you could break through the surface at any time. Crevasses can be hundreds of metres deep. Alone, travelling through this kind of terrain is rather like playing Russian roulette, but with a rope and a partner the safety margin is vastly increased. If you fall in, your partner can hold you on the rope, and there are ways of rigging hauling systems to get people out again. Fortunately, the vast majority of Alpine backpacking routes aren't anywhere near this serious!
As a starting point to learn more about Alpine mountaineering skills, I recommend the BMC's Alpine Essentials DVD.
The Alpine mentality
In the British hills, you might be tempted to pack a Thermos flask of tea, an extra jumper and a pair of gaiters, just in case – but you'll head out in bad weather nevertheless. In the Alps, if the weather is bad you modify your route accordingly and don't go high.
In the British hills, there's nothing better than a summit camp on a midsummer evening. In the Alps, camping above 3,000m is a serious proposition, and you won't find any nice patches of grass to pitch your tent on most mountains. If you want to sleep high, a bivy bag can be the best choice.
In the British hills, there's nothing wrong with a lie-in and a cooked breakfast before heading out at 11.00am for a stroll up the local hill. In the Alps, you're often up before dawn because the weather gets hot fast, the glaciers get dangerous in the afternoon heat, and you want to be down before the afternoon thunderstorms roll in.
In the British hills, you don't hurry too much, stop to take lots of photographs, and maybe have a nap for half an hour on the summit if the weather is nice. In the Alps, you focus on speed and efficiency – being slow is dangerous when you're up high.
But for all that, the Alpine weather is more stable and predictable than the weather in the UK, a high camp on a glacier can be one of the most memorable experiences of your life, watching the sunrise from the trail is a daily pleasure, and it's satisfying when you have that 'Alpine pace' nailed. I've found that if you take things slow, build up your experience and don't pick too ambitious an objective to begin with, the Alps can be tremendously rewarding. Don't let them intimidate you too much!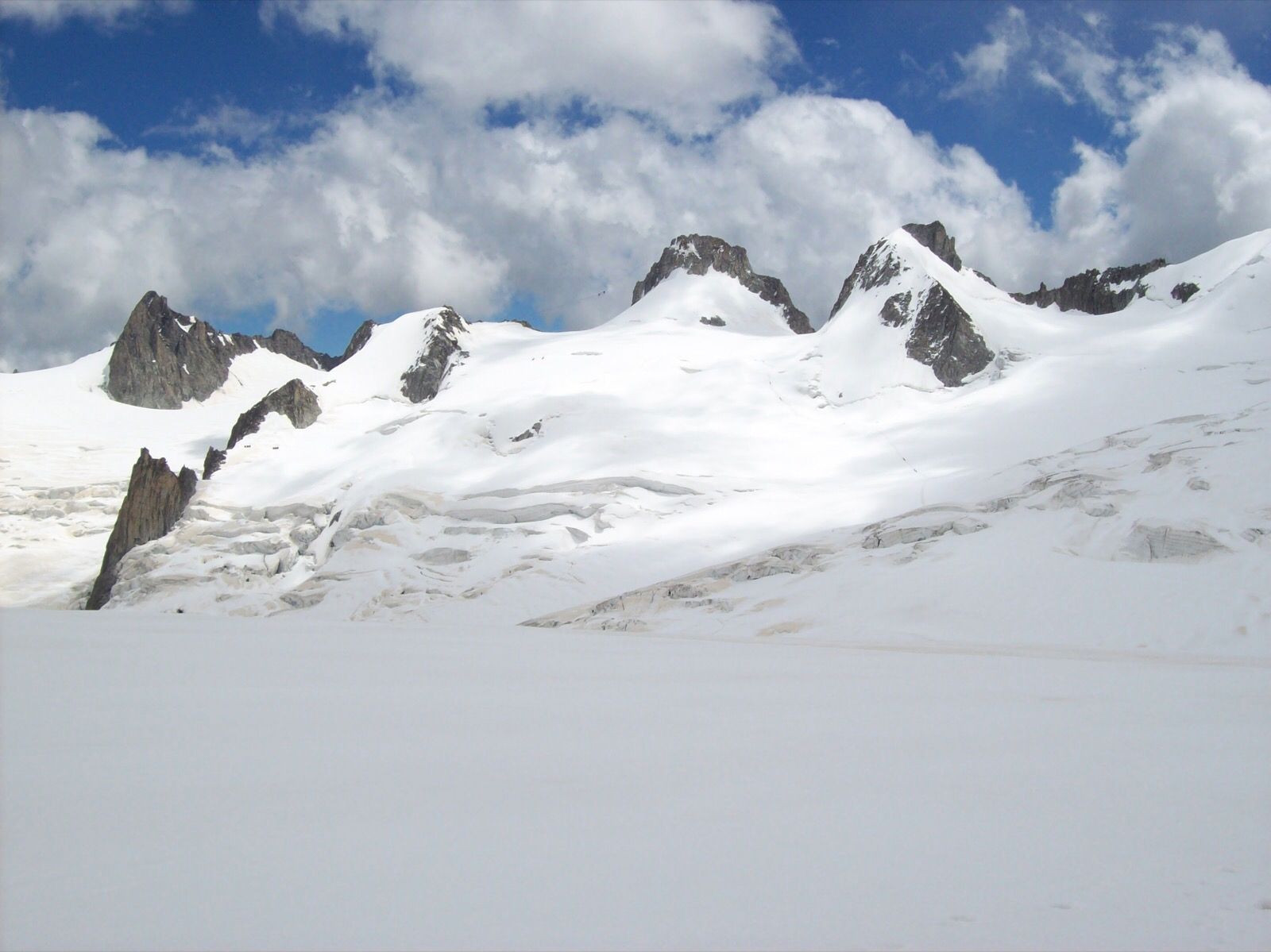 Logistical considerations
Travel to and from the Alps
For the UK-based walker, there are three options: fly, drive, or take the train. On most of my trips I have flown to Geneva, but the Eurostar is also a realistic proposition. Rail connections between Paris and the Western Alps are excellent, and once you get to Geneva most destinations are within easy reach. Airport transfer is the best option for getting to Chamonix; a straightforward journey by rail will take you to Zermatt. For Arolla it's a train followed by a bus. Other areas will generally be similarly easy to get to.
Travel is more expensive in July and August, when the French take their holidays. It's a good idea to book flights well in advance.
It's a long journey if you're driving to the Alps from the UK, but it can actually work out a fair bit cheaper. The downside is that you have to find somewhere secure to keep your car while you're hiking. I've found that driving to the Alps is only practical when you're basing yourself at a single location for the duration of your stay – i.e. a climbing trip, not a backpacking route from A to B.
Maps and navigation
Although many trails are well signposted, you still need to carry a map and – in most cases – a compass.
In Switzerland, the Swisstopo maps are an absolute joy to use. The cartography is beautiful, detailed and accurate. I'd say they're at least as good as Ordnance Survey maps – perhaps better. Their only failing is that they are often out of date or inaccurate in depicting terrain on the Italian side of the border.
Swisstopo offers an excellent web app, with free access to mapping. I use it for the planning stage and highly recommend it.
The French IGN maps are perfectly functional for hiking, but I find them less clear (and significantly less pleasing to the eye) than Swisstopo maps. Personal taste, of course!
Alpine maps can be easily purchased in the UK from Stanfords, or sourced when you arrive at your destination.
Navigating with a mapping GPS or smartphone mapping is perfectly feasible in the Alps, although I would always recommend carrying a paper map and compass as well, in the event of equipment failure. On several trips I have used my smartphone as my primary navigation device. As long as you know how to keep it charged and protected, I don't think there's a problem. It can be highly convenient to press a button and see your location on a map instantly. For the Alps, ViewRanger is a good option; it enables you to download tiles for offline use when you need them, and prices are competitive. Another excellent app (Android only) is AlpineQuest, which offers free offline mapping from a variety of vendors. Both apps have full support for plotting and recording GPX files.
Guidebooks
Most Alpine long-distance trails do not require guidebooks, but they can be handy – especially where routes cross glaciated or difficult terrain. As usual, Cicerone covers all bases here. If it's your first time to the Alps, I'd definitely recommend getting a guidebook for your route, because you probably won't be experienced enough at interpreting Alpine terrain from the map alone.
A tactic I sometimes use is to carry a Kindle copy of the guidebook on my smartphone, just in case. This way you aren't adding any weight to your pack.
Resupply and accommodation
There are centres of population all over the Alps, which can feel a little restrictive when you crave wilderness and isolation, but it's great for resupply. Except on the most technically challenging and remote long-distance routes (which will probably be full-blown mountaineering expeditions), it's highly unlikely that you'll need to go for more than three or four days between resupply in any part of the Alps. In the tourist-oriented Western Alps, even small villages often have stores and shops selling everything walkers could need.
You will have no issue finding stove fuel or specialist dehydrated meals in the large tourist centres such as Zermatt, Chamonix or Courmayeur, or even smaller towns such as Evolene.
I've found that going stoveless is feasible in the Western Alps – that is, just eating cold food that doesn't require cooking. On my hike of the Tour of Monte Rosa, I lived on food such as tortillas, cheese, peanut butter, and sausage.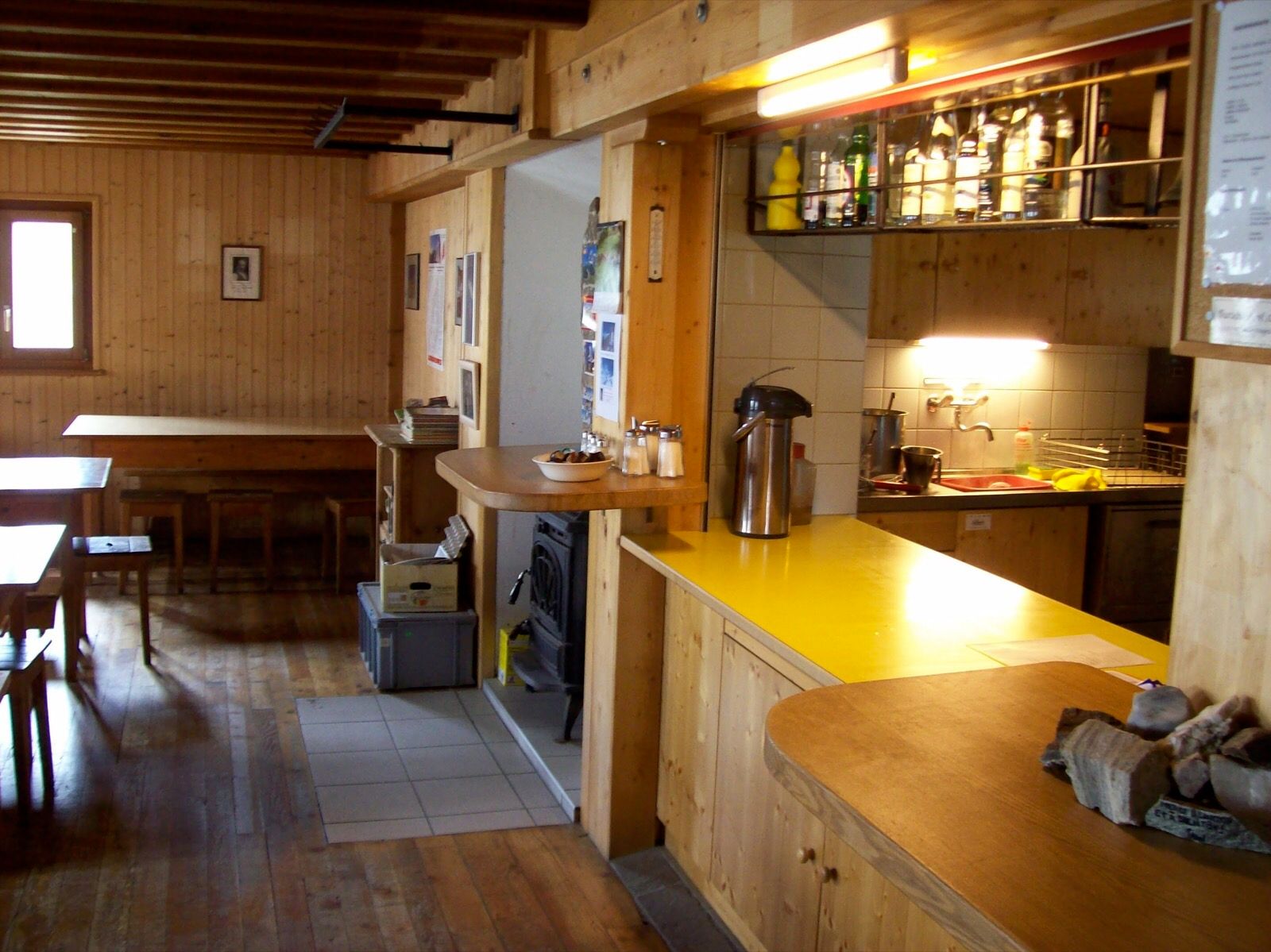 The Alps offer a wealth of accommodation options, but it's often expensive. The hut network is one of the best in the world. Almost every major peak has its own hut, often at a fairly high altitude (2,500m – 3,500m is common) and they are used by climbers, skiers and walkers. These huts usually become extremely busy in the summer season and require booking in advance. Most offer food in vast amounts along with basic bunk-style accommodation. Take a sleeping-bag liner, and don't turn up without booking!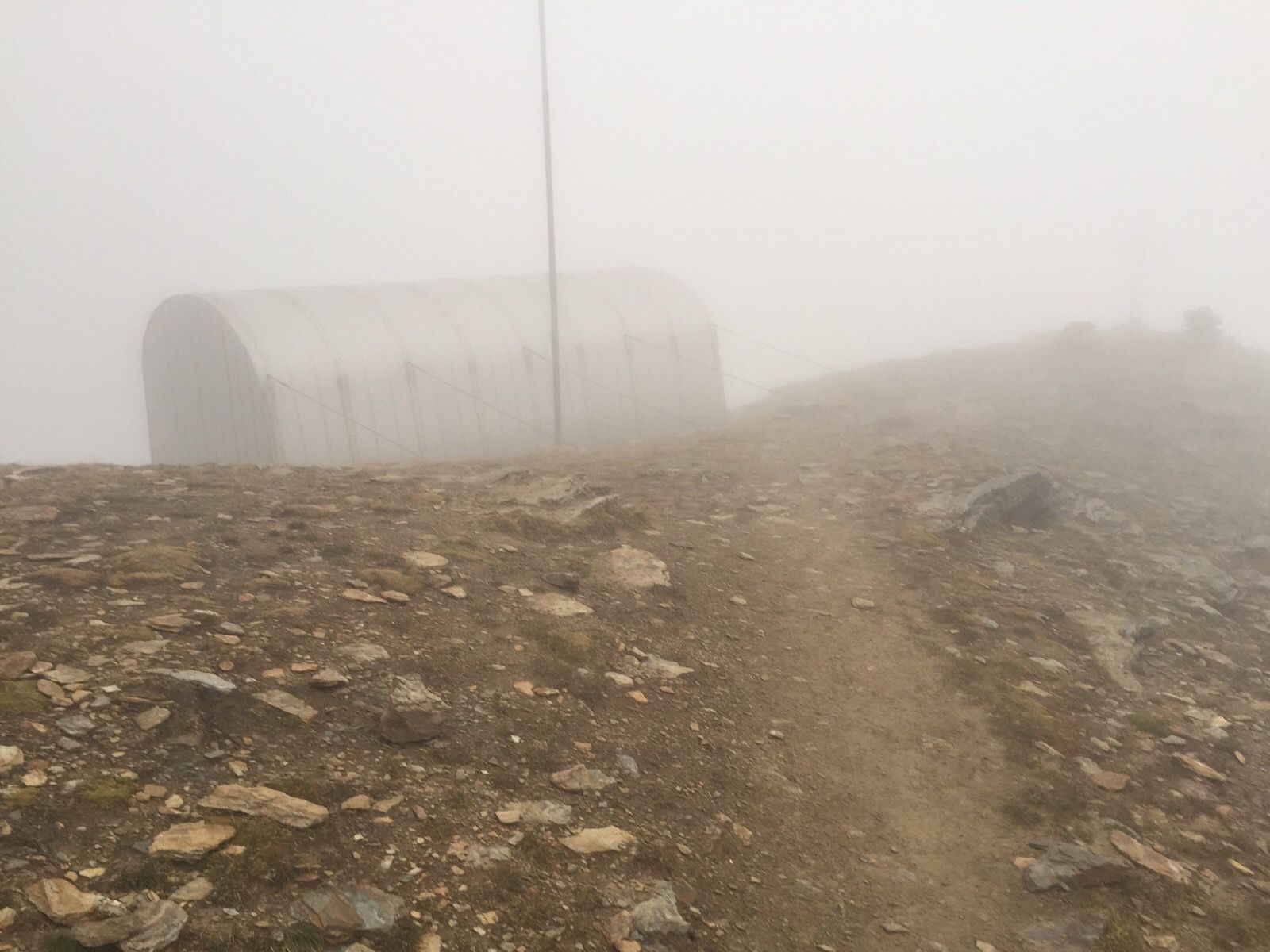 There are many smaller, unmanned huts in the Alps, usually run by climbing clubs. They vary in quality; some, like the Bivacco Lateltin on Testa Grigia, are palaces; others, like the Bivacco Rossi e Volante at high altitude on the Breithorn Pass, are squalid tin cans that stink of excrement and are probably best avoided unless you're a hardcore Alpinist. Still, at high altitude in a thunderstorm any roof over your head is better than a tent or a bivy sack.
What about wild camping? Here's where things get a little… indefinite. In France, wild camping is often banned in most areas, but people pitch tents in places like the Vallée Blanche all the time (and often get their tents dismantled by the police for their trouble). In Switzerland, a bivouac above tree line from dusk to dawn is widely tolerated. In Italy, wild camping is frowned upon but it's very unlikely that you'd ever be moved on unless you make yourself conspicuous and leave a mess. I have stealth camped in all three of these Alpine countries with no issues. As with wild camping in England and Wales, the key is to be discreet, leave no trace, and pack up early. Your main issue in the high mountains will be finding places where it's actually possible to pitch a tent! The Alps are steep and rocky. This is why a bivy bag can be a more practical option up high.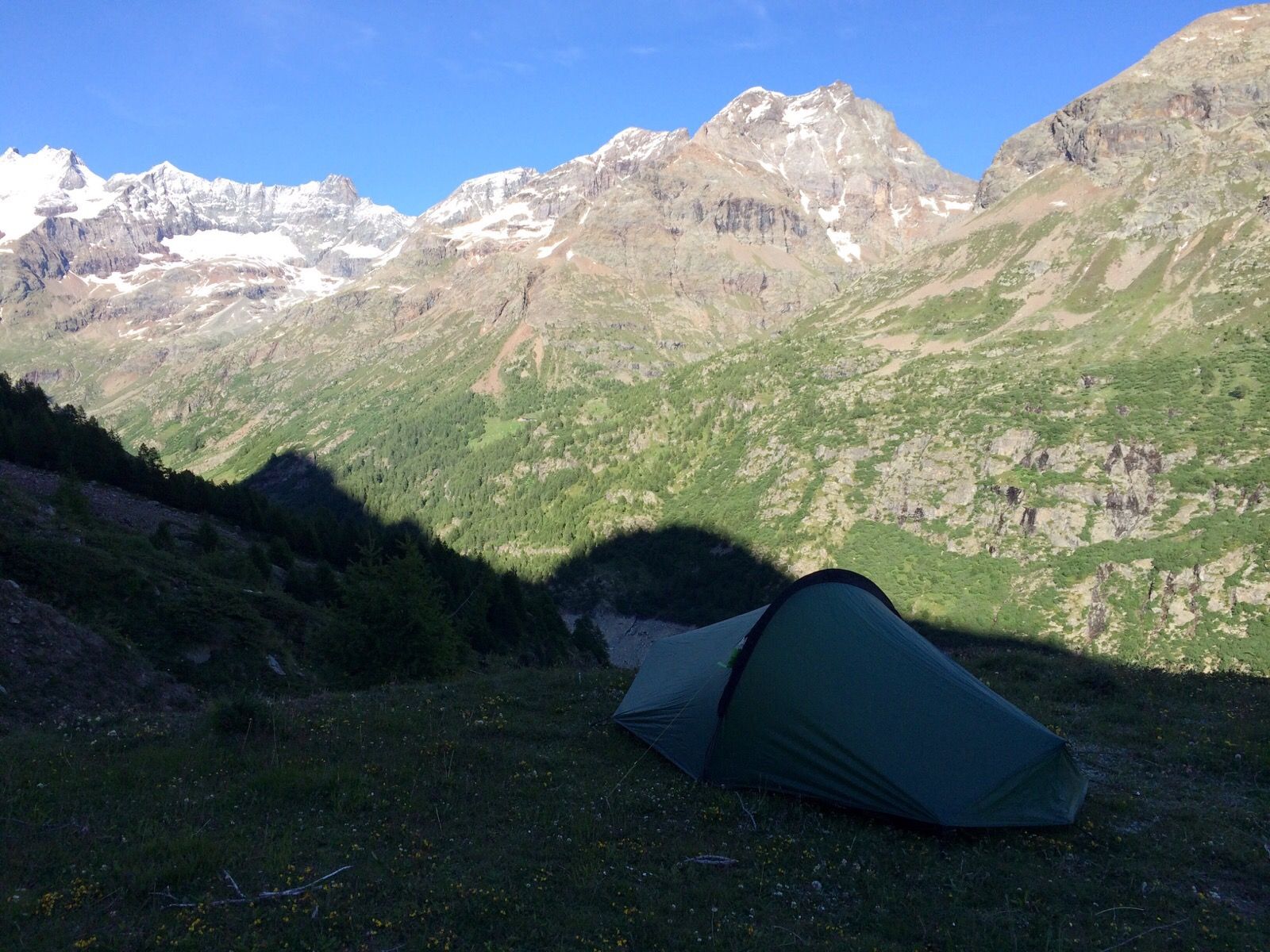 Wild camping is a bad idea in the valley bottoms, but most valleys have reasonably cheap organised campsites and a wide range of hotel options to suit every budget.
Do I need insurance?
Yes!
Unlike in the UK, where mountain rescue and medical aid are free at the point of use, a mountain accident in the Alps could be an expensive affair. It isn't enough just to have travel insurance – that will cover you for misplaced baggage at the airport, but not breaking your ankle on rugged terrain at 3,000m.
You need insurance specifically tailored to the kind of activity you'll be doing. Most Alpine hiking is covered by the British Mountaineering Council's 'Trek' tier of outdoor insurance, but if you're venturing onto glaciated or technical terrain you'll need more comprehensive cover.
There are various insurance vendors, but I recommend BMC insurance. It's what I've always used and rates are competitive.
A language barrier?
The Alpine languages are French, German, and Italian, with regional dialects filling in the gaps. My French and Italian are nonexistent, and my German is pretty ropy, but I've never had any issues communicating on my adventures. Most of the people you'll meet will speak at least a little English as a second language, although they'll undoubtably appreciate any efforts you can make to speak in their own tongue! Overcoming language barriers is part of the fun of travel.
Currency
Most of the Alpine nations accept the Euro, except for Switzerland, where Swiss Francs are more usual (although you may find that some places accept Euros as well). Although it's possible to source foreign currency when you reach your destination, my advice is to arrange a small cash supply before you leave the UK. Bank charges can be expensive, and some of the huts may require cash payment. As a rule it's not a good idea to travel through the mountains without cash on you.
Keeping your electronics charged
I tend to hike with both a dedicated camera and a smartphone. Keeping my devices charged can be a challenge on the trail, but fortunately things are a little easier in the Alps. Most campsites will have an electricity socket somewhere you can use for an hour or two (tip: look in the shower block!), and there tends to be such abundant sunshine that using a portable solar charger is a real possibility. In 2015 I hiked for nine days with a solar panel and ended up gathering more energy than I knew what to do with. Modern ones are very light; mine only weighs around 250g.
Alpine hazards
I've already talked about the dangers of glaciers, but there are other significant hazards in the Alpine environment you need to think about.
Altitude
Most Alpine backpacking routes will reach elevations above 2,000m on a daily basis, often climbing higher still, and if you aren't used to altitude it can really knock the stuffing out of you. There's less oxygen at higher elevations and you may start to notice symptoms such as headaches or shortness of breath from as low as 2,000m. These are normal side effects of acclimatisation – the process by which the body adjusts to lower levels of oxygen – but altitude sickness is a serious medical condition.
How do you tell the difference? When climbing higher, if your headache worsens, perhaps leading to nausea, dizziness and exhaustion, then you need to take immediate action. The best thing to do is to descend immediately to a lower altitude. The symptoms of altitude sickness can resemble heatstroke, so it's a good idea to keep the casualty hydrated and cool while you descend.
Prevention is better than cure. When planning your route, don't go from sea level to 3,000m or more in less than a day; plan a gradual increase in elevation, which will allow your body to acclimatise. If planning visits above 4,000m then this is especially important and Alpinists will normally climb one or two lower peaks before attempting a 4,000er. For the long-distance hiker, make sure your route takes you up and down over the 2,500m contour a couple of times before going much higher. Don't push too hard at the start, and most problems should be avoided.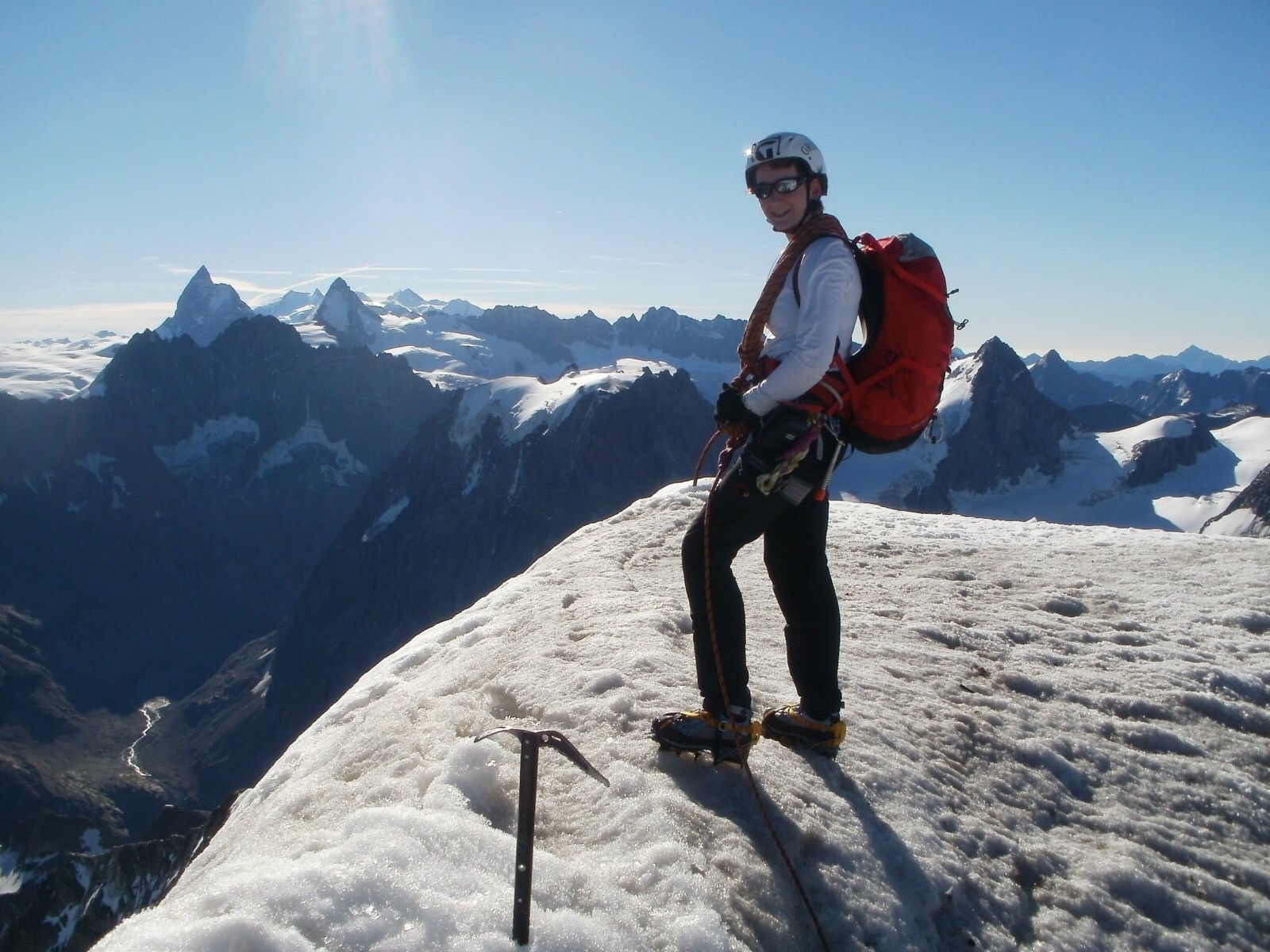 It's a good idea to carry headache tablets to take the edge off the little headaches most of us will get when we first go high, but the best thing you can do is to keep hydrated. Dehydration will make altitude symptoms worse!
Weather
Although Alpine weather is often more stable and predictable than UK mountain weather, it isn't all sunshine and blue skies. Nasty weather systems can blow in, causing storms in the high mountains that last several days, often dumping significant quantities of fresh snow above 3,000m. This can happen even in July. During such storm cycles it's a good idea to stay low.
If venturing onto glaciated or snow-covered terrain, keep an eye on the freezing level. Snow will almost always start to melt during the day; you want it to re-freeze at night, to make glacier travel safe in early morning. Most glaciers become far more dangerous to travel over in the heat of the day, but during certain weather patterns the glaciers never really firm up, and are best avoided.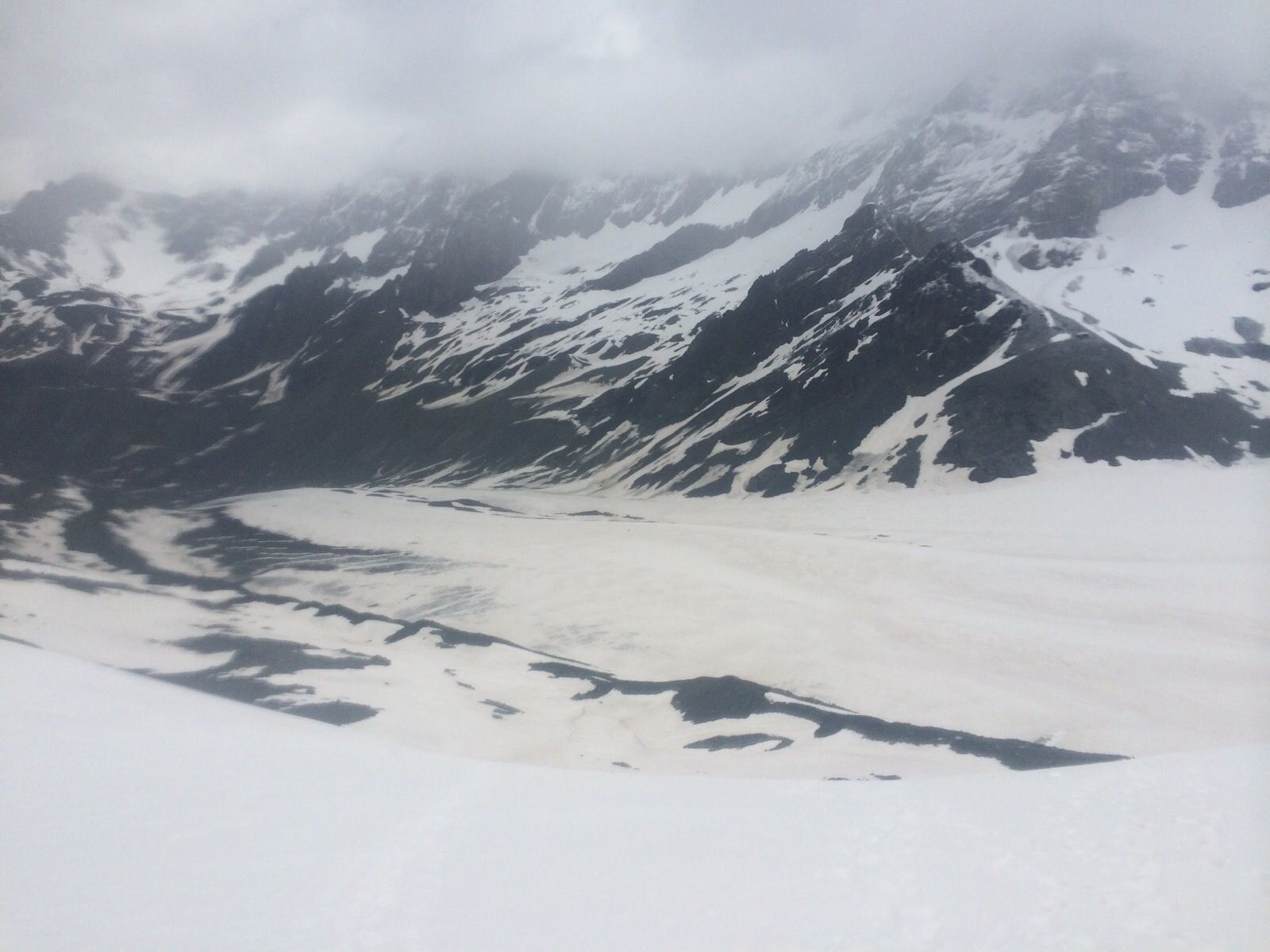 Even during spells of settled high pressure, afternoon thunderstorms are commonplace – sometimes you can almost set your watch to them! I remember once staying in Zermatt for a few weeks of mountaineering, and every afternoon at 2.00pm another thunderstorm would sail over the border from Italy. It's a really bad idea to be up high on a rocky ridge in a thunderstorm, for reasons which should be obvious.
Finally, don't underestimate how hot and sunny the Alps can be, especially if you're crossing snow. Take a wide-brimmed hat, sunglasses rated to at least Category 3 (for UV protection at high altitude), and high-factor suncream. Don't forget to protect places like your lips and underneath your nose, which often get burned during glacier travel.
Rockfall
On rocky, scrambly terrain, rockfall is a serious and ever-present danger. Most of the rockier mountains in the UK are relatively stable; our last glacial period was thousands of years ago, and the hills have had plenty of time to settle down. But the Alps are still fresh and raw, and quite often you'll see cliffs that look firm, but are in fact tottering heaps of choss.
It's astonishing how loose this kind of ground can be. While hiking the Europaweg between Zermatt and Grächen, I had to cross scree chutes on the side of a brittle mountain face, constantly bombarded by loose rocks from above – some the size of fridges. At higher elevations, rockfall is significantly worse during the afternoon, as ice cementing rocks together will have melted, but rockfall can strike at any time of the day or night lower down the mountain.
Most established trails will avoid the worst areas for rockfall, but it can strike anywhere. Be vigilant, and take care not to dislodge debris on others.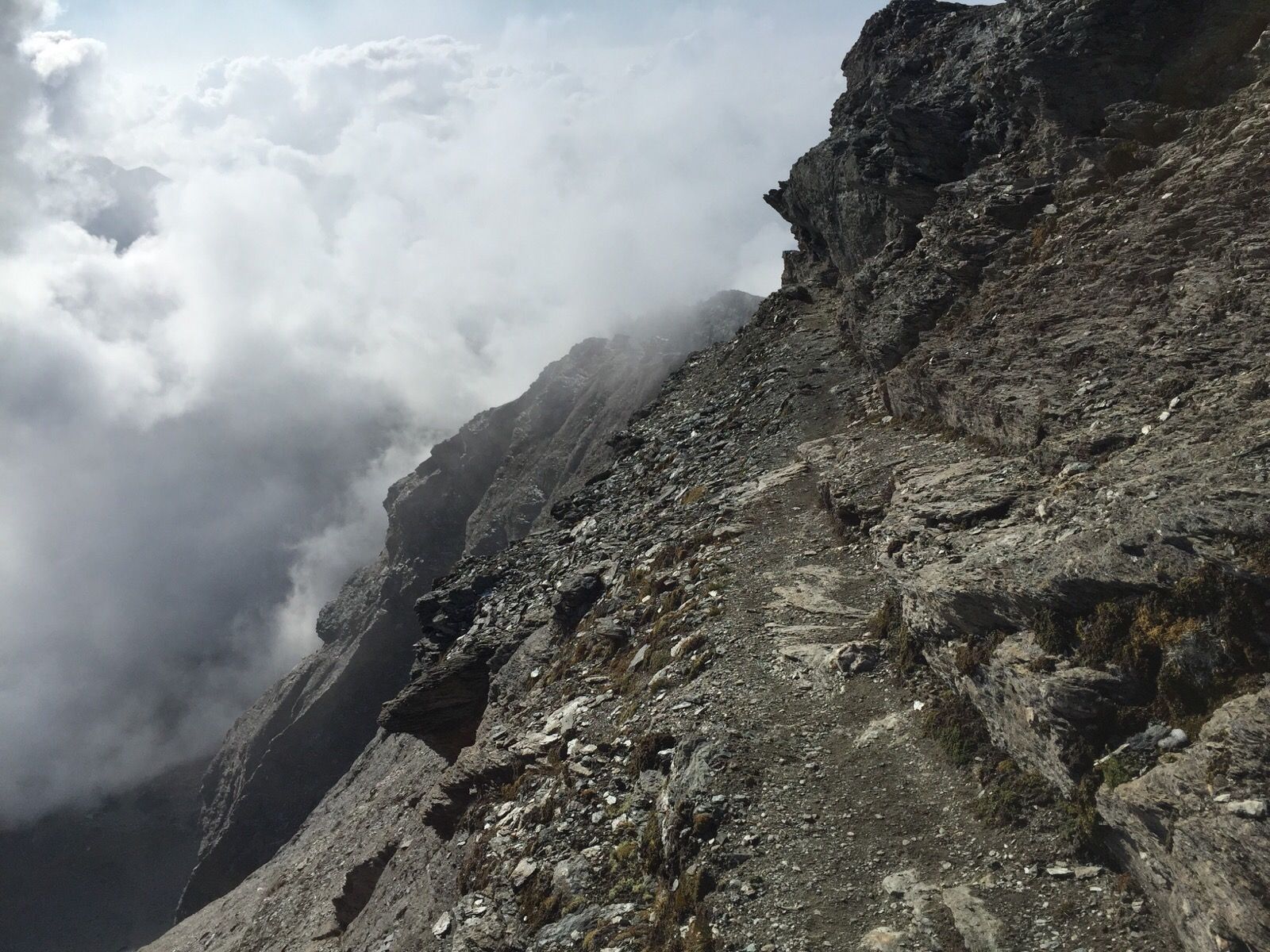 Erosion and climate change
Climate change is affecting the Alps at a rate I find absolutely astonishing. I first visited Zermatt in 2007. Eight years later, in 2015, I was flabbergasted to see how much the glaciers had retreated. This is real, it's happening now, and it will affect you if you hike or climb in the Alps.
As glaciers recede, they dump scree and boulders. Rock walls on either side lose their support, often collapsing catastrophically onto the remaining ice. Erosion particularly affects trails on or near glaciers. You will find that such routes are different from year to year, and may occasionally be impassable. Local knowledge and access to a recent guidebook are critical for routes of this type.
For example, in 2008 my brother and I set out to climb the Aiguille du Tacul, a 3,344m peak above the Mer de Glace. The guidebook we were using indicated a straightforward climb from the glacier's surface onto the ridge. But when we got there, we found a massive wall of eroded rock, at least 100m high and totally impassable, revealed by the rapidly dropping level of the ice. The entire character of the route was changed and we had to abandon the climb.
What gear do I need?
When packing for the Alps, think light. If you're already into lightweight backpacking in the UK then you probably have most things you need, but a British kit list should be adapted to the likely conditions in a potentially more challenging environment.
Clothing
Pack a minimum of clothing, but make it versatile. For hiking in the Alps I favour lightweight, quick-drying synthetic socks, running shorts, a lightweight long-sleeved shirt, and lightweight walking trousers. In the past I've used Gore-Tex waterproof trousers and jacket but a poncho would be perfectly usable on the vast majority of Alpine backpacking routes, and I think in future I'll be switching to a poncho. A poncho also has the benefit of protecting your rucksack from the rain, negating the need for a pack cover. I would advise taking an ultralight windshirt – they're handy for the occasions when you need a bit of protection against a chilly wind and light drizzle, but a full waterproof would be overkill. Don't forget the wide-brimmed hat!
What about warm clothing? This is very much personal choice. If you're climbing above 4,000m it's a good idea to take both a fleece and a down/synthetic insulated jacket, plus waterproof gloves and warm mittens for emergency use. Most hikers operating at 3,000m or below will get by just fine with a lightweight insulated jacket or a thin fleece. I use the thinnest running gloves I can find for Alpine backpacking.
Footwear
Another area where personal choice trumps all! Most guidebooks will severely warn you about the dangers of using trainers in the mountains, and advise stiff boots at all costs. However, I've found that there's absolutely nothing wrong with hiking in running shoes if you're comfortable doing so. In fact, I'd recommend hiking in running shoes – they're light, ventilated, drain well, and often have excellent grip on rocky Alpine paths.
As I've already mentioned, mountain boots are required when heading onto technical mountaineering terrain, but very lightweight B1 boots are available these days. Go for fit and comfort above any other quality.
Hardware
Get the lightest ice axe you can actually use in anger. You'll be carrying it strapped to your rucksack most of the time, so it doesn't make sense to select a heavy model! My ice axe of choice is the Black Diamond Raven Pro – not the very lightest, but one of the lightest models with a real steel pick. An aluminium axe such as the Camp Corsa is perfectly feasible for basic use but will not last as long as a steel axe.
Underfoot traction depends on the objective. Many backpacking routes don't require traction at all – I completed the Tour of Monte Rosa last year without it, although there was one tricky point where I wished I had spikes. Following my rule of thumb, if going above 3,000m then I will pack my Kahtoola Microspikes. These lightweight spikes can be fitted to any footwear and will offer essential traction on icy ground.
For more technical ground – steep snow, or crevassed glaciers – choose the lightest steel ten-point crampons you can find. My 'real' crampon of choice is the Grivel G1. Twelve-point crampons are overkill for most normal mountaineering routes up 4,000m peaks, unless you expect significant steep ice climbing.
Camping
Most Alpine backpackers will be best served by a sleeping bag rated to freezing. Unprotected bivouacs above 3,000m may need a warmer bag, but I think a 0C bag is a good compromise for most other purposes. I'd always choose a down bag for superior weight and performance.
Take an ultralight shelter with a small footprint. Look for decent wind resistance, an unobtrusive colour for stealth camping, and ideally a pitch requiring as few pegs as possible, to cope with uneven and stony ground. I have used a Laser Competition and a Tarptent Notch in the past – both are good, although I'd argue the Laser Comp is overkill and far heavier than necessary.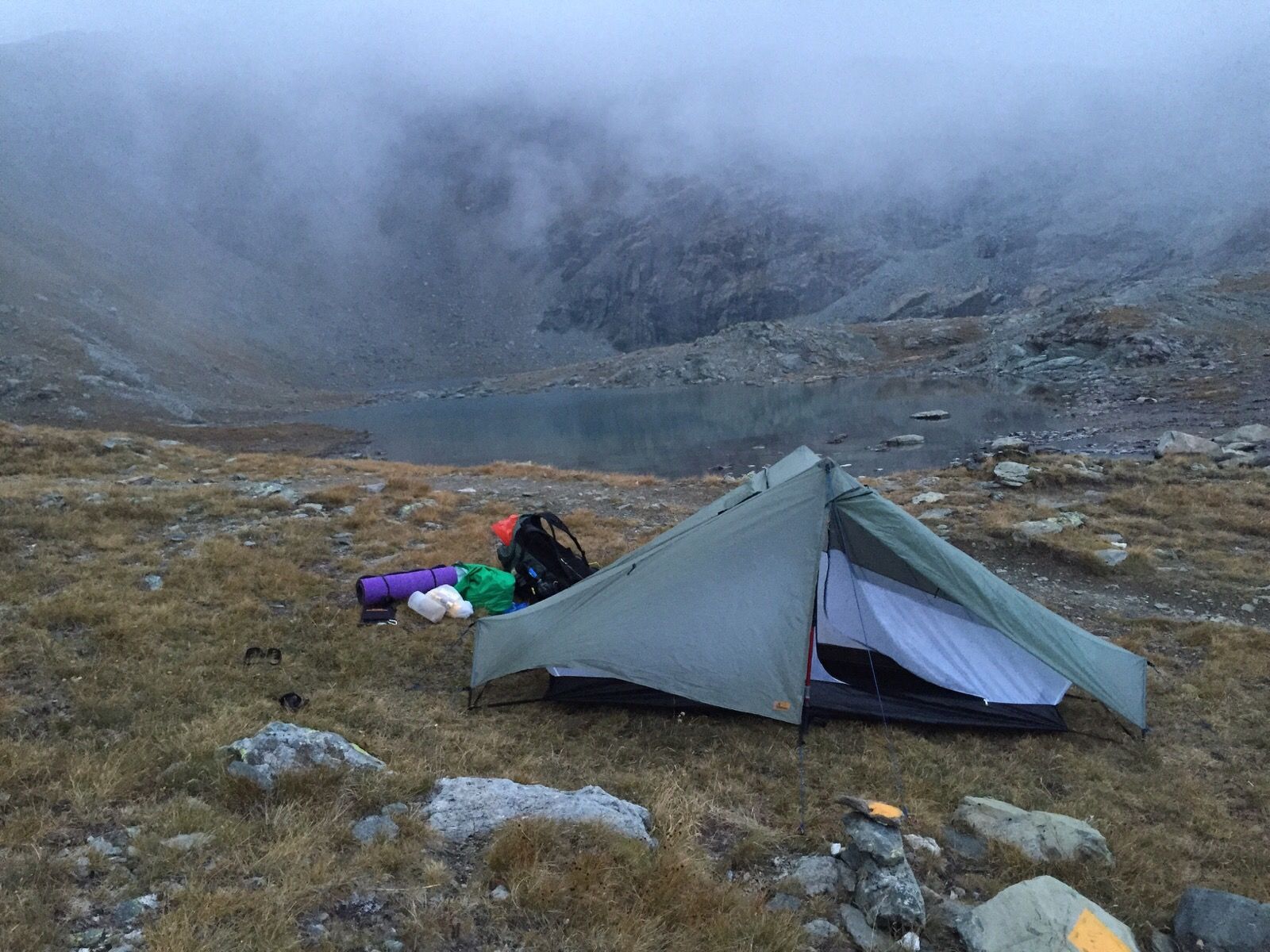 I recommend carrying a bivy bag you can use on fine nights, and an ultralight groundsheet (say, a DIY polycro one). I have never really needed an inner tent or bug net in the Alps, although it's worth bearing in mind that dogs or foxes can sometimes invade your tent and steal things! Rats can be a nuisance near centres of population.
Cooking
Unless you're going no-cook, you'll want a stove. While I'd usually just say 'personal preference' here and move on, it is a little more complex than that in the Alps.
If you're staying at low to moderate altitudes, choose whatever lightweight stove system you're comfortable with. But at high altitudes some stoves work better than others due to the issue of atmospheric pressure and temperature. I've found standard gas stoves to be unreliable above about 3,800m. Bivouacs above the snow line will require a fair bit of power for melting snow, so if you intend to spend much time camping at around 4,000m then you might find yourself considering the traditional but heavy option – the multi-fuel stove.
Multi-fuel stoves are a real pain in the behind due to weight, complexity and mess, but they will melt snow and boil water with aplomb at any altitude. It really depends on your objective. Most Alpine hikers will not regularly need to camp at these altitudes, so a simple meths or alcohol stove should suffice.
Routes and ideas
Only your imagination need limit your options, but here are a few ideas to get you going.
The Tour du Mont Blanc
Perhaps the most popular and famous long-distance hike in the Alps! It's a 110-mile circumnavigation of the Mont Blanc massif which covers 10,000m of ascent and descent, and is hiked by thousands of people a year. Expect big climbs every day, jaw-droppingly gorgeous views from every col, and a very social experience with many other people out there on the trail with you.
The Tour of Monte Rosa
This is the TMB's shy cousin – the circumnavigation of the Monte Rosa massif in the Valais. It's a little shorter at about 100 miles, but a much tougher proposition overall, with more like 15,000m of ascent. It also features an easy glacier crossing, an optional 3,000m peak, and a variety of wild forest on its way from Zermatt to Saas Fee. Quieter than the TMB; recommended. I hiked this trail in September 2015.
You can view the ViewRanger track for my TMR route here.
Aosta to Evolene via the Col Collon
At only 40 miles or so, this route would be a feasible option over a long weekend for the fit walker. It's also significantly quieter; I didn't see a soul when I crossed the Col Collon. Hiking this route in 2014 showed me the quieter side of the Western Alps, and I'd highly recommend it. Note that ice axe and crampons are required for the glacier crossing (I wouldn't recommend tackling it with shoes and Microspikes, due to several steep snow slopes). The ascent of Mont Brulé (3,585m) is within easy striking distance of the Col Collon.
The Classic Haute Route and Walkers' Haute Route
These are two slightly different routes with the same objective: to hike from Chamonix to Zermatt. It's a significant voyage taking you through some of the most beautiful landscapes in the Western Alps. The Walkers' Haute Route is the easier proposition – it avoids glaciated terrain and largely stays below 3,000m, making it a feasible objective for the backpacker. The Classic Haute Route, by contrast, is a challenging mountaineering expedition with large portions of glacier travel, including more than one high summit. To read about the Classic Haute Route, I recommend this excellent multi-part trip report by Andrew Mazibrada.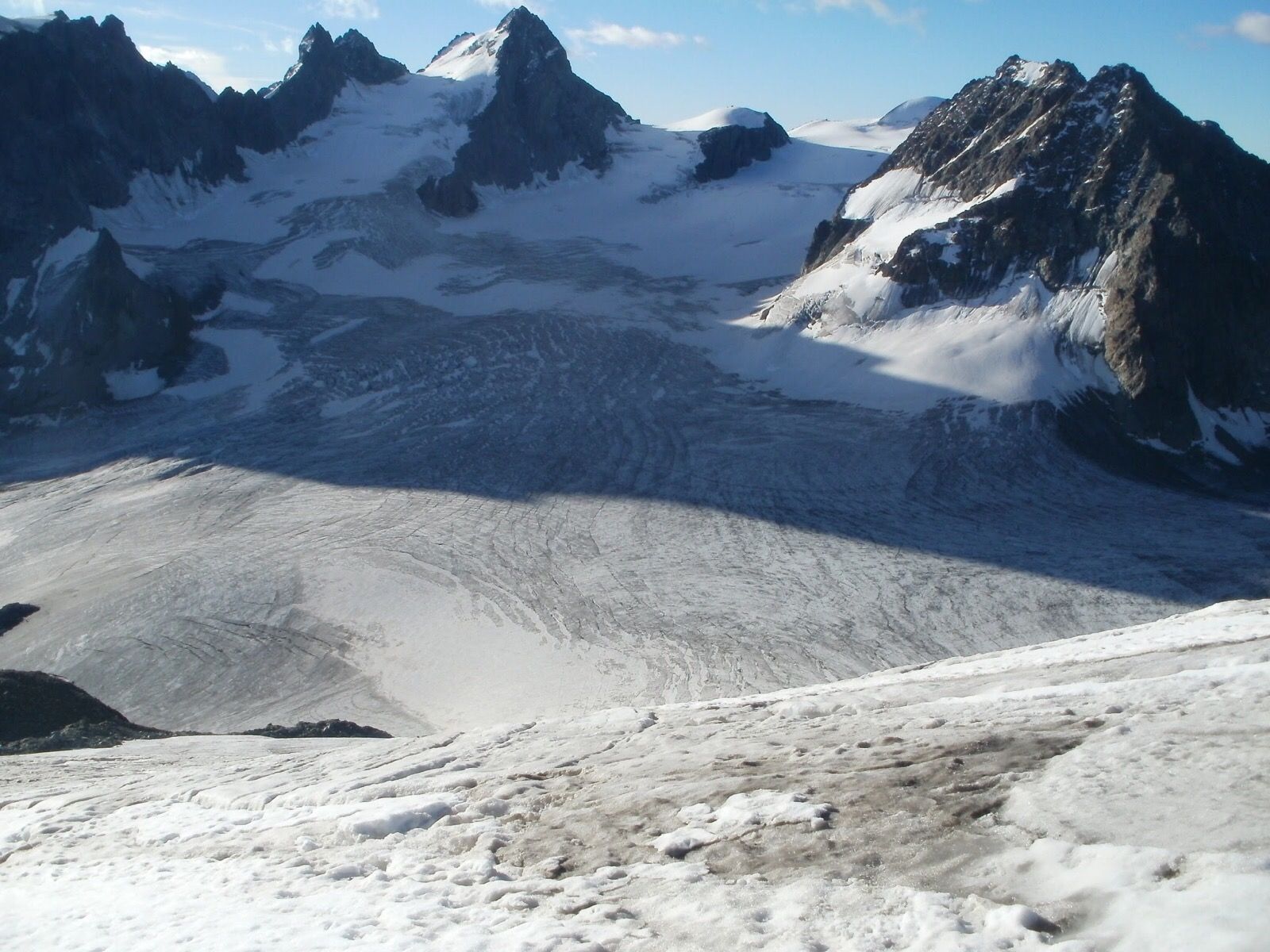 The GR 5 across the Alps
This is the big one! The GR 5 crosses Europe from the North Sea to the Mediterranean, but the section most hiked is concerned with the traverse of the Alps, starting at Geneva and heading south. I have no experience with this route, but I do know that it looks fantastic. The section crossing the Alps is around 500 miles in length.
To conclude
The Alps are great – I love them! You won't find pristine wilderness or solitude for days on end here, but you will find some of the best mountains and trails in the world. This mini-guide has, of course, only scratched the surface of what's possible. Your next step should be to have a look at some maps, do some research online, then get out there and enjoy it for yourself.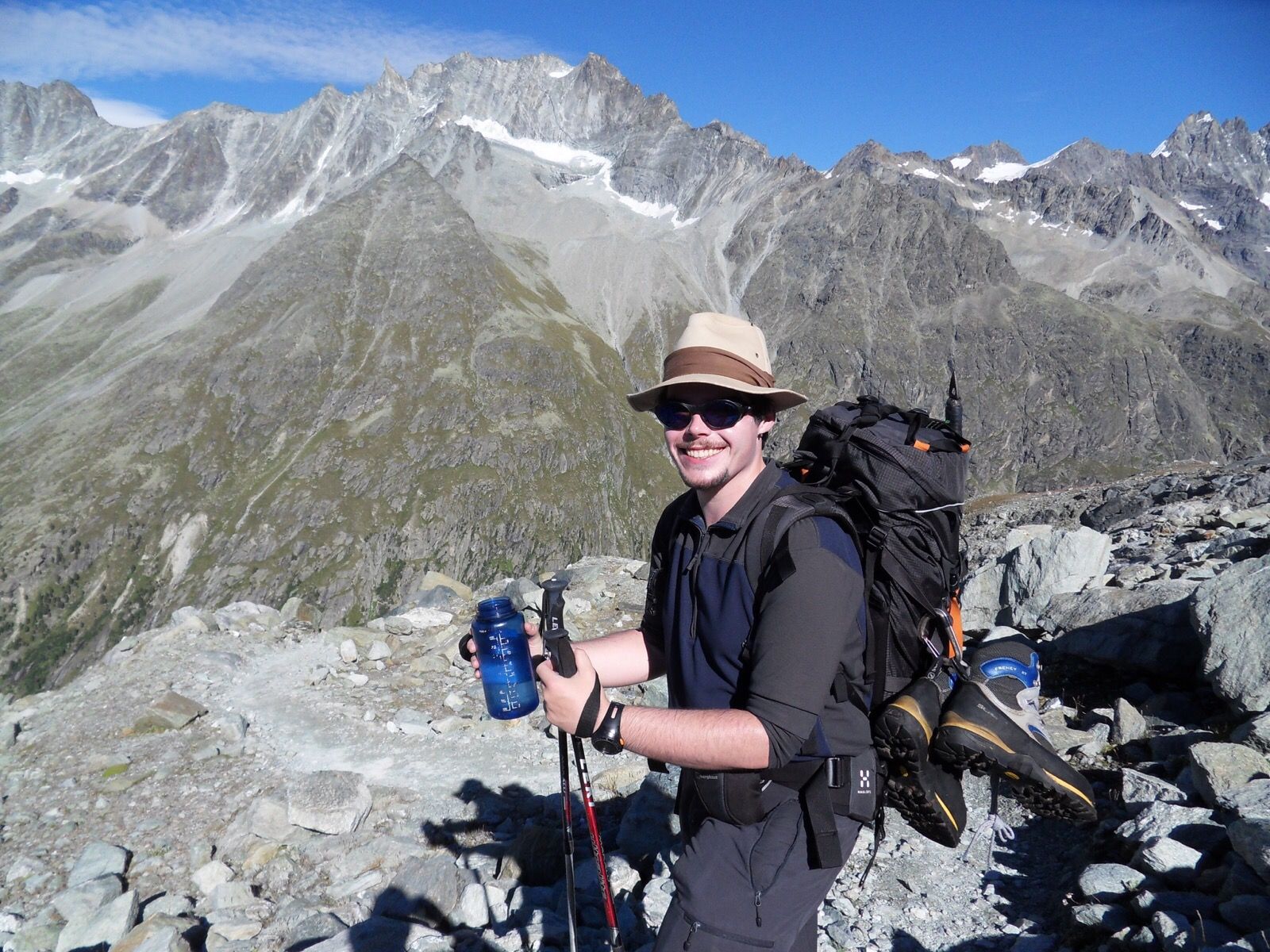 ---
Copyright information
Published in 2017 by Pinnacle Editorial Press
www.alexroddie.com/pinnacle-editorial
Copyright © Alex Roddie
Cover design by the author
The author asserts the moral right under the Copyright, Designs and Patents Act 1988 to be identified as the author of this work.
All rights reserved. No part of this publication may be reproduced, stored in a retrieval system, or transmitted, in any form or by any means without the prior written permission of the publisher, nor may be otherwise circulated in any form of binding or cover other than that in which it is published and without a similar condition being imposed on the subsequent purchaser.
Glacier gear varies from person to person. Back when I was climbing 4,000m peaks, my glacier hardware of choice included two ice screws, a handful of karabiners, Prusik loops, and a few slings. ↩︎
Alex Roddie Newsletter
Join the newsletter to receive the latest updates in your inbox.
Comments