Haute Route Pyrenees 2019: background and gear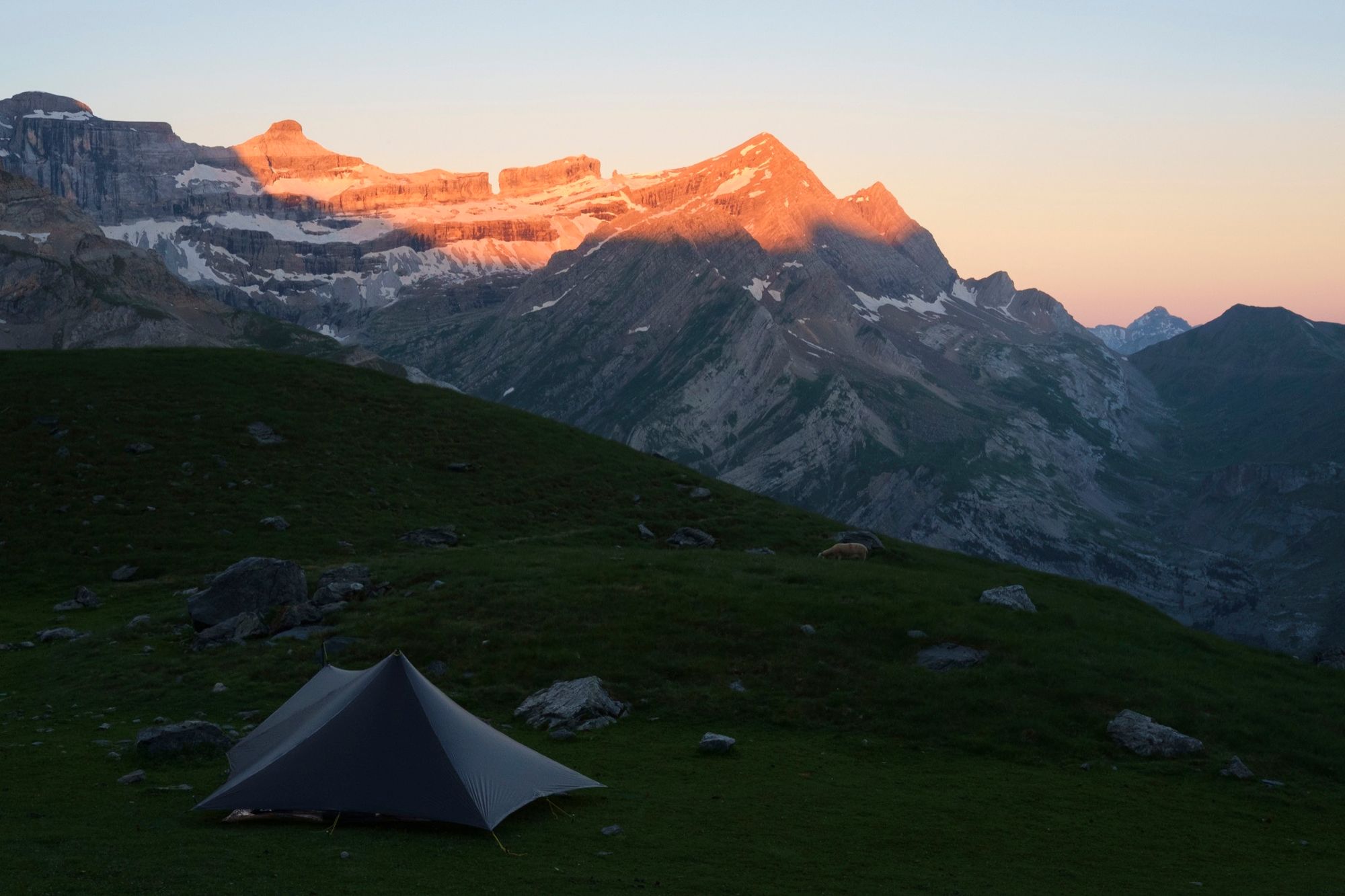 Updated 2019-07-12 to reflect my final setup on the eve of my hike.
My next thru-hike for 2019 will be a crossing of the Pyrenees from Atlantic to Mediterranean via the Haute Route. Here's a little background on this hike, and some provisional thoughts about gear.
Contents
What is the Haute Route Pyrenees?
It's been a long time coming. Ever since I got back into long-distance backpacking several years ago, I've had my eye on longer and more technical routes. To date, the Cape Wrath Trail has been my most ambitious trip (particularly my second CWT, which ended up exceeding 500km in total). I've done far more technical alpine-style long-distance hikes but they have always been comparatively short, no longer than around 200km. The HRP exceeds 800km; some variants approach 1,000km.
Much like the Cape Wrath Trail, the HRP is a nebulous concept. It often sticks between the two established long-distance trails of the GR10 (on the French side) and the GR11 (on the Spanish side). These popular trails are waymarked, while the HRP is not; it's a higher, wilder route, with plenty of rugged and technical hiking in the high mountains.
The HRP appeals to me because it takes the hiker to more remote areas. I've been dreaming about a thru-hike for several years, ever since I completed a section of it in 2016 between Cauterets and Vielha.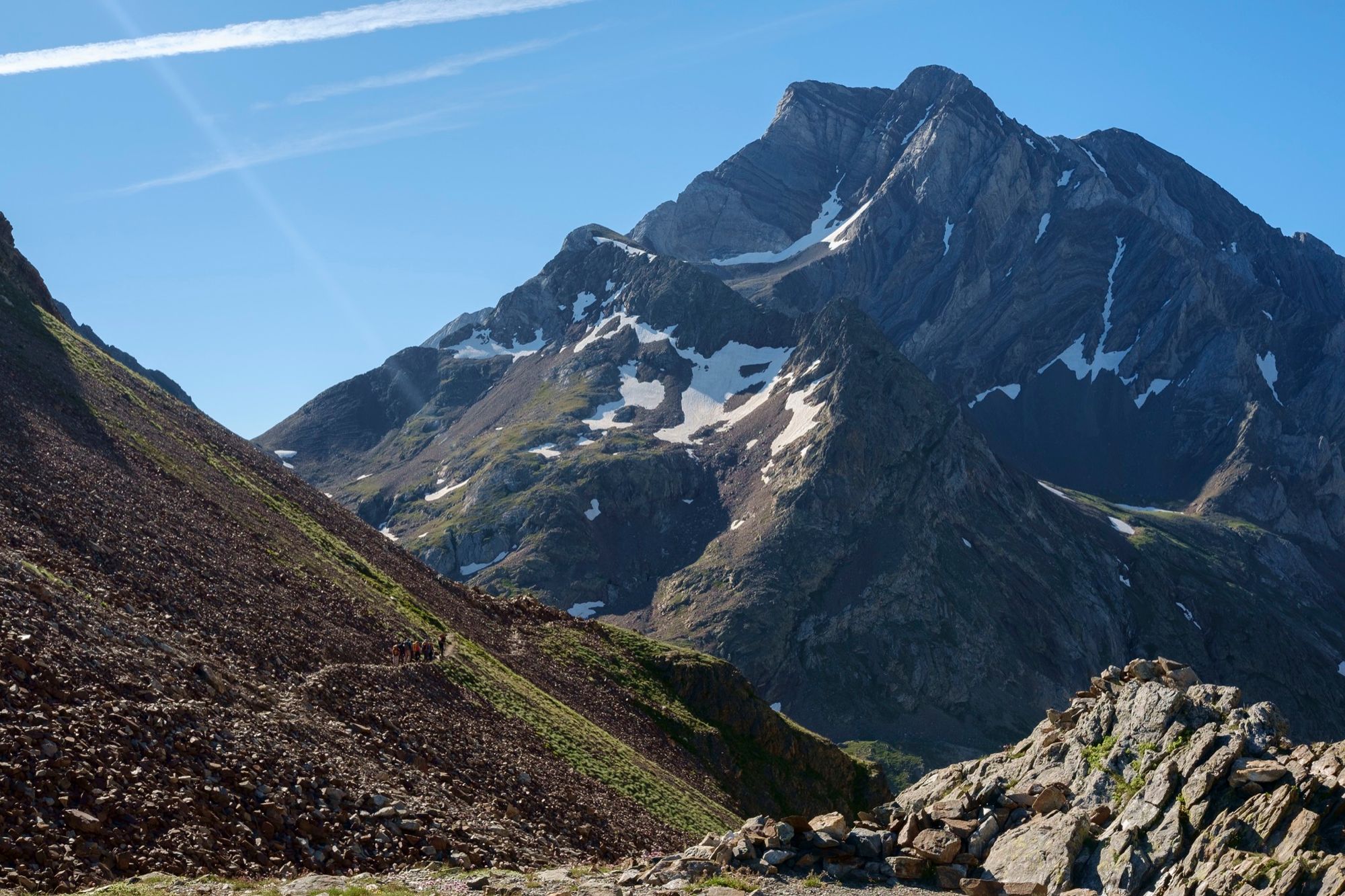 The challenge
The HRP has many of the challenges common to other alpine areas, but a few unique ones as well.
There's significant ascent and descent every day. Total elevation gain varies depending on the route chosen, but a common figure you'll see online is around 42,000m.
Many sections involve steep, loose rock, or even outright scrambling.
Very serious weather could potentially be encountered, although weather patterns in summer are often stable and fairly predictable. Afternoon thunderstorms are commonplace, especially in the higher mountains. These storms can be savage but don't usually last for more than a couple of hours.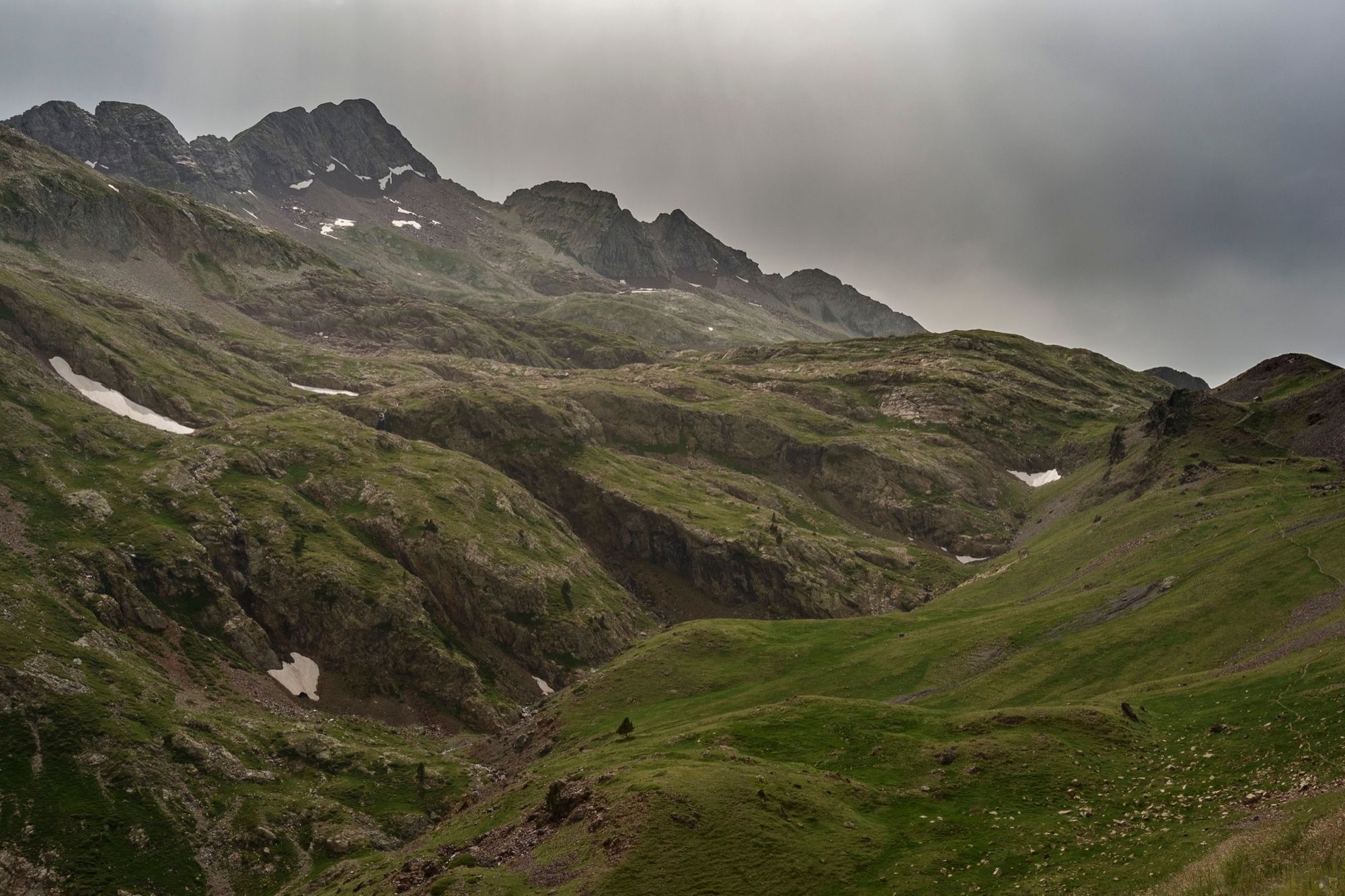 Because it's a high-level route, often climbing above 2,500m, steep late-lying snowfields can be a challenge well into the summer (although far less of an issue than in the Western Alps). The highest point on the main route is Col Inferieur de Literole at 2,983m.
In the event of bad weather, alternative routes exist – often by diverting along sections of the GR10 or GR11 instead of the HRP. I adopted this tactic in 2016 when hiking through a spell of major thunderstorms.
Temperatures could drop to around -5ºC at night and climb to above 25ºC during the day, or higher at the arid eastern end of the range near the Mediterranean.
Wild camping (or 'bivouac') is permitted in most of the mountain areas, although in some regions it's restricted to 7pm-7am. There are numerous huts, refuges and cabanes too. I plan to wild camp most or all of the time.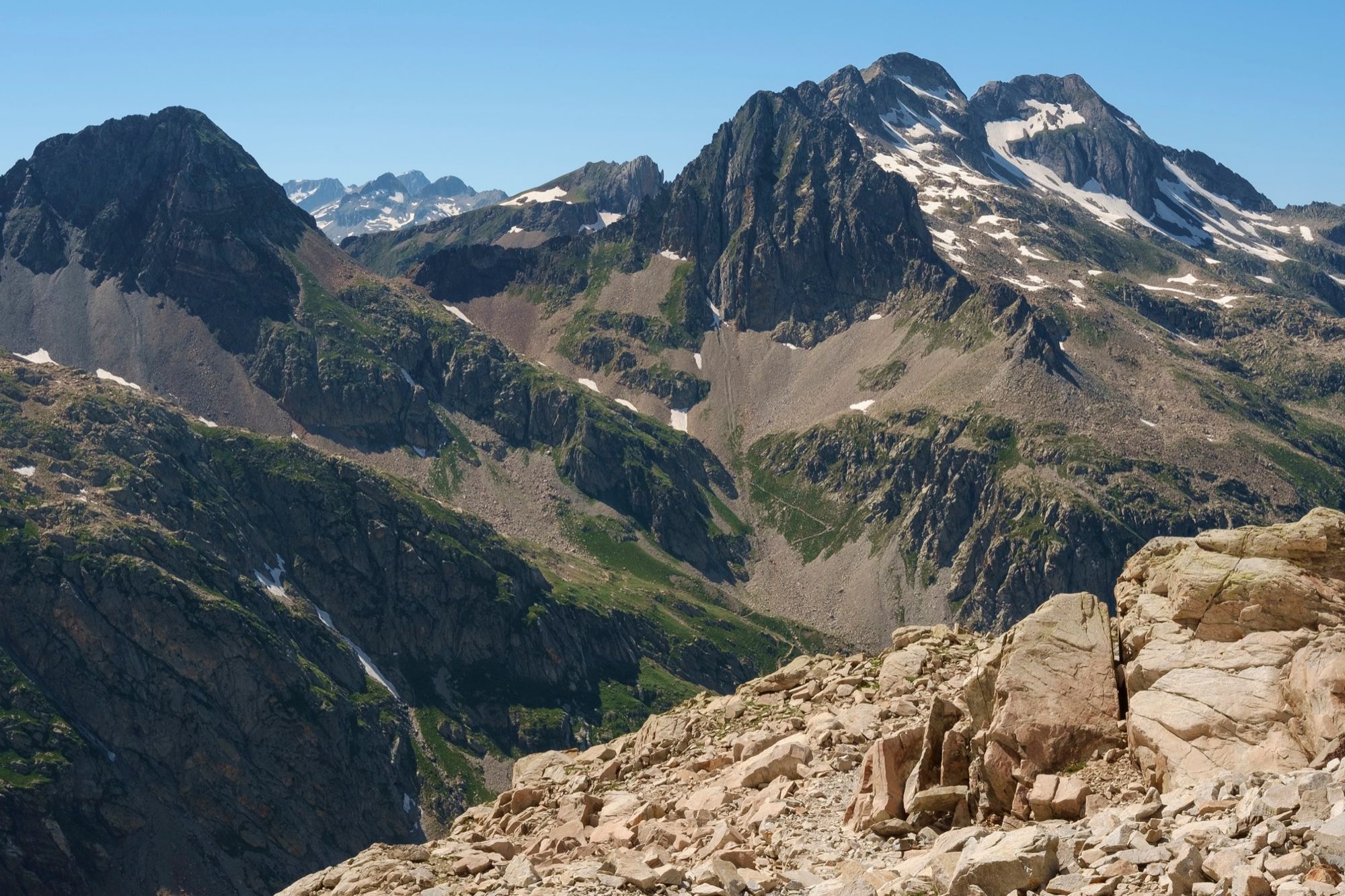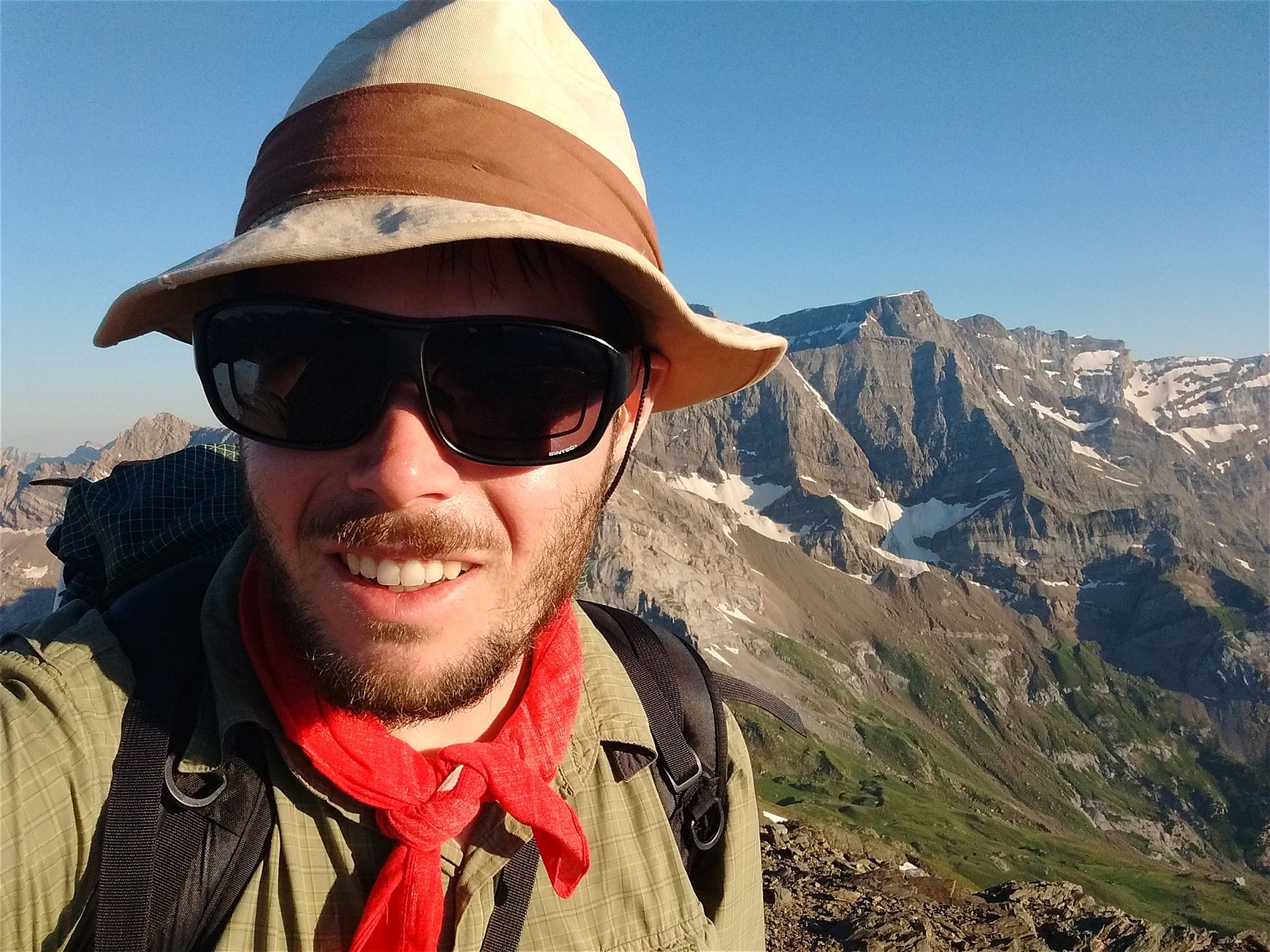 The trail passes through or nearby several towns and villages, but this is a more remote line than the GR10 or GR11. Unless you're regularly eating at refuges, supplies will need to be carried for several days at a time.
There are no wildlife-related issues to speak of in the Pyrenees. Although a tiny population of bears roams throughout the mountains, the chance of any interaction with hikers is vanishingly small. The same goes for wolves. At a much smaller scale, bugs such as mosquitos and ticks are present in some areas, but unlikely to require specific countermeasures such as bug netting, DEET, or permethrin treatment of clothing – this isn't the Scandinavian Arctic.
Gear selection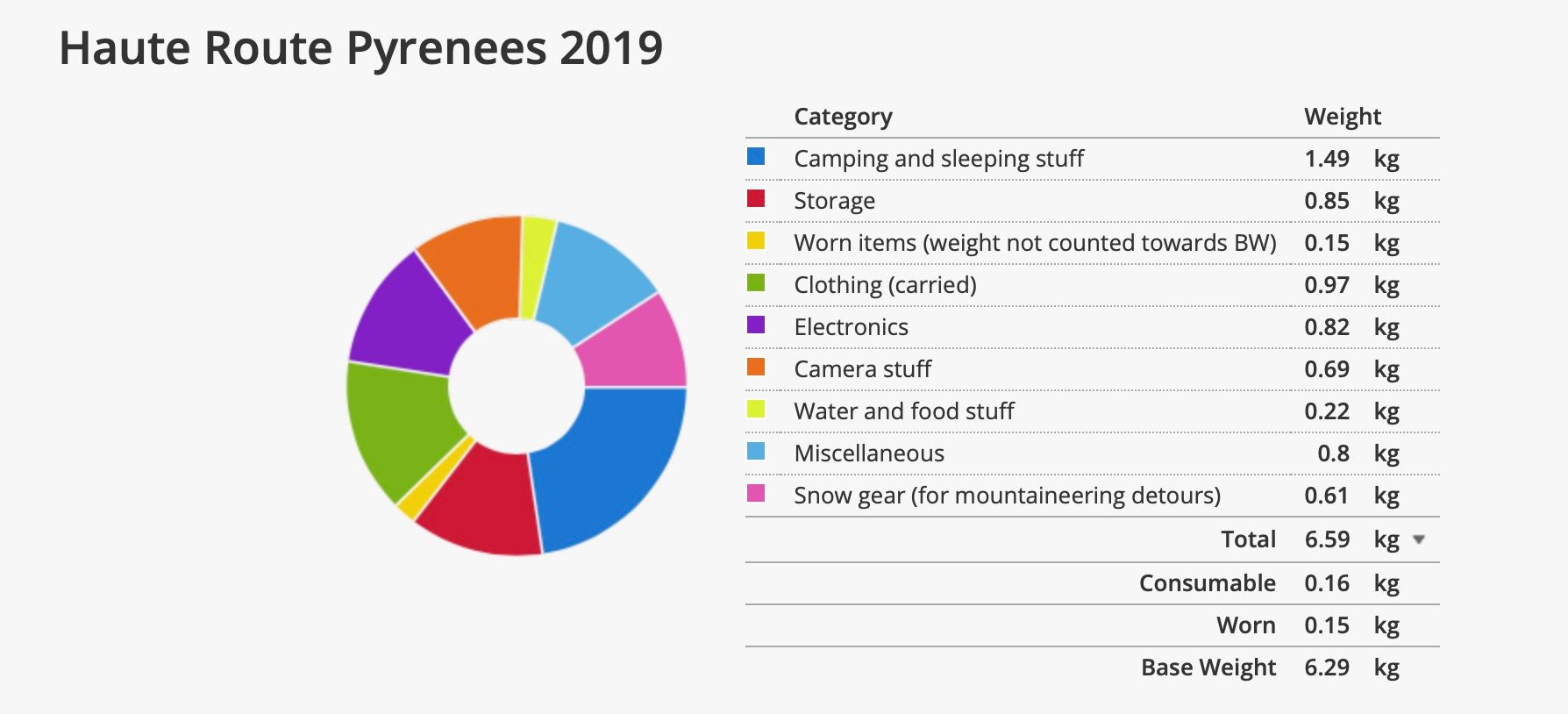 For the last few years, I've been honing my lightweight technique in alpine areas. For me, going light is clearly the right approach for this kind of objective: a lighter pack makes hiking easier and more comfortable, and I find the process of continuous learning and optimisation highly rewarding. The geek in me also likes gear lists and pie charts! Obviously, this is a very personal thing, and I won't try to tell anyone they have to go ultralight. I present these gear notes for interest, not as an example of best practice. Hike your own hike, they say…
I will be making a few changes to the gear list I used in 2018 on the Mercantour Traverse. You can check it out at Lighterpack here. My final base weight is 6.29kg, which is not 'ultralight' by standard definitions but is light enough for me.
The usual disclaimer: the gear I use is a mixture of stuff I've paid for myself and items that have been sent to me free of charge for testing and review. Nobody pays me to promote their brand, and I'm not shy about criticising items if warranted. My opinions and reviews are strictly impartial. This means that if I'm promoting an item, or otherwise telling people it's great, this is my genuine opinion based on my experience and expertise.
Camping stuff
Although the Tarptent Notch is a fantastic shelter, I wanted something lighter for the HRP with better protection against splashback in thundery downpours. I've chosen the Solomid (DCF version) from Mountain Laurel Designs. I'm a happy Duomid user, so the Solomid was an obvious choice, and the DCF fabric offers significant weight savings. Tent pegs will be the usual combination of Groundhogs and titanium nails.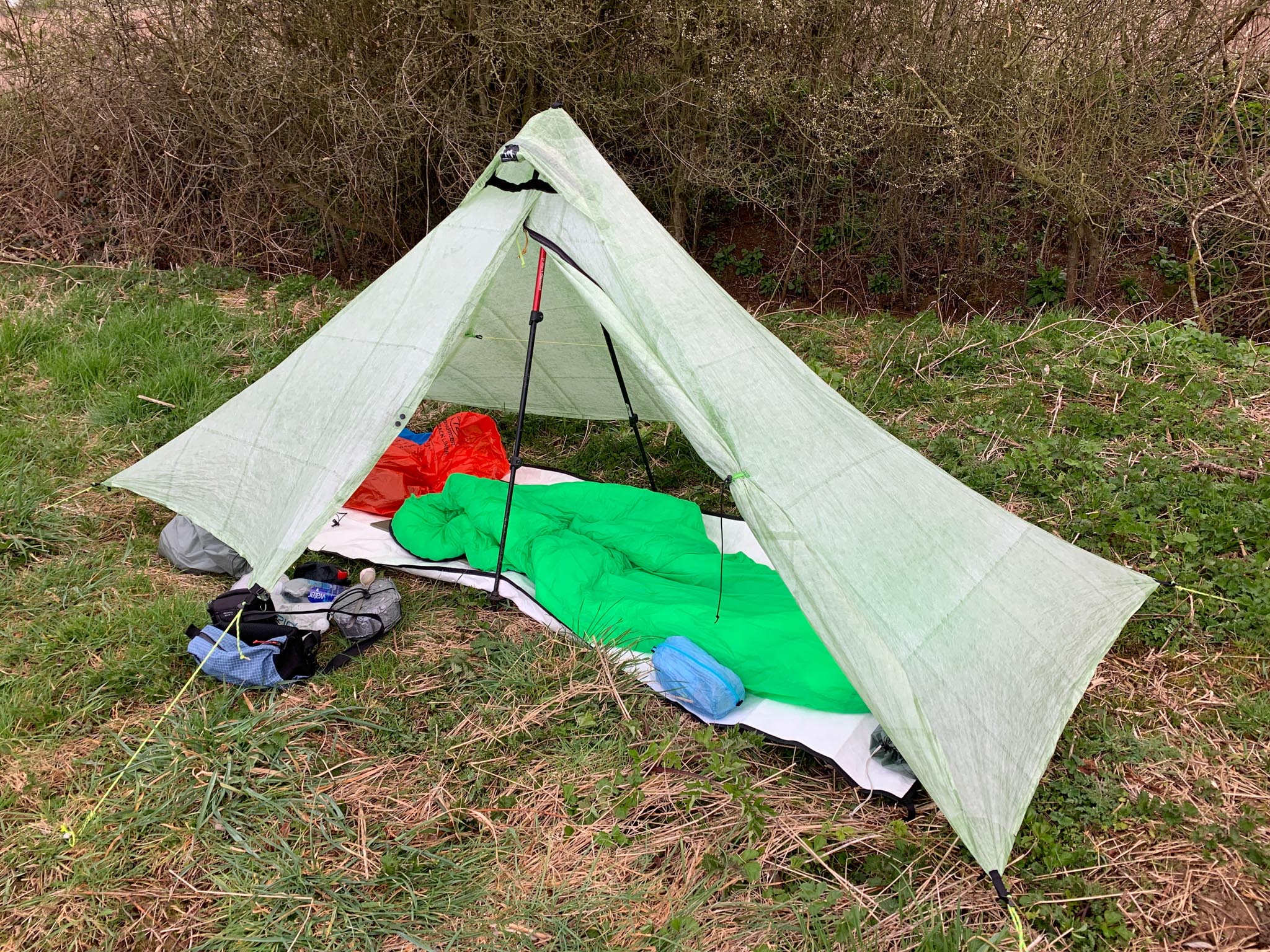 I'll be using a simple tyvek groundsheet instead of an inner tent, plus my MLD Superlight Bivvy. On my Mercantour walk I did not take a bivvy, and wished I had it one night when torrential rain led to a flooded pitch and a splashback-spattered quilt. However, the Solomid can be pitched lower to the ground than the Tarptent Notch, and a bivvy is not required for bug defence in the Pyrenees, so it isn't an essential item.
I had hoped to carry a test sample of the new Foratata quilt from As Tucas, but unfortunately it has failed to turn up. I'll be using my  tried-and-true Sestrals synthetic quilt (also from As Tucas) instead.
My sleeping mat will once again be a short folded section of thin foam – the same mat I've used for most of my summer long-distance walks for many years. I'm used to sleeping on hard surfaces and it's far more reliable than an inflatable mat.
Pack and storage
I'll once again be carrying the superb 50L Prospector from Atom Packs (a Keswick-based cottage gear manufacturer). Last year I used the very first carbon-framed Prospector, and after the trip it went back to the workshop for some modifications and upgrades. The new Prospector has a better frame and a few other tweaks. This pack is easily the best I've ever used because I had it built to my exact requirements and body dimensions.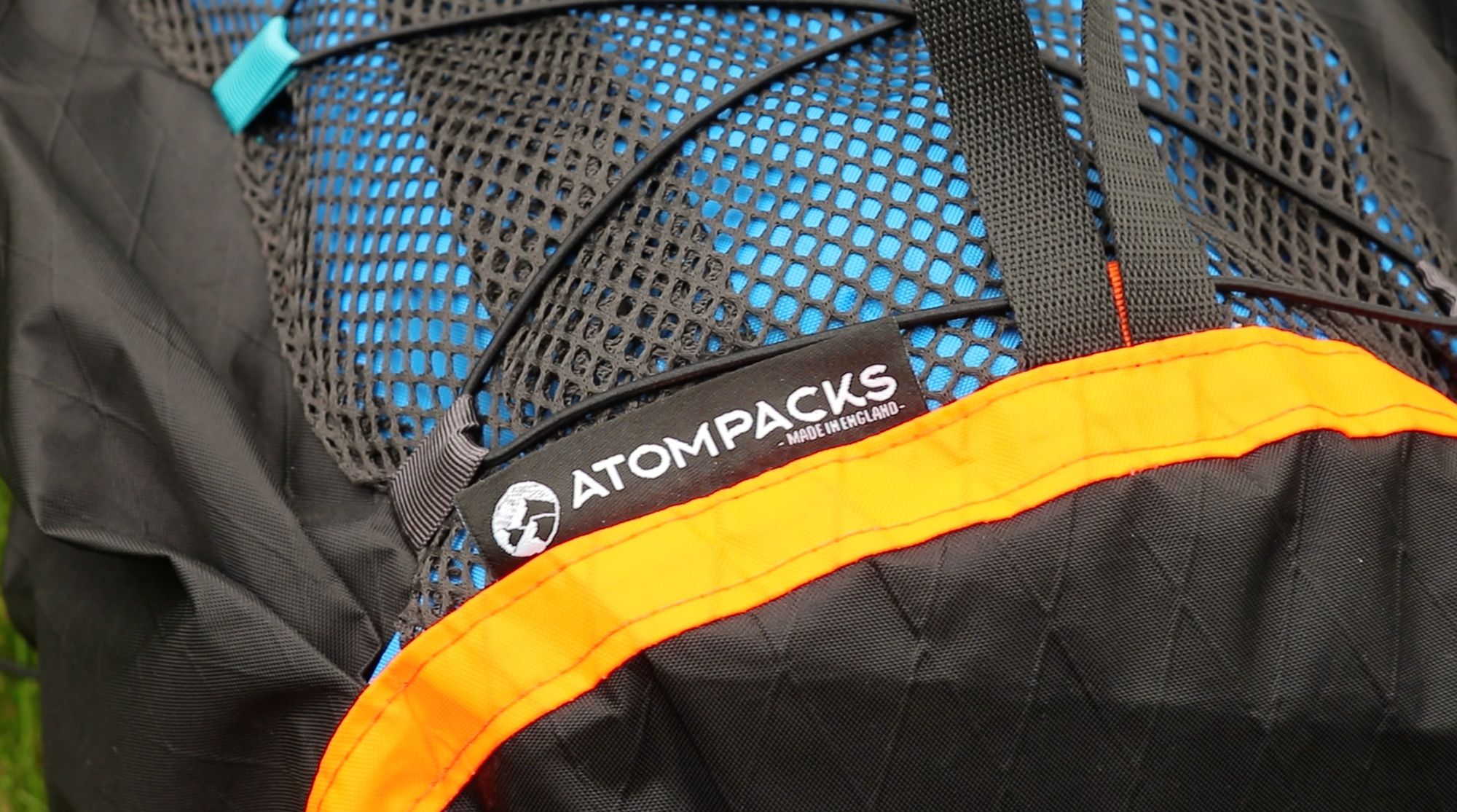 Other storage will be pretty standard: the Thrupack Summit Bum (a backpacking-oriented waist pack for keeping gloves, snacks, phone etc), a simple Tread Lite Gear pack liner, Tread Lite Gear cuben packing cells, silnylon stuff sack for food, and assorted ziploc bags.
Clothing and footwear
Again, no surprises here: it's my standard alpine wardrobe. I anticipate warm and fairly dry conditions most days, so my clothing system is built around running shorts and a lightweight shirt. I'll get heavy use out of the windproof layers but hopefully won't be using rain gear or active insulation that much. My clothing selection is minimal but experience has shown it can cope with robust conditions for days if needed. The only change I've made is to replace my sleeping T-shirt with a (heavier) Montane Allez Micro shirt that can double up as a warm mid layer if needed.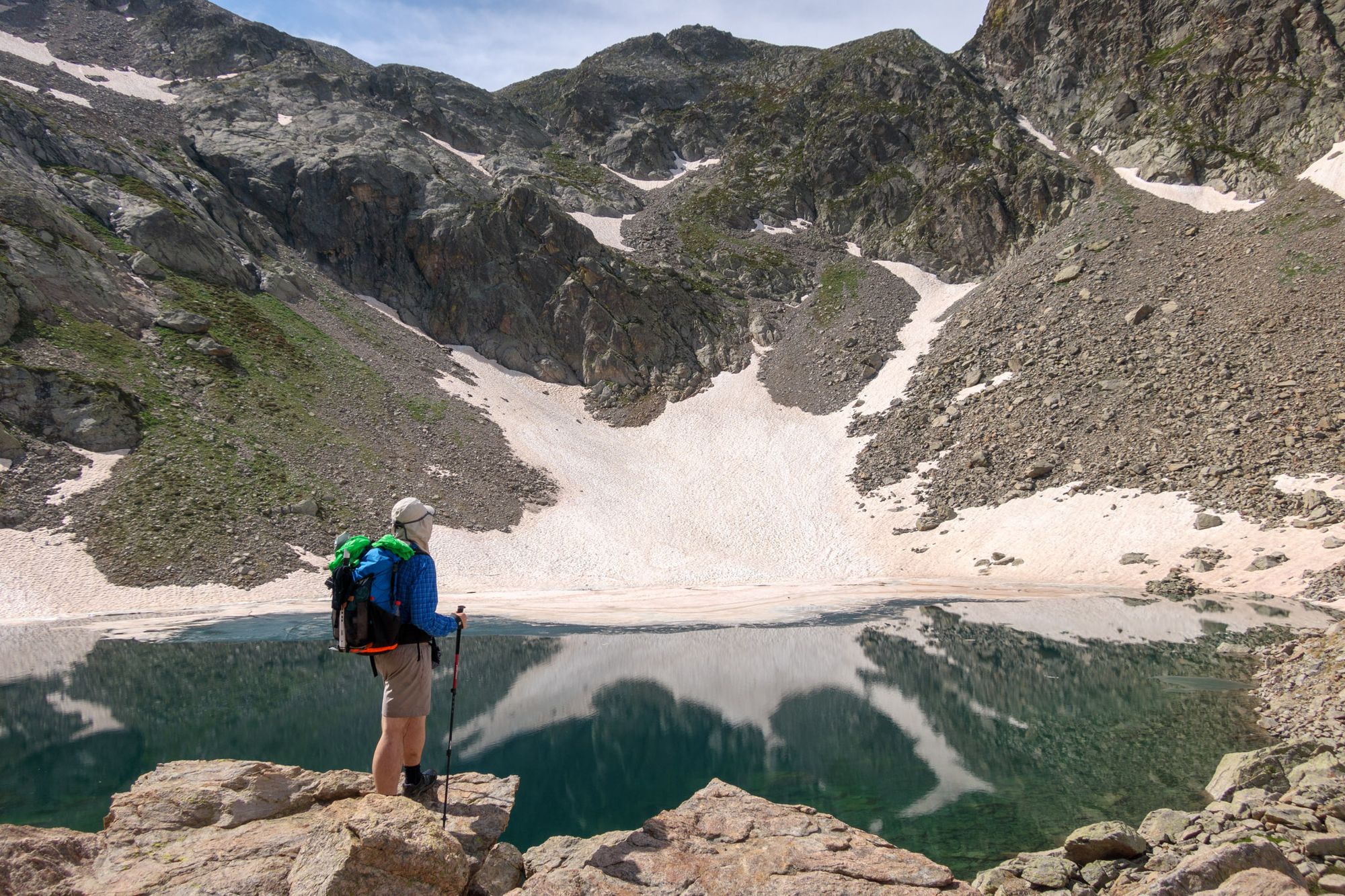 I have a few different pairs of trail shoes in stock at the moment. I will be hiking with the Salomon Evasion 2 Aero (very similar to the Eskape Aeros I've been using since 2017).
Food and water
As usual, I'll be hiking without a stove – I prefer the simplicity. This means that my only item of food-related gear is a spoon. Altogether I'll be carrying 5.5L of water-carrying capacity, but I don't anticipate needing more than a litre or two most of the time. The Sawyer Squeeze filter will be a vital item given the prevalence of livestock in the Pyrenees.
Snow gear
An ultralight ice axe and Microspikes can cope with any snow or ice I'm likely to find on an alpine-style long-distance hike. By late July I don't anticipate needing to deal with more than the odd snowfield at high elevation, but I have decided that axe and spikes will be worth carrying in case I want to climb any optional peaks.
I've been using the Grivel Ghost ice axe since 2017, but this year I'll be using the traditional ultralight choice – the Camp Corsa. Why? Purely because it's lighter. The alloy pick won't be as durable as the Ghost's steel pick, but I don't anticipate needing an axe much on the HRP.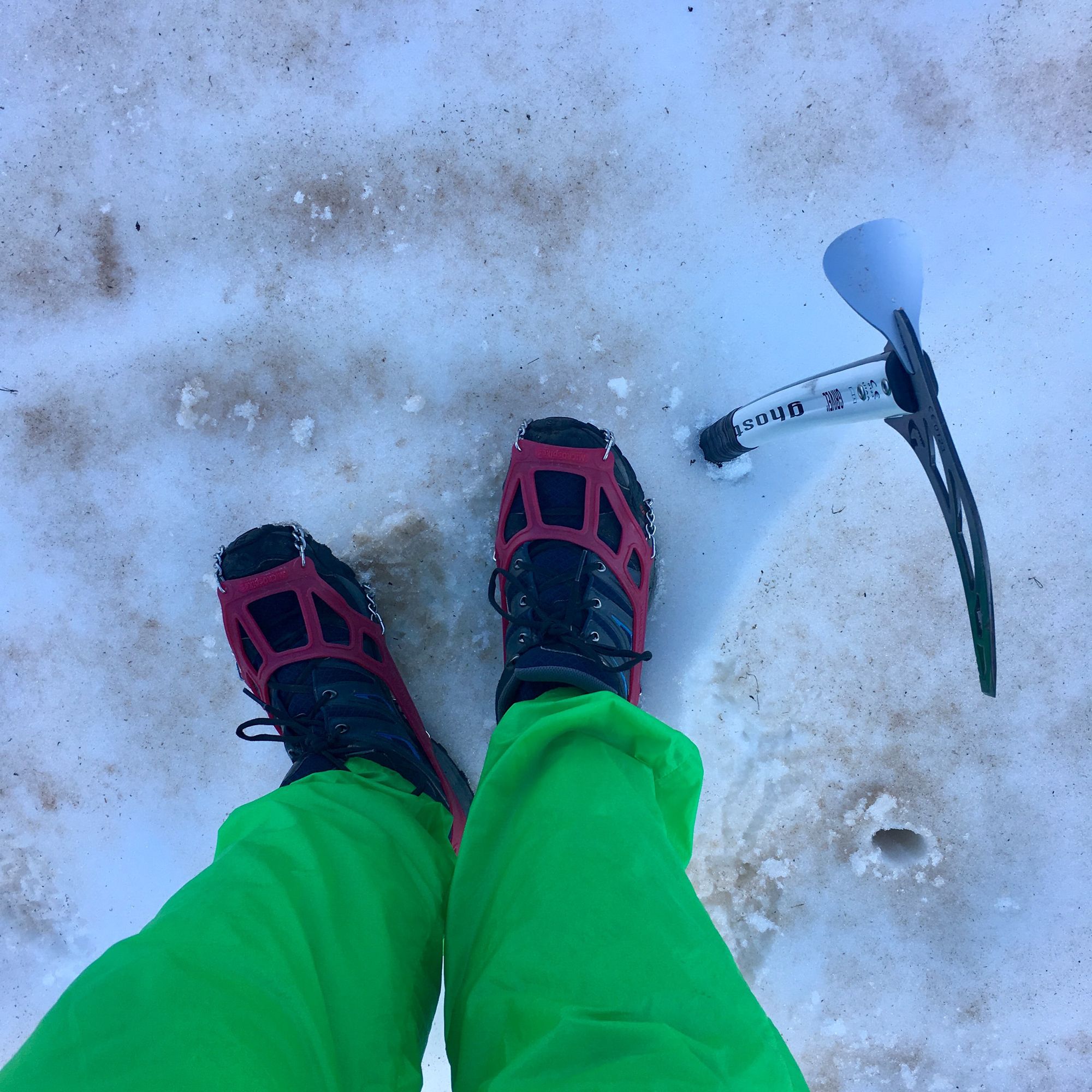 Electronics
I've made some changes here since last year and the total weight of this category has gone up since my Mercantour walk (but it's a lot less than I took on the Cape Wrath Trail in February). I've finally upgraded my old iPhone SE to the iPhone XR, which is heavier and larger, but also waterproof and has a bigger screen (not to mention a significantly better camera and longer-lasting battery).
The camera kit has been completely rethought. This time I will not be carrying a dedicated camera at all! Why? The iPhone XR I now carry can yield image quality more than good enough for my requirements – and not far behind the image quality of my Sony a6300 plus 16-50 zoom lens. This will be my first trip without a dedicated camera, so I'm a little nervous, but extensive testing over the last few months has forced me to conclude that for my needs I no longer need a dedicated camera – for this specific objective, at least. I won't be getting rid of my camera gear entirely, but I'm keen to try smartphone-only photography on this trip.
For lighting, I'll be using the Petzl E+Lite, which is adequate for use at this time of year.
I'll be carrying 1x 10,000 power pack to charge this lot, along with a much smaller 5,000mAh pack as a backup. Power packs can fail, and an energy supply is vital to me, so it's better to carry two smaller packs rather than one big one (and the weight penalty is very small). I am carrying a small one-port fast charger with a Euro plug.
Finally, there's my trusty Garmin eTrex 20 – equipped with full maps of the Pyrenees and all my GPS data – as a backup nav system.
Next steps
The next stage of my planning will be to sort out travel and logistics. Keep your eyes peeled for a further blog post on this in the coming weeks!
See also this post on maps, apps, and smart watch setup for the trail.
Online resources
The Pyrenean Haute Route (Cicerone Press) – in April 2019, Cicerone released a new and updated version of their HRP guidebook.
Whiteburn's Pocket HRP guide – one of the better online guides to the HRP, and can be printed on just a few very compact sides of A4.
HRPGuide.org – an excellent online guide to the HRP. It can be obtained if you make a £15 donation to a charity supporting Nepal earthquake relief.
A Quick & Dirty Guide to the Pyrenean Haute Route – Cam Honan's excellent introduction to the HRP.
Viajarapie's intro to the HRP – Inaki hiked the Haute Route in 2005. There's much valuable info in his trip report.
Richard Hartfield's video series on the HRP is also fantastic for inspiration.
All images © Alex Roddie. All Rights Reserved. Please don't reproduce these images without permission.
Alex Roddie Newsletter
Join the newsletter to receive the latest updates in your inbox.
Comments