The Farthest Shore reading list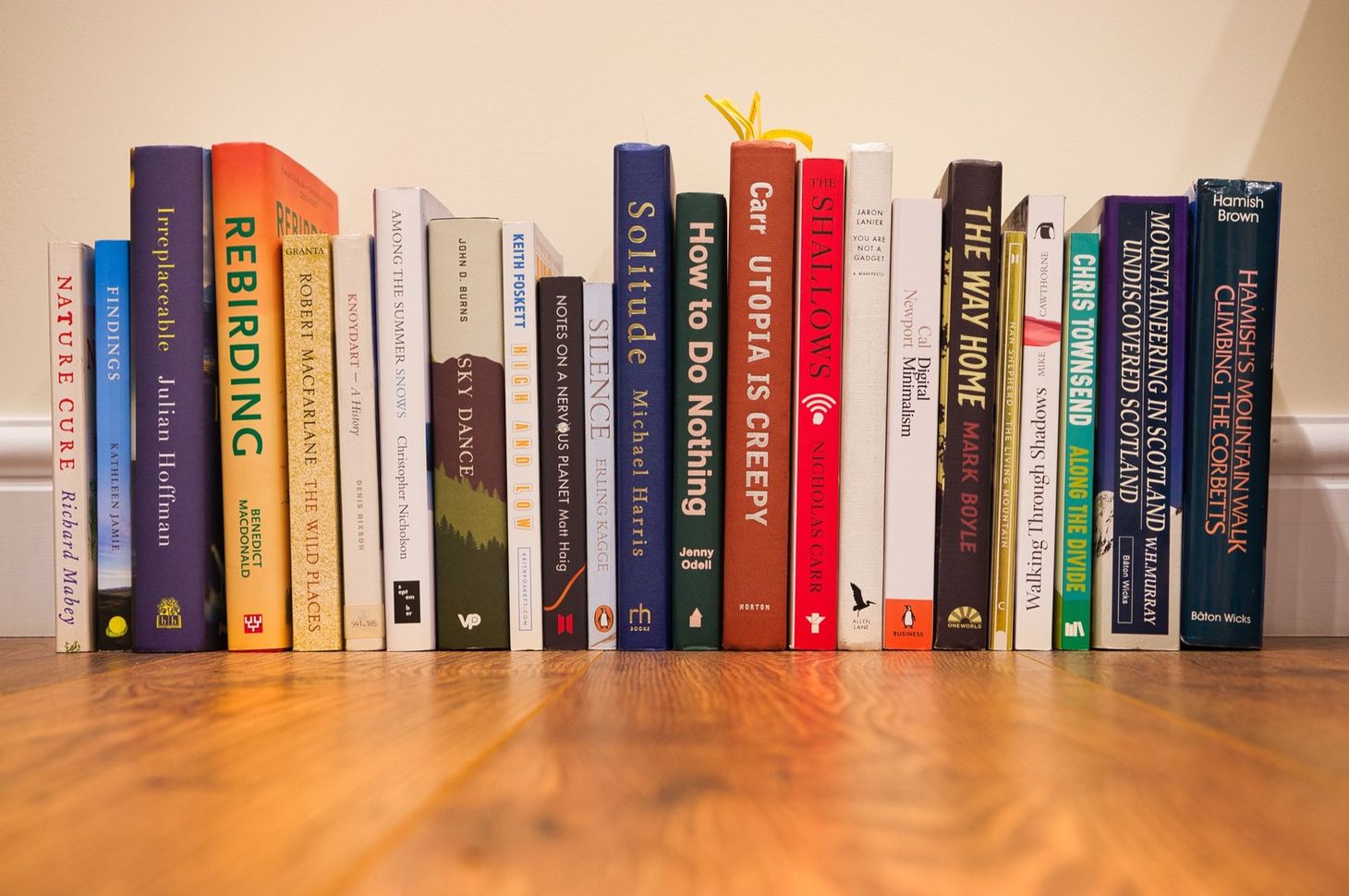 Here's my current bibliography of titles that have influenced my thinking (or which I plan to read) during the creative process for my book The Farthest Shore.
Updated 2019-10-29
Notes
Books listed here are ones that I have either read in the last two years, or plan to read in the near future. It's probable that there are a good many other books that deserve to be on this list but which have slipped my mind for now.
I'll add titles to this list and keep it as up to date as possible during the writing process.
Just because a book is on this list doesn't necessarily mean that I recommend it or agree with it. It just means that I've read it and found it relevant in some way, or that I want to read it.
Titles are listed alphabetically. On my shelves I have them piled in loose groups that make sense only to me. If I had them in alphabetical order I probably wouldn't be able to find anything…
Along the Divide: Walking the Wild Spine of Scotland, Chris Townsend (Sandstone Press, 2018)
Among the Summer Snows, Christopher Nicholson (September Publishing, 2017)
Digital Minimalism: Choosing a Focused Life in a Noisy World, Cal Newport (Portfolio, 2019)
Feral: Rewilding the Land, the Sea and Human Life, George Monbiot (Allen lane, 2013)
Findings, Kathleen Jamie (Sort Of Books, 2005)
Hamish's Mountain Walk & Climbing the Corbetts, Hamish Brown (Baton Wicks, 1996)
High and Low: How I Hiked Away from Depression Across Scotland, Keith Foskett (Keith Foskett, 2018)
How to Do Nothing: Resisting the Attention Economy, Jenny Odell (Melville House, 2019)
Into the Wild, Jon Krakauer (Anchor Books, 1997)
Irreplaceable: The Fight to Save Our Wild Places, Julian Hoffman (Hamish Hamilton, 2019)
Knoyart – A History, Denis Rixson (Birlinn, 1999)
Mountaineering in Scotland & Undiscovered Scotland, W.H. Murray (Baton Wicks, 1997)
Nature Cure, Richard Mabey (Chatto & Windus, 2005)
Notes on a Nervous Planet, Matt Haig (Canongate Books, 2018)
Rebirding: Rewilding Britain and its Birds, Benedict Macdonald (Pelagic Publishing, 2019)
Silence: In the Age of Noise, Erling Kagge (Penguin Books, 2016)
Sky Dance: Fighting for the Wild in the Scottish Highlands, John D. Burns (Vertebrate Publishing, 2019)
Solitude: In Pursuit of a Singular Life in a Crowded World, Michael Harris (Random House, 2017)
The Last Wilderness: A Journey Into Silence, Neil Ansell (Tinder Press, 2018)
The Living Mountain, Nan Shepherd (Canongate Books, 2011)
The Shallows: What the Internet is Doing to Our Brains, Nicholas Carr (Atlantic Books, 2010)
The Way Home: Tales from a Life Without Technology, Mark Boyle (Oneworld Publications, 2019)
The Wild Places, Robert Macfarlane (Granta, 2007)
Utopia is Creepy: And Other Provocations, Nicholas Carr (Norton, 2016)
Walden, Henry David Thoreau (Ticknor and Fields, 1854)
Walking Through Shadows, Mike Cawthorne (Birlinn, 2019)
You Are Not a Gadget: A Manifesto, Jaron Lanier (Vintage, 2010)
Alex Roddie Newsletter
Join the newsletter to receive the latest updates in your inbox.
Comments