The gear that I would have taken on the 2020 TGO Challenge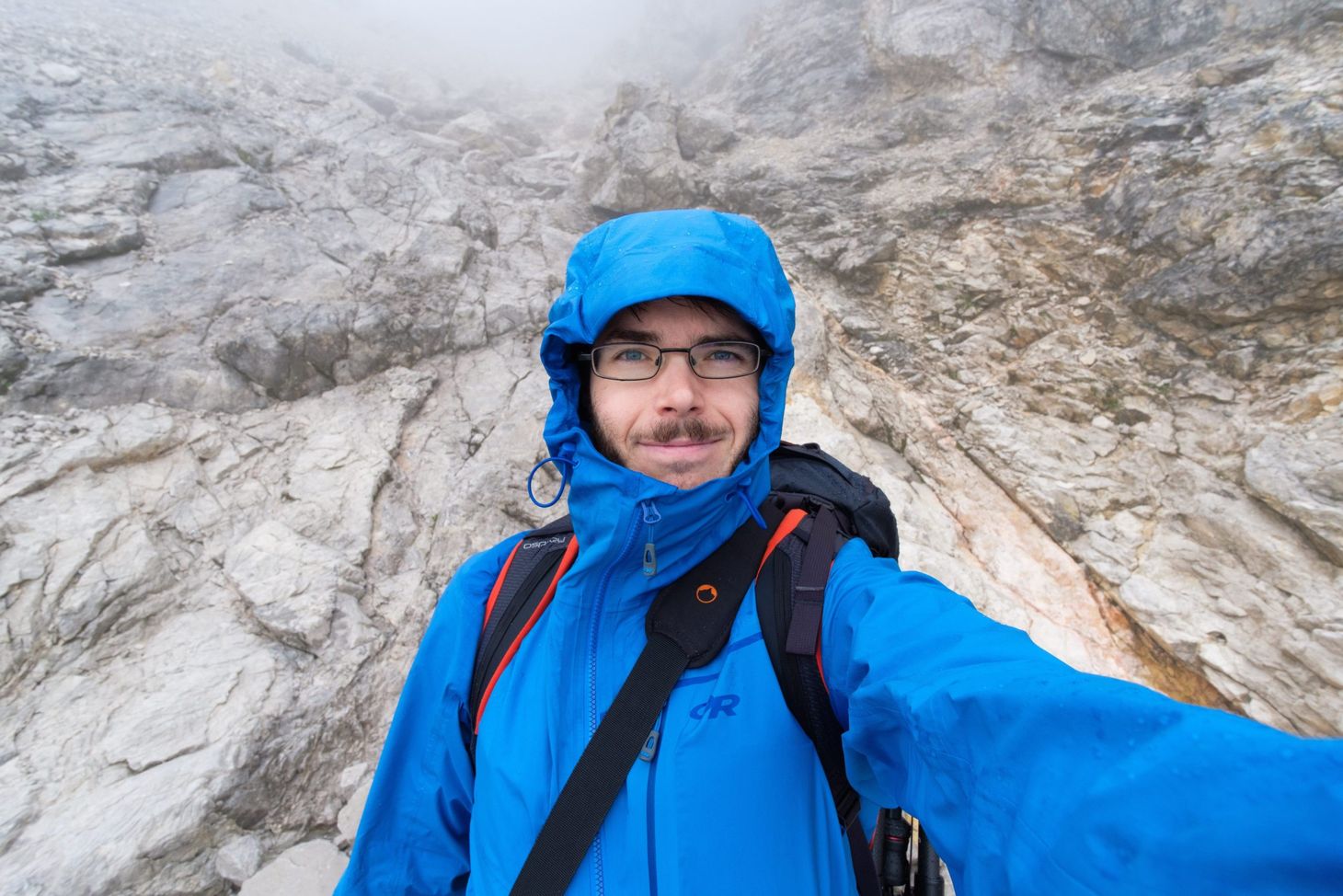 Sadly the 2020 TGO Challenge is not to be, but here's the gear I would have been taking on my journey across Scotland…
As I write this, I should be in Oban, preparing to set out on my very first TGO Challenge (here is a little about the route I'd planned). Like everything else, the event was of course cancelled due to the COVID-19 crisis. Had it taken place, it would have been a route to remember, taking in a number of new (to me) Munros and a wealth of wild and beautiful country.
Scotland in May can be unpredictable. Challengers expect a mixture of wet, windy, warm, cold, and even snowy weather. Routes that head high sometimes need winter gear. Midges and ticks can be a problem, or they might not have emerged yet. I would have fine-tuned this gear setup in the days leading up to my hike, and no doubt made final adjustments on the morning before catching the train north.
Here is my full gear list on Lighterpack.
Let's break it down…
Overall approach

Many readers will know that for the last few years I've been following a lightweight ethos in the mountains, making steady improvements to the kit I choose to trust as I learn more about my capabilities and needs. 'Ultralight' trips in recent years have included my 2018 Mercantour Traverse and 2019 Haute Route Pyrenees. In Scotland I've usually been more conservative with gear, though. Although I have done multi-day big-hill hikes in Scotland with a sub-5kg pack, this isn't the approach I wanted to take with the Challenge.
The thing about pushing the personal envelope with ultralight backpacking is that the novelty wears off. Once you get your base weight down to a certain level, you start to hit diminishing returns – for me, in the Scottish Highlands in summer, that's roughly 6-8kg. For other objectives the sweet spot can be anywhere from 5 to 10kg. It's all very personal.
I want a light pack, but I've also spent countless nights sleeping on a hard, thin, closed-cell-foam mat. If you aren't careful, chasing the numbers can take over from the experience of being in the outdoors. Besides, the TGO Challenge is not an extreme endurance mission. It is supposed to be fun.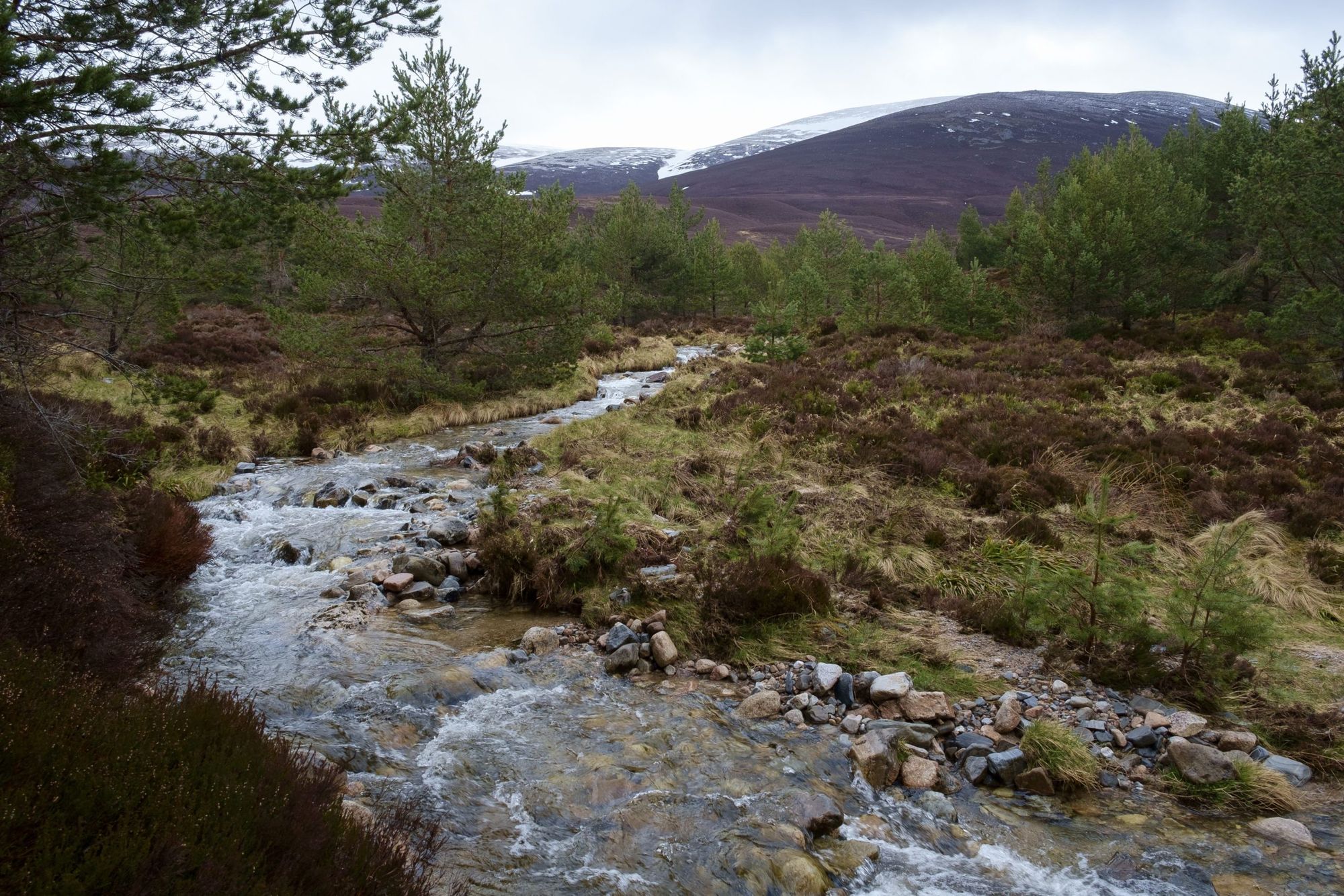 So this time I decided to be a bit more relaxed with my gear list. I added a few comfort items and improved my margin for error. Basically, after going through the lightweight learning process, I'm now a lot more comfortable in making selections based on what I know works rather than what looks good on a LighterPack list.
Below I've expanded a little on a few of the new items I would have been taking. In many cases my gear has changed little for several years, so this isn't a blow-by-blow account of everything on the list.
Camping and sleeping
My shelter would have been the Mountain Laurel Designs Duomid (silnylon). This is a shelter I both trust and enjoy using. I carried it on my 2019 winter Cape Wrath Trail and was entirely happy with it. Although I also have a much lighter Solomid, I knew I'd appreciate a roomier and more stormproof shelter on this trip. I've recently added a semi-solid inner from Bear Paw Wilderness Designs, and decided to pack this too – it's great for cutting out cold winds (and midges).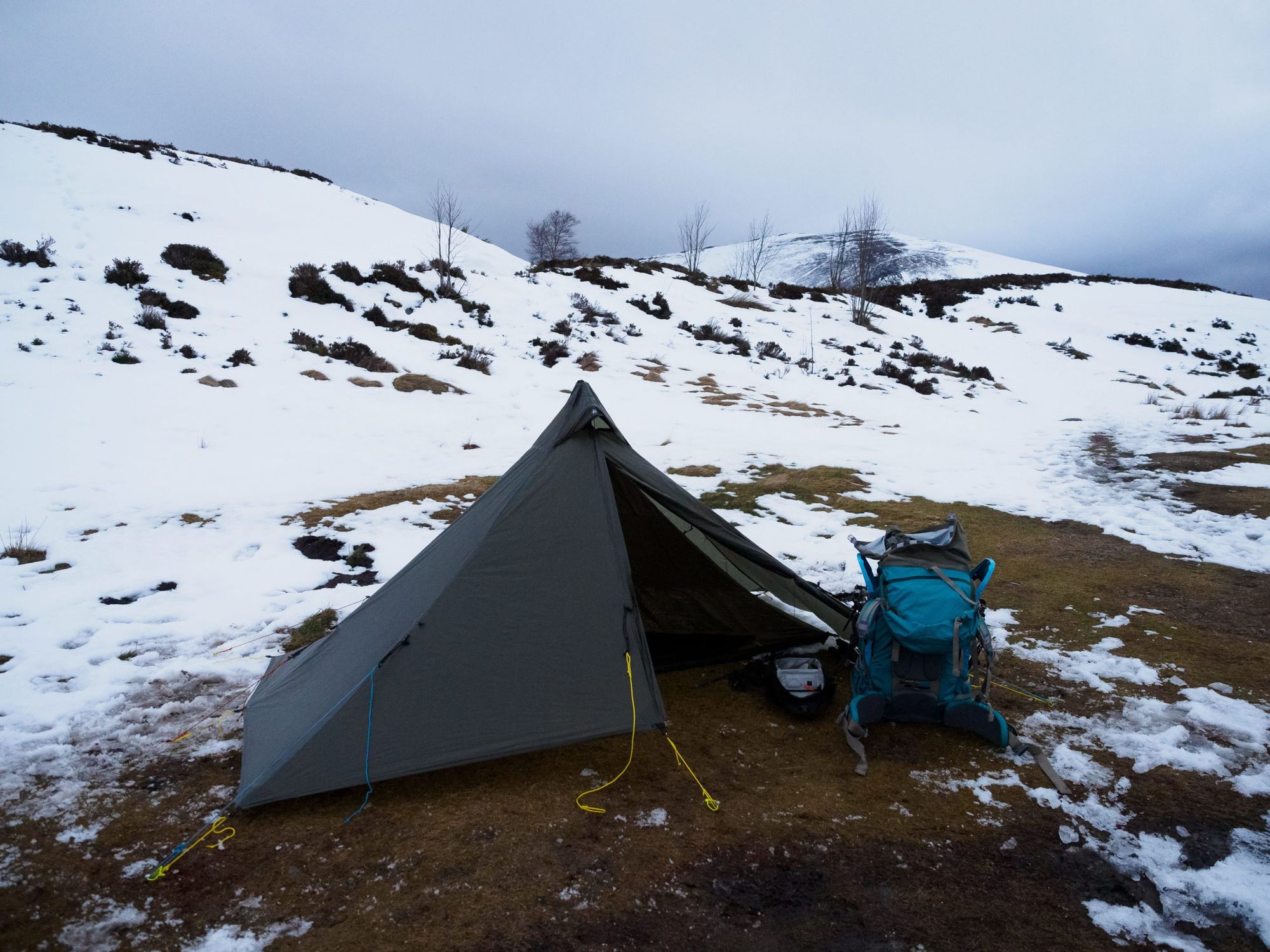 I have upgraded my sleeping setup over the last few months. Gone is the old CCF pad; I now have a standard Therm-a-Rest NeoAir XLite. Bring on the punctures. My quilt is the lovely-looking Vesper 20, also from Therm-a-Rest. I haven't had the chance to use it in anger yet, but it's very light at 570g and reputedly warm down to several degrees below freezing.
Pack
A customised Atom Packs Mo 60 in my signature blue and neon orange would have accompanied me across Scotland. I've been very impressed with my Prospector 40, but 40 litres is a bit small for Scotland if I'm out for more than a few days. The Mo 60 would have been ideal, I think, with its stiffened back panel and roomy interior.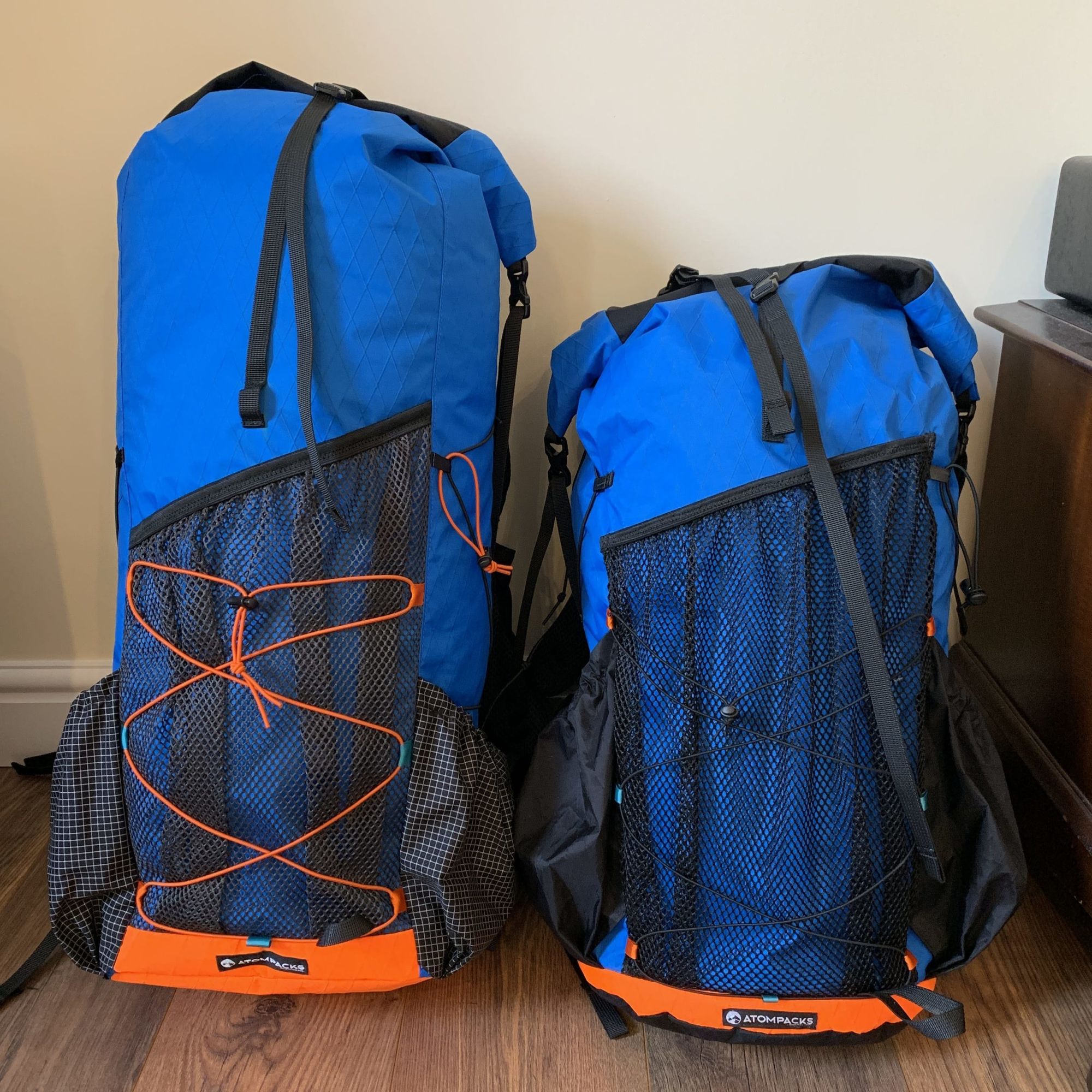 Winter gear
If needed, I would have gone with my lightest winter setup: the 50cm Camp Corsa (more or less the lightest usable ice axe available) and Kahtoola Microspikes.
Clothing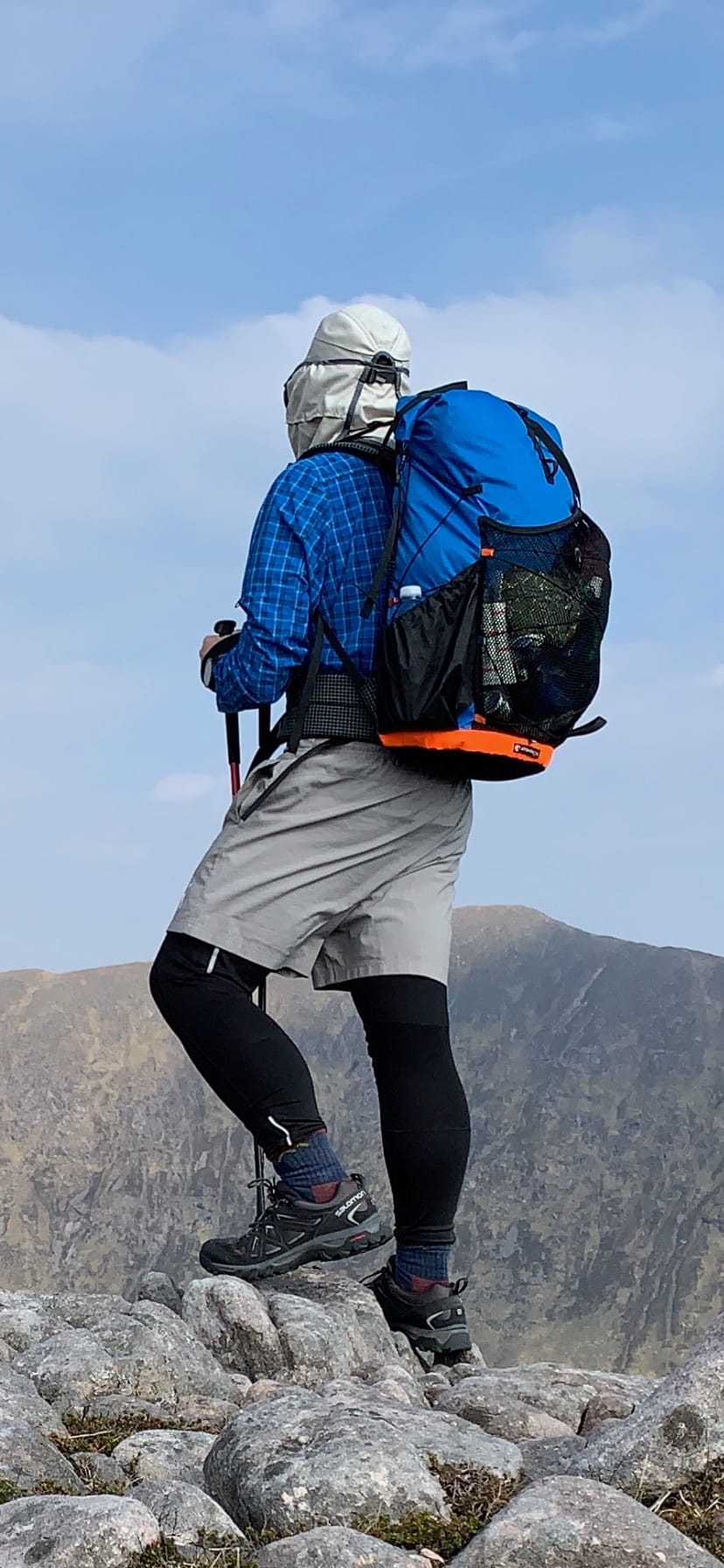 No surprises here, and only one change. On the trail I would have been using my tried-and-true combo of a basic hiking shirt, running tights, and running shorts. My summer waterproof shell of choice is still the Outdoor Research Interstellar Jacket, which is the most breathable jacket I've ever owned.1 The Berghaus Paclite trousers are the same I've been using for years, as is the Rab Nucleus fleece. The only change in the clothing category is that I now have a Crux Neo down jacket – the full-zip hooded version of the Crux Turbo Smock I've owned since 2016.
I'd be wearing trail shoes on my feet – probably Salomon ones, as I've found them the most durable and comfortable over recent years. I have several different pairs in stock at the moment, so would have made the call at some point in April as to which I'd start gently breaking in on a couple of morning walks before the Challenge began.
Electronics
I have made a few changes here. Late last year, after my old faithful iPhone SE finally gave up the ghost, I upgraded to an iPhone 11 Pro. The price shock was worth it for the vastly improved battery life and incredible camera quality. In fact, when shooting RAW, the quality I've been getting out of the 11 Pro's camera is now good enough to replace a dedicated camera in some circumstances on the trail. In addition to the standard two cameras, it also has a very useful 13mm-equivalent ultrawide lens.2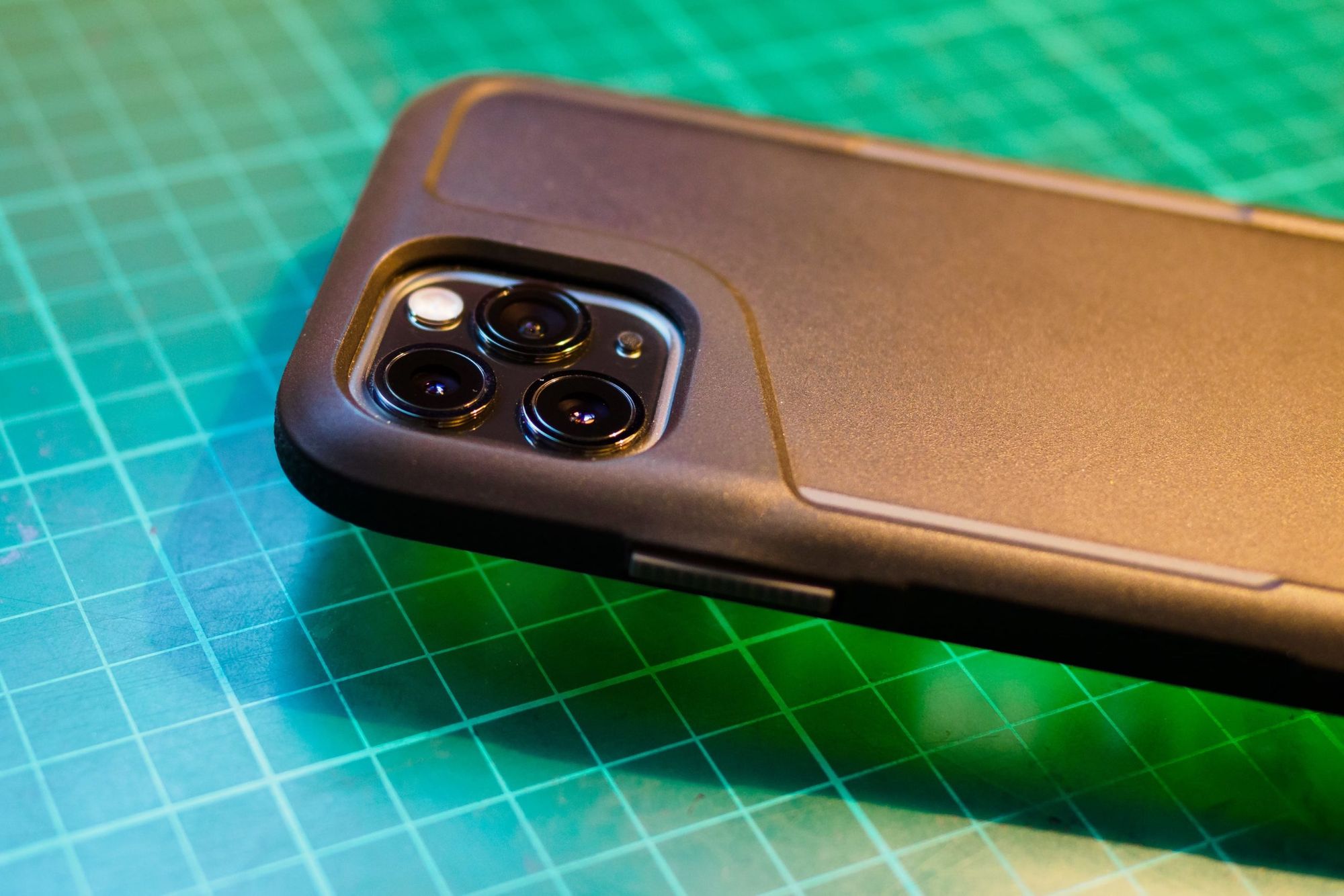 This would have been my first real long-distance trail without carrying a dedicated camera. Why? I wanted to see what it would be like, wanted to push my iPhoneography skills. The main factor here is that my TGO Challenge was not going to be a paying job; it was simply going to be a hike for the fun of it, and that meant I could do without the real camera I still depend on for my photography work.
I've recently added a Valley and Peak insulated pouch to my electronics kit. This is a pretty simple item, but I've found it superb for storing power banks, chargers and cables while in my pack. It's really designed as a piece of winter kit to stop batteries from freezing overnight, but I think it'll find a place in my summer kit list too.
The other key change is that I'd be wearing the Garmin Instinct watch. Although I am not using GPS navigation on the hill or on the trail this year3, it would have come in useful for tracking sunrise and sunset times, overnight temperatures, barometric pressure, altitude etc. Even without making use of its GPS facilities, it's still a very good outdoor watch.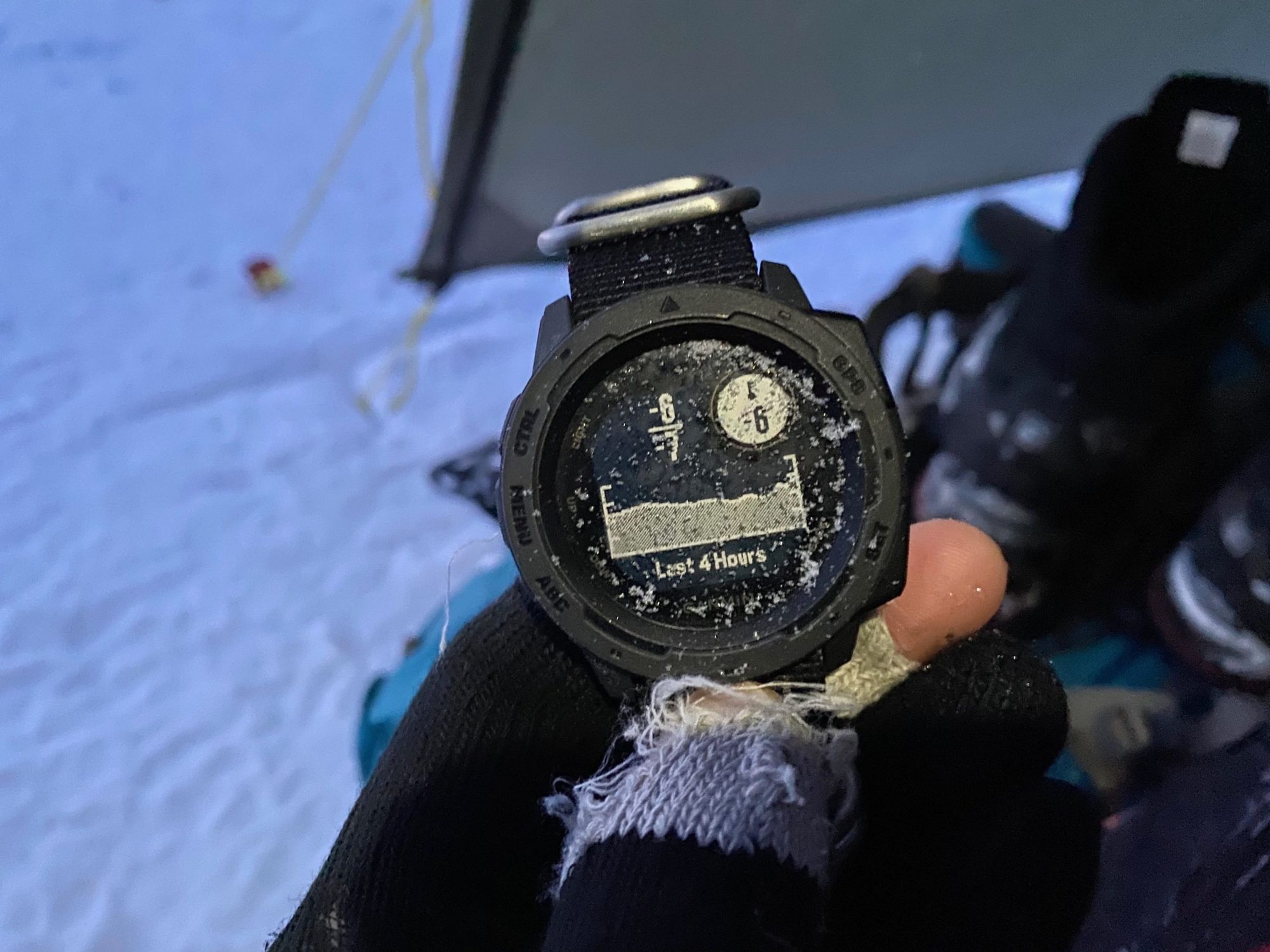 Water and food
Although I have hiked the Haute Route Pyrenees and many other summer routes stoveless, and am happy doing so, hiking stoveless in Scotland can be unpredictable. Small local food stores don't always stock suitable products for a good stoveless resupply. I don't like sending supply boxes unless I have no other choice, so that's out. Also, in colder weather – and May in Scotland can be cold – I do prefer having the option of hot food and drinks.
My requirements for a stove are not hardcore, though. I tend to have hot food for only one meal a day, plus a cup of coffee or tea in the morning. I've recently added the tiny Soto Amicus gas stove to my collection, along with a very light Toaks titanium pot. This represents a substantial lightening-up of my old summer stove setup.
---
Looking through my Challenge gear list is bittersweet. I composed this list in a more hopeful, less limited time, and these items are just sitting in my gear cupboard now, weird objects that have no useful function in our current reality. But it's my hope that I can still complete my planned Challenge route this year – maybe in the autumn, if restrictions allow. If not, then roll on the 2021 TGO Challenge…
---
I carried an Alpkit Gravitas jacket last year in the Pyrenees. While this is much lighter, and fine if you don't anticipate needing to wear it much, I appreciate something a bit more robust in Scotland. ↩︎
Image quality from this lens is noticeably worse than from the other two, and you can't shoot in RAW with it, but it's still useful to have. ↩︎
No big story here; I'm simply taking a bit of time to focus on sharpening up my trad navigation skills. There's a bit more about this in the upcoming June issue of The Great Outdoors. ↩︎
Alex Roddie Newsletter
Join the newsletter to receive the latest updates in your inbox.
Comments