I joined the Trailstar club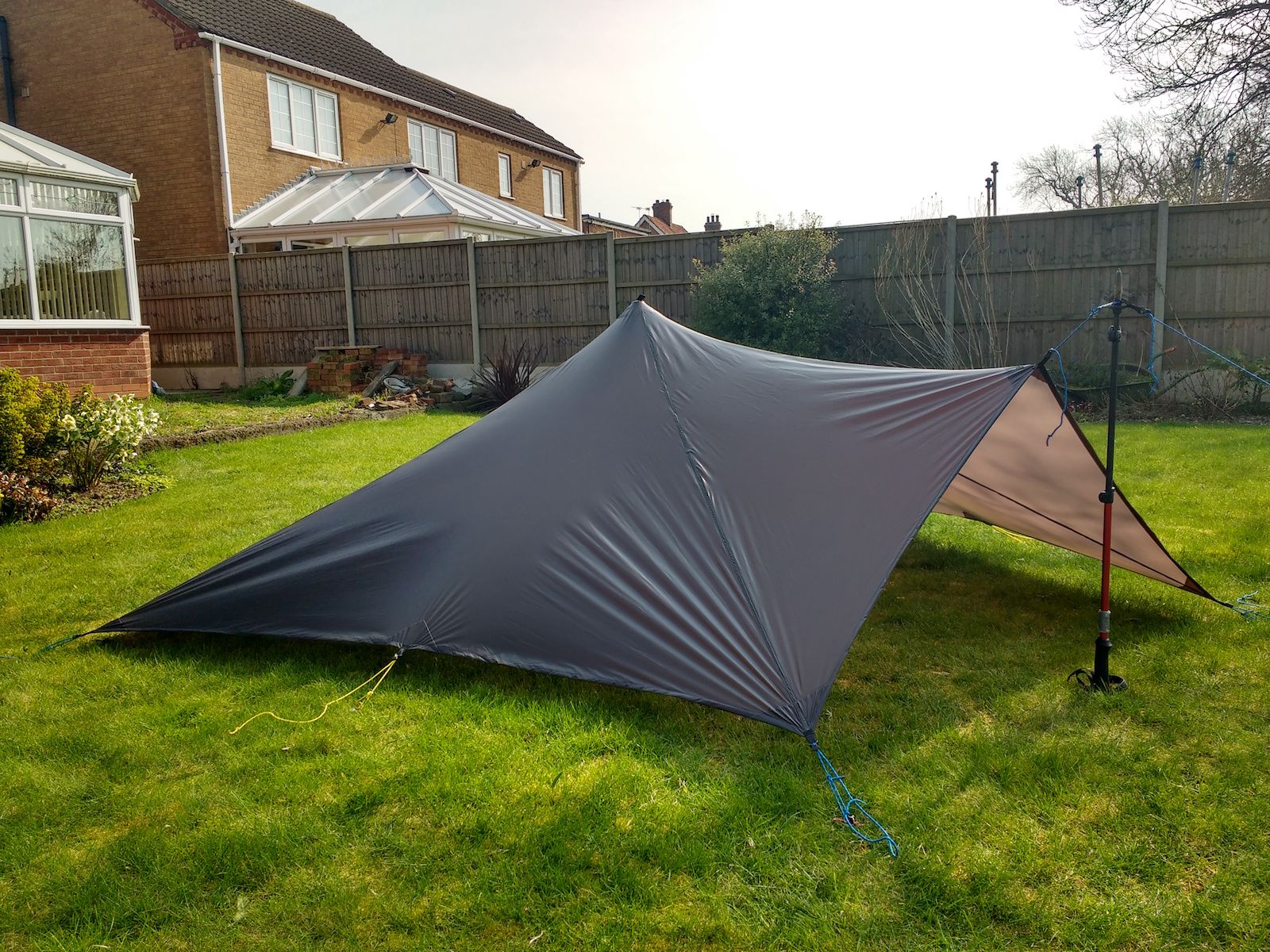 While I love and will continue to use the Tarptent Notch, it isn't the perfect shelter for every scenario. I have long-distance trails planned in very windy and inhospitable places this year, so I decided I needed a shelter upgrade. There could only be one candidate: the Mountain Laurel Designs Trailstar.
'Trailstar fever' passed me by when it hit these shores back in about 2012. In those days I was in the middle of a bit of an outdoor lull. I still visited the mountains every few months, but I had stopped pushing myself and my kit was about as far as possible from 'ultralight'. That all changed last year.
But classic design is timeless, and here in 2016 it's arguable that the Trailstar remains a unique shelter. Lightweight backpackers in the UK often choose it due to its simplicity, charm, flexibility, huge living space, and legendary wind-shedding powers. It is not a shelter for beginners: it comes supplied with lineloks attached, but you have to cut and fit your own guylines, and seal all the seams with Silnet. It can't be pitched without user-supplied poles (usually hiking poles), and due to its simplicity there are multiple possible pitches. There's no inner tent – this isn't a tent at all, but a cunningly designed shaped tarp. It is, in short, a product for the advanced user who knows exactly what they want from a mountain shelter. And at around 550g with guys attached and seams sealed, it's still very light.
Why did I choose the Trailstar? Why not just keep using my trusty Tarptent Notch? Out of the box, the Notch is not stormproof. I extensively modified it by replacing all the guyropes and adding extra pegging points. Even with these modifications, by design it relies exclusively upon single pegging points, one at each end, for its structure; if one of these pegs comes loose, the entire structure undergoes catastrophic collapse. This happened to me on the Cape Wrath Trail and was not pleasant. With these modifications, and the partial-solid inner for cutting out drafts, the Notch weighs in at 904g… excluding pegs. It's light, but I've added more camera gear recently and I desperately need to make weight savings. And even with reinforced guys and better pegs, there will always be a nagging doubt as to whether or not the Notch will actually survive another storm. Don't get me wrong – for many scenarios the Notch is ideal, and I'd recommend it. But I need something absolutely bomb proof this year.
I seriously considered removing the inner and just using the Notch fly, but the weight is almost identical to the Trailstar's 550g – without the Trailstar's superior living space and stormworthiness. For the wind-blasted tundra of the Nordkalottleden, the Trailstar is a superior shelter.1
I depart for the West Highland Way, Alder Trail and Skye Trail on the 20th of April. The Trailstar has to be ordered from the USA. I contacted Ron at Mountain Laurel Designs to explain my requirements, and he was extremely helpful. I had to pay for express shipping, but the parcel arrived on my doorstep this morning, an unbelievable three days after putting in the order! Ron really made an effort to provide excellent service and I'm very grateful for his help.
I decided to go for the brown version, which is a rather dark brown, almost black in certain lighting conditions. Due to its vast interior space (roomy for two people, let alone one), I've christened it the Bat Cave.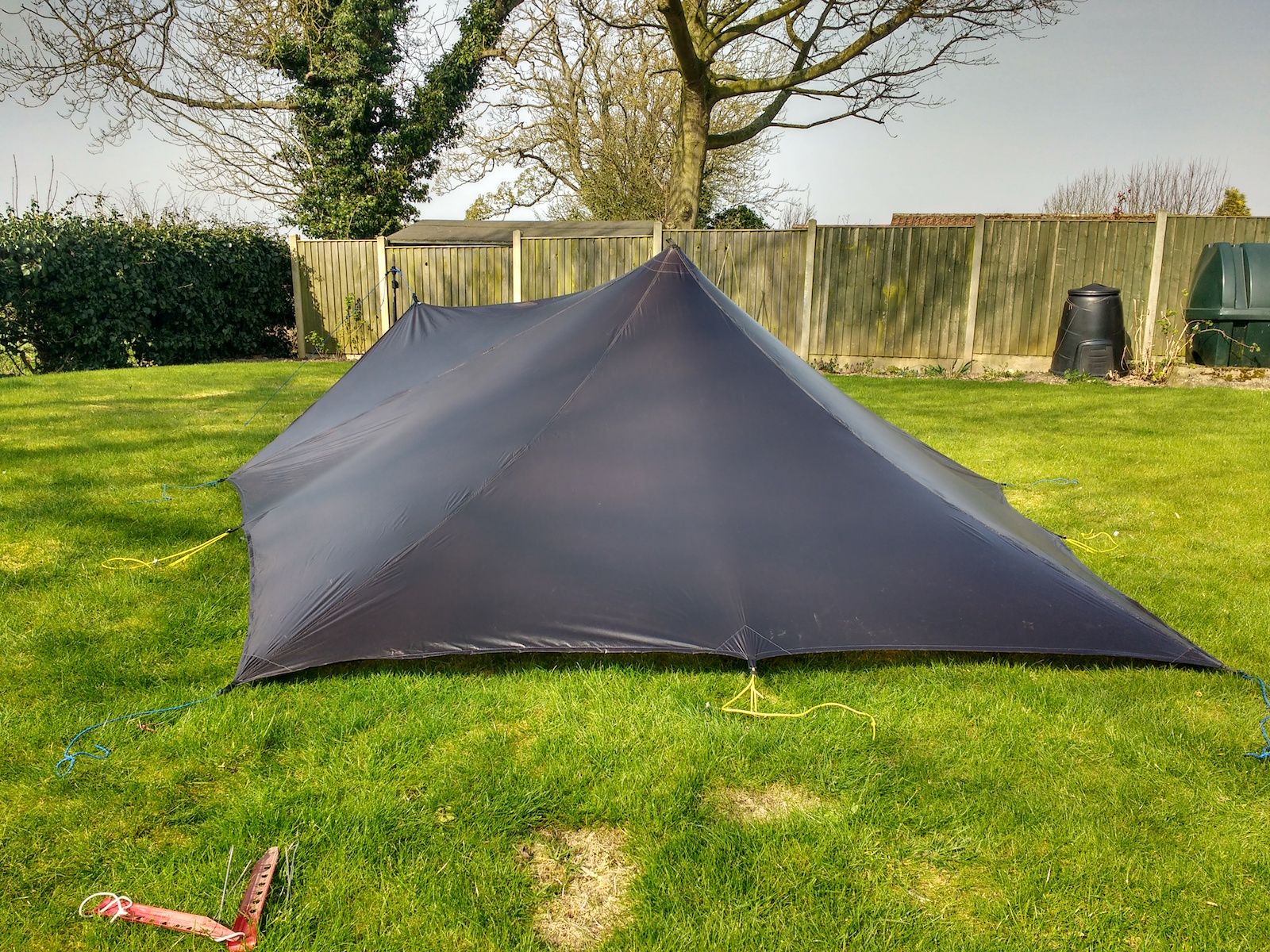 After fitting guylines to my requirements, it didn't take me too long to figure out how to pitch it. I then used the included tube of Silnet to seam-seal the shelter. This job took about twenty minutes.
For now, I'll be using the Trailstar with an ultralight polycro groundsheet and a water-resistant bivy bag. In bug season, on the Arctic Trail, I will need some kind of mesh nest. I've tried the Notch's inner and it can be used, but is a sloppy fit; besides, I really want something much lighter.
I'm really pleased with the Bat Cave and look forward to using it on my adventures in 2016 and beyond. Many thanks not only to Ron at MLD, but also the friendly and helpful community of Trailstar users on Twitter who have helped me over the last few days.
---
An aside: briefly, I thought that the SMD Deschutes Tarp would suit my needs. It's an ultralight mid, but when it arrived I realised it had a number of issues that reduced its ability to shed wind. There's no buckle reinforcing the lower edge at the bottom of the zip, minimal reinforcement at the tieouts, and the sides are not cat-cut. It looks like a great shelter, and it is very light, but it's not up to my requirements. I sent it back. ↩
Alex Roddie Newsletter
Join the newsletter to receive the latest updates in your inbox.
Comments