iPad mobile photography workflows in 2016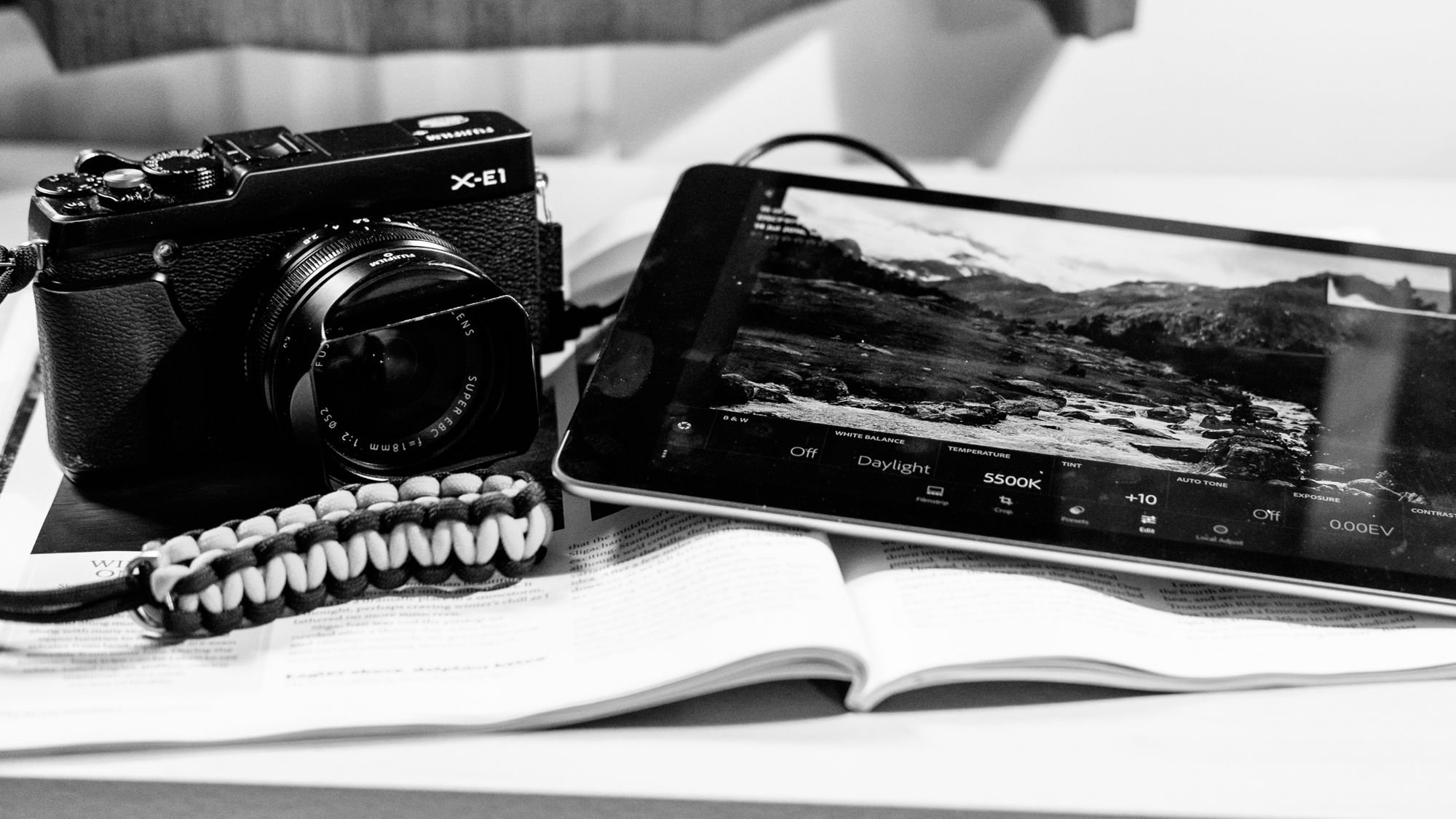 Ever since the iPad was first introduced, I've been trying to make it work as a viable portable computer. Photography remains a real weak point of iOS, and although iOS 10 takes a big leap forward in closing that gap, it still isn't quite there.
First, let me describe how I would like to use iOS in relation to photography.
I have a large photo collection. I take some photos with my phone, like most people, but I mainly use digital cameras and shoot in raw. Until recently I was processing these files in Photoshop and storing the raws manually on a hard disk. The resulting JPEGs get automatically filed in Dropbox and Google Photos.
This is a Mac-centric workflow. I have tried to replicate it on an iPad, and it is possible using Photoshop, but slow and cumbersome. A JPEG-only workflow is a lot more pleasant but shooting JPEG would compromise the quality of my output, so that's not worth considering.
What I would like to be able to do is have the same raw workflow on both the Mac and the iPad / phone. I have been doing more work off-site recently and it would be nice to be able to process a small batch of photos on iOS, without being forced to attend to part of the workflow later on with my desktop rig.
I have no current ambitions to retire my Mac and just use the iPad. I sometimes think it would be cool to do that, because I often prefer iOS, but the ergonomics just don't work out for what I do, regardless of the software's capabilities. We're talking about a scenario where the iPad can take on all the photo-editing duties my Mac normally performs, but without actually replacing the Mac.
Enter Lightroom
I have a Creative Cloud subscription, which gets me access to both Photoshop and Lightroom. I tried Lightroom a while ago, but found the initial learning curve quite steep, so continued to edit raw files individually with ACR in Photoshop. This works up to a point, but file management starts to become onerous (and I'm getting to the stage where actually finding a given photo is getting difficult).
It occurred to me that Lightroom could solve many of my issues. There's a highly capable Lightroom app out for iOS now, so I thought it had to be worth a try.
First step was to get going with Lightroom on the desktop. I haven't imported my entire photo library, but I have added a few hundred pictures and started to use the program. Once I got over my initial reaction of 'wow, this is complicated' and watched a few YouTube videos, I realised this would likely be ideal for me.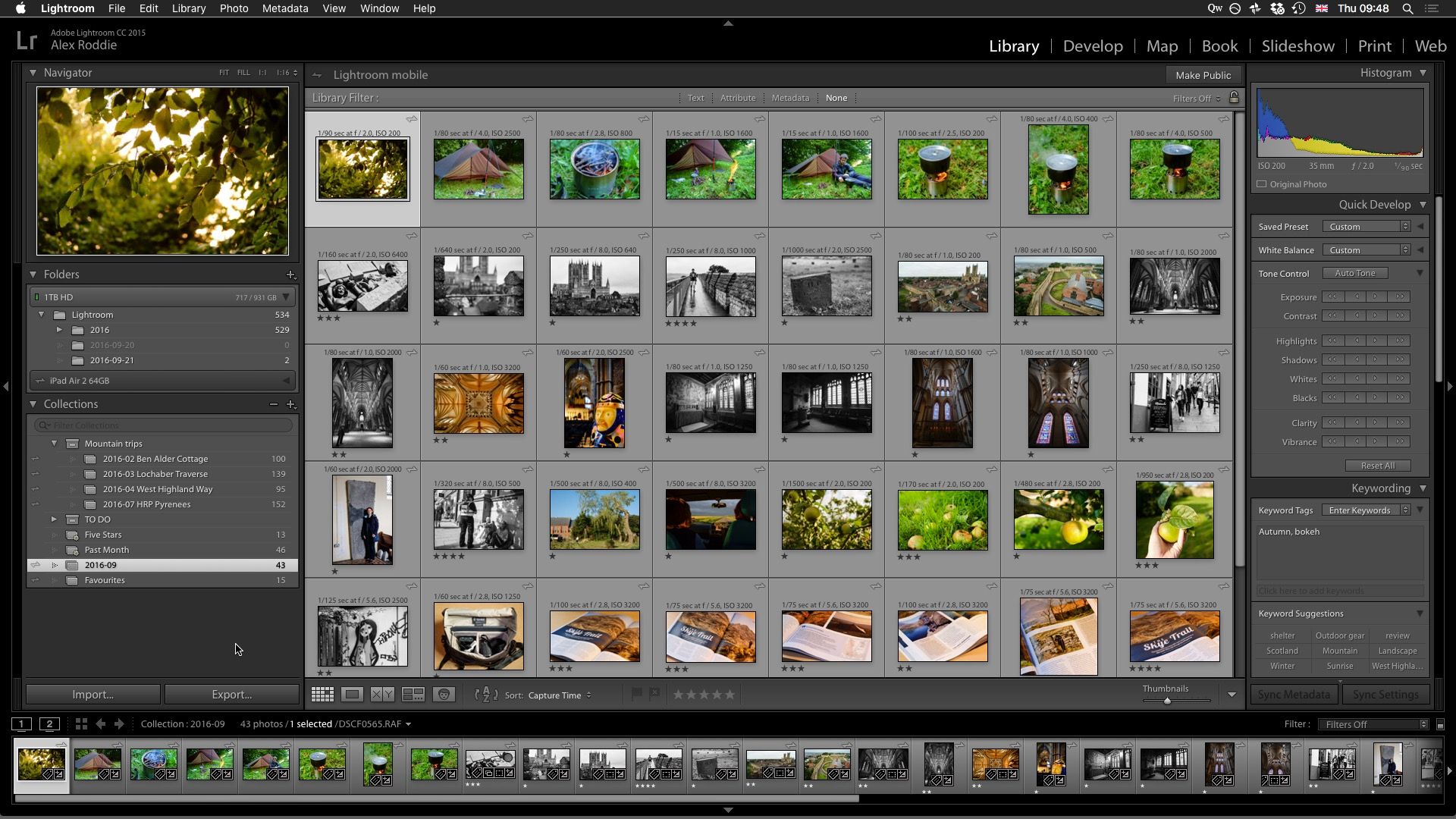 But what about on iOS?
Photo management on the iPad
I updated my iPad to iOS 10 the day after it came out. I won't go into all the details here, but iOS 10 has system-level support for raw photo files.
The update went smoothly, and after I had installed Lightroom and synced my collections, I tried out raw editing on the iPad. If you aren't familiar with how to actually get a raw file onto an iOS device, here's what you need to do.
Shoot photos in either raw or raw+JPEG.
Plug your camera into your iPad using a USB cable and the Lightning to USB Camera Adapter. A Lightning SD card reader also works.
The Photos app will open automatically, showing thumbnails for all your photos.
Select photos you want to import, then tap 'Import'. The files will be copied to your camera roll.
When you enter Lightroom Mobile and import a photo, any raw files will show a small 'RAW' badge. If you try to import a raw+JPEG pair, only the raw will be imported.
This process could do with some refinement, because it has not been improved in years. On the import screen, you can't zoom in on thumbnails, and raw+JPEG pairs are shown together. There's no way of downloading just the JPEG or just the raw, and if you have a mixture of the two formats on the disk, there's no way of distinguishing them! I had high hopes that iOS 10 would introduce some improvements here, but it hasn't. There urgently needs to be some way of distinguishing JPEGs and raws, because this is likely to confuse many users.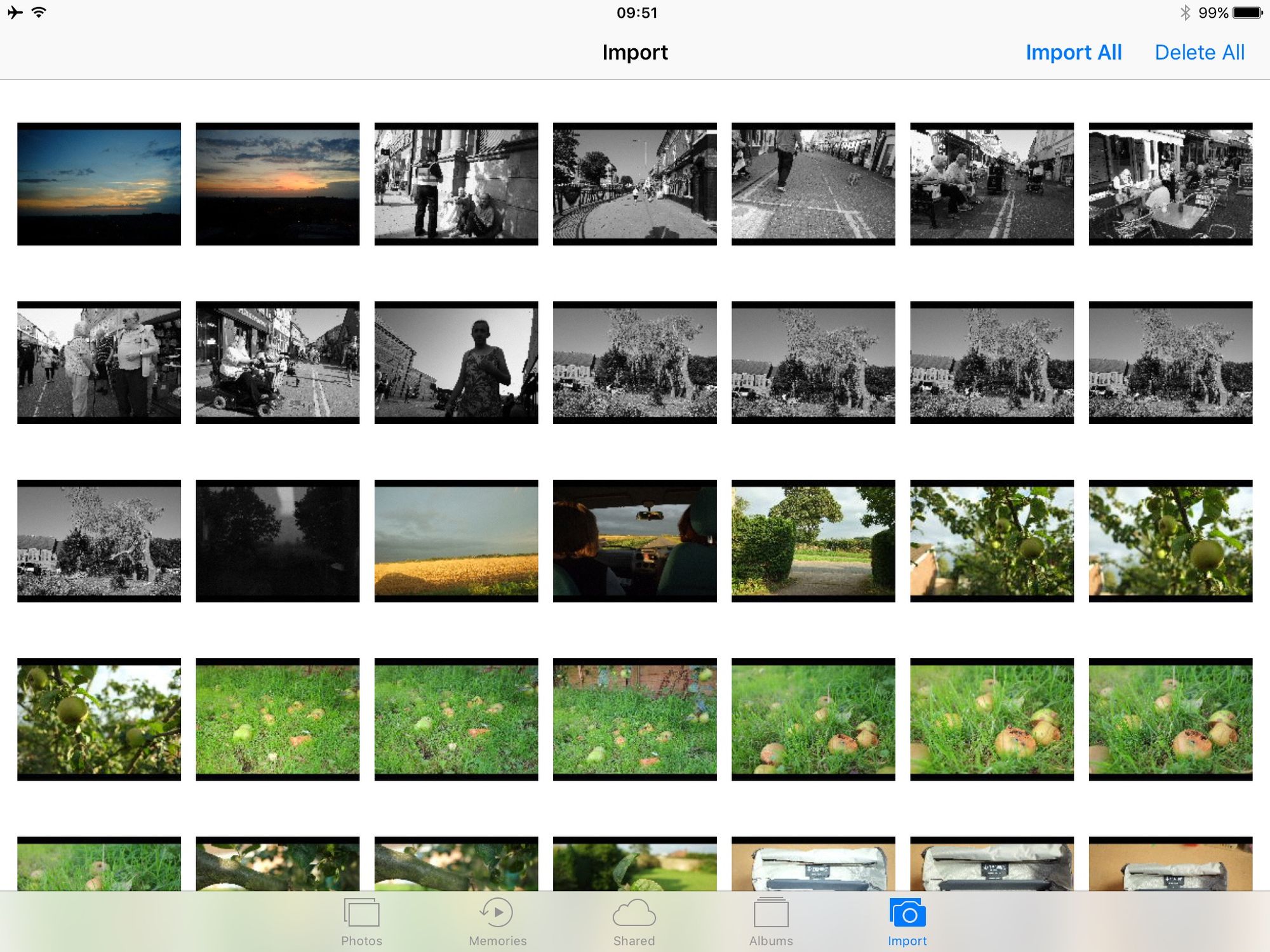 Once the file is in Lightroom, I delete it from the camera roll. I don't want the original, unedited file to auto-upload to Dropbox and Google Photos.
Here's how Lightroom Mobile works. It isn't perfect, but I think it's pretty good – in theory.
Photos synced from your desktop get transferred to the mobile app as smart previews – Adobe DNGs at a smaller resolution than the original files. However, you can perform the full range of editing tasks to these files – they have the same latitude as the original raws.
You can export a low-resolution JPEG from a smart preview. It's big enough for web use or for small prints.
Any edits you perform on the iPad will be mirrored to Lightroom desktop, and applied to the full-resolution raw file (which is only accessible from the desktop).
However, importing a raw file from your camera directly to the iPad gives you access to the full raw file on the iPad. You can then edit it on Lightroom Mobile and export a full-resolution JPEG to the camera roll1.
Theoretically, full-resolution raws will be synced over to Lightroom desktop, where they will be saved to your hard drive catalogue and you can continue to work on them seamlessly. Any raw files originally uploaded on the iPad will stay on the iPad; you only need to work from smart previews with files that originated on the desktop.
The theoretically bit is the crucial part of the whole workflow and, unfortunately, where things come unstuck at the moment.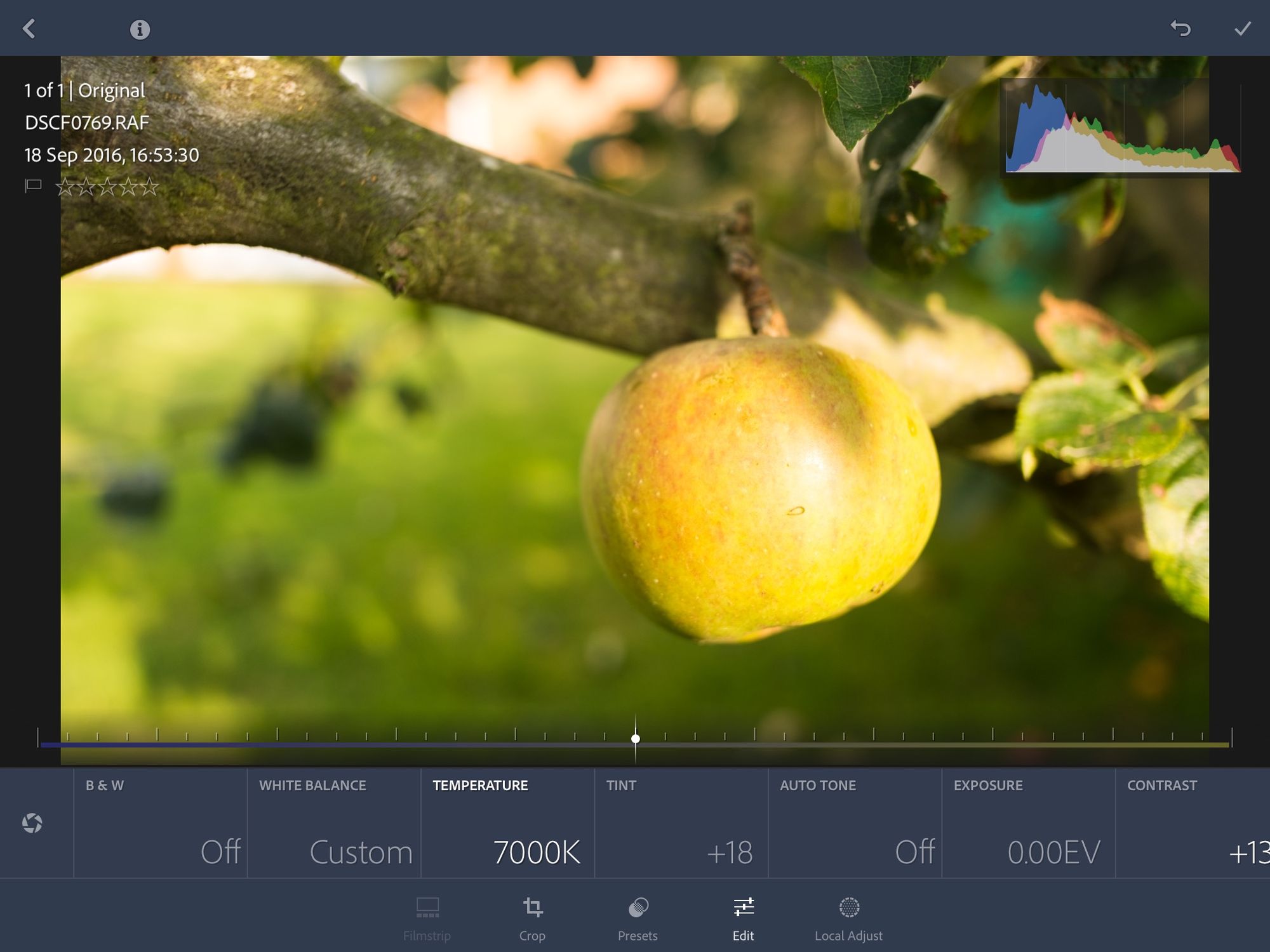 The 'uploads pending' bug
Raw files are big, so it's going to take a while to upload them for syncing. But I noticed that raw files just weren't syncing to Lightroom desktop. I managed to get it to work once, and did indeed find a full raw file transferred to the catalogue on my hard disk, but after that I got no joy out of it. Lightroom Mobile just reports 'Uploading… 1 Pending' for hours.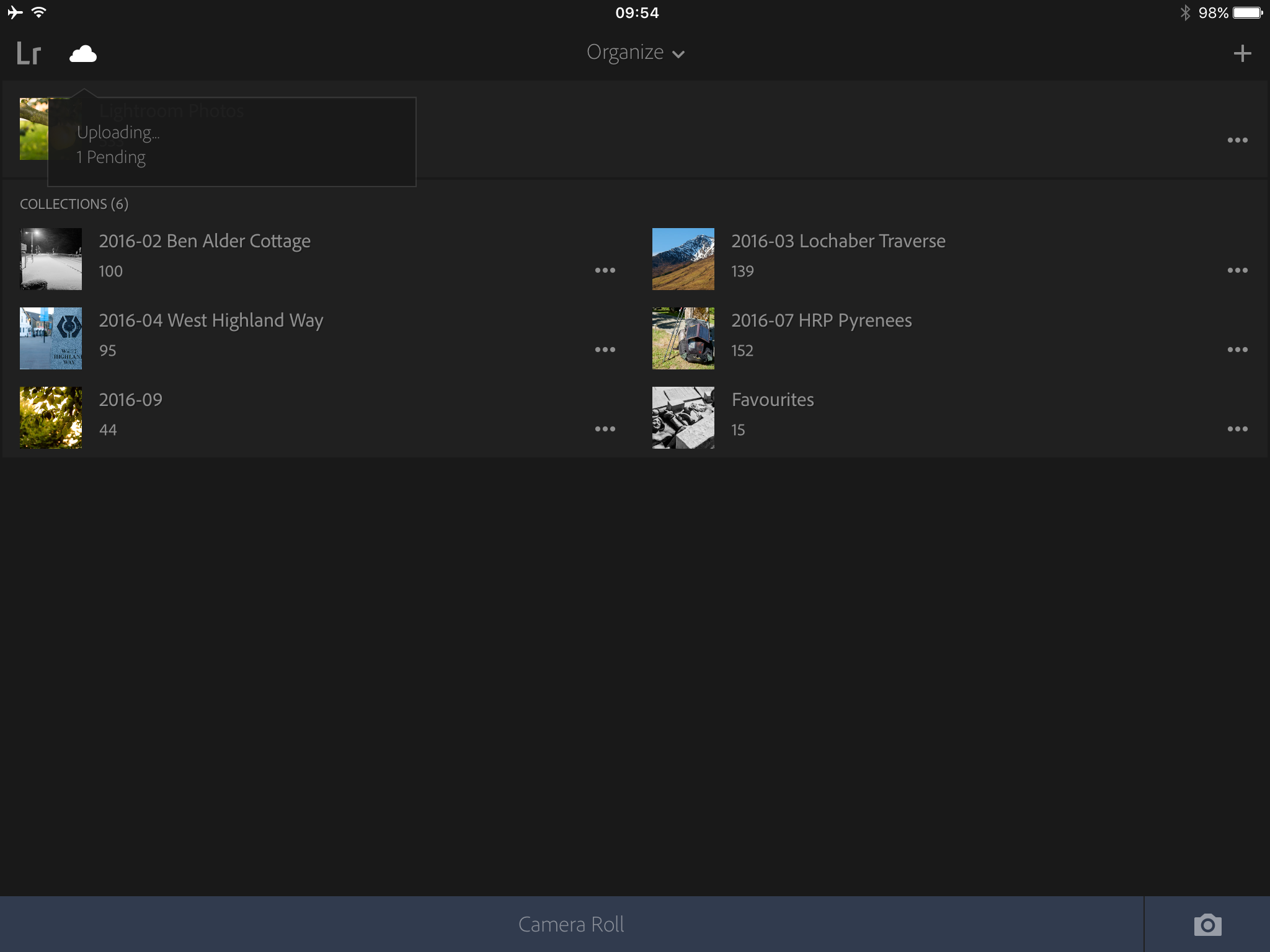 I have tried signing out and signing in again, deleting the photo and re-uploading, even deleting the app and starting again from scratch. Nothing works.
I think it's a bug, either with this version of Lightroom Mobile or with iOS 10 itself. I've seen it reported elsewhere too.
A way forward?
Right now, the Lightroom Mobile raw editing workflow doesn't work for photographers. It would be great to be able to shoot a batch of photos, upload and edit them in the field, then find the finished photos already waiting in my Lightroom catalogue on my desktop when I get home. I could produce full-quality JPEGs for web or print use, and file them in Dropbox and Google Photos – all from my iPad. The only thing limiting you with this workflow is bandwidth, because it's going to take a long time to upload all those raw files, but otherwise it's a pretty attractive workflow. You could even do all this from an iPhone and operate away from your Mac for extended periods of time.
Long term, the Mac could even become a secondary tool for photographers. An iPad screen is more than big enough for most people, and Lightroom Mobile gives you every editing tool most photographers will ever need. We are this close to a practical iPad raw photo editing workflow2.
But this little bug derails the whole process. There's no point in uploading raws to your iPad if they're stuck there, unable to sync with Lightroom desktop. You can still edit raws and produce JPEGs in the field, but you'll need to keep the raw files to store properly when you're back at your Mac.
Every year, the iPad slowly chips away at the remaining list of 'things that have to be done with a real computer'. I still have a few important tasks that just can't be done on an iPad. I wouldn't want to do all my work from a little touch-screen slab all the time, but I would like to have the option when I'm away from my desk.
Please read this update on Lightroom and iPad
This large JPEG is auto-uploaded to Dropbox, where Hazel on my Mac automatically files it. Google Photos also uploads it as well. This is my belt-and-braces approach to photo storage, and it works out pretty well overall – equally manageable from both the Mac and the iPad, and of course my Dropbox library is covered by Time Machine on the Mac. ↩
Other workflows are possible, but more complex. For example, Photoshop on iOS allows full raw editing, but no easy way to catalogue and store the raw files; you're left with them on your iPad's drive, which is far from ideal. Only Lightroom, as far as I'm aware, actively transfers the files somewhere useful. ↩
Alex Roddie Newsletter
Join the newsletter to receive the latest updates in your inbox.
Comments