Gear notes from a night on the dunes – Tread Lite Gear, Oookworks & more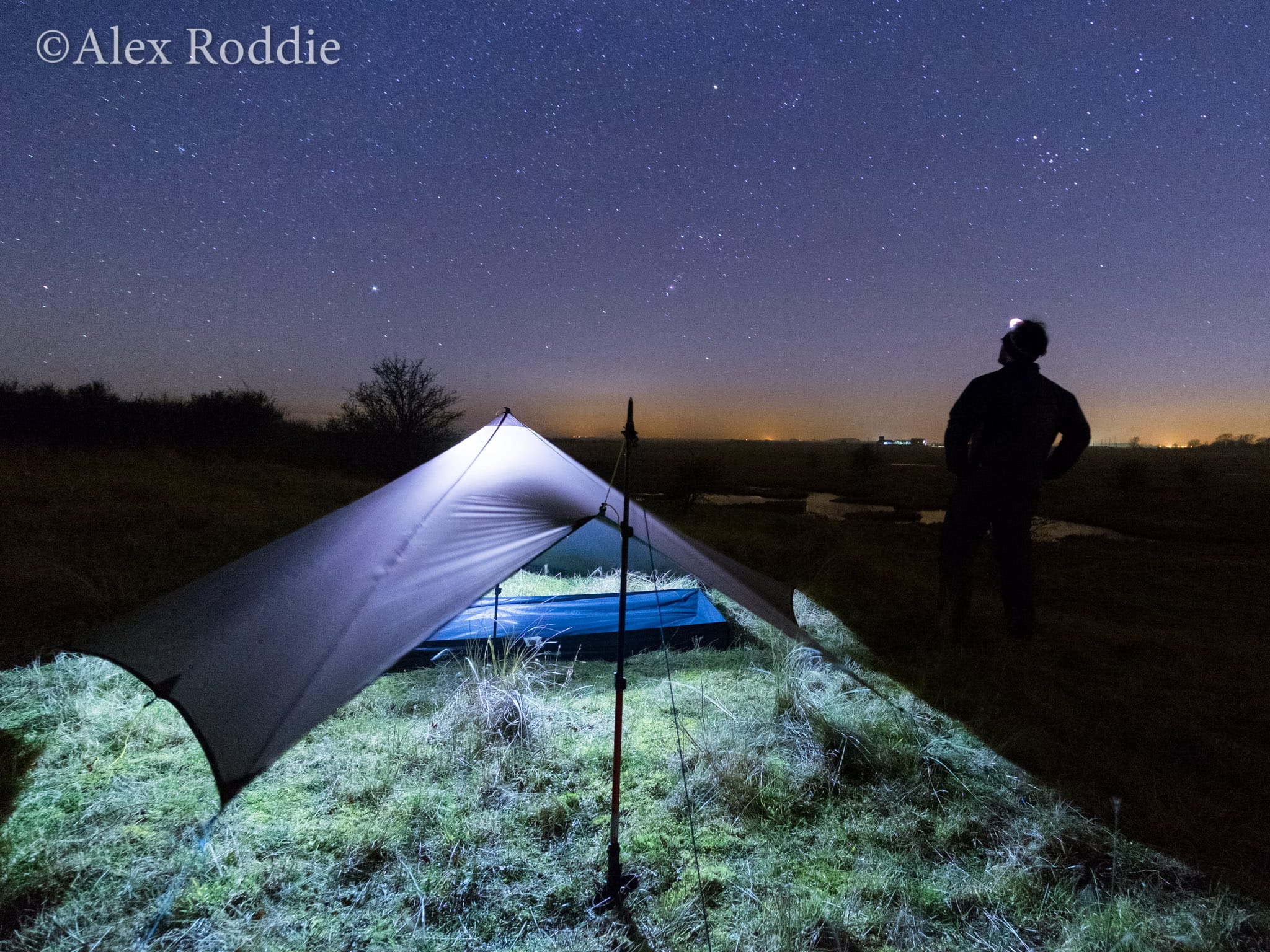 Last night, armed with a few new items of gear to test out, I went for a wild camp on the dunes by the coast. I managed to capture a few good images, too.
I've camped here before. In June 2016, I took my lightest wild camping gear for a solstice bivouac. I had the same location in mind for this camp, but I arrived long after darkness had fallen and was unable to find the precise spot I'd used before. There seemed to be a lot of sand and wet mud beneath a high-tide line; either the coastline has changed due to storms, or I've misremembered the topography.
After some wandering around I managed to find an even better location, on the crest of a high dune overlooking the marshes further inland. I pitched the Trailstar and got to work with my camera and tripod.
Tread Lite Gear ultralight cuben lantern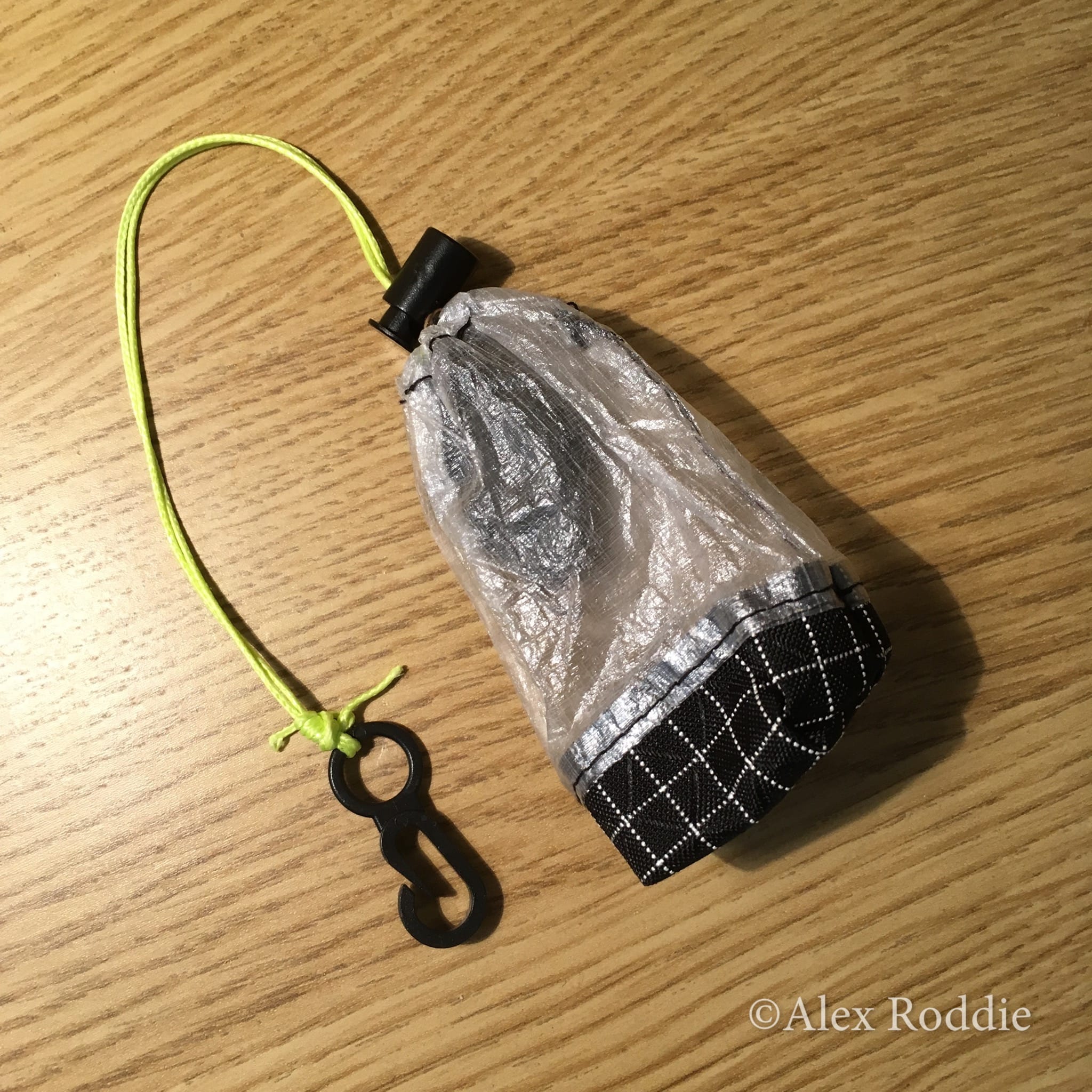 I obtained this little ultralight beauty from Tread Lite Gear recently. The sole reason for my purchase was to provide even shelter illumination for night-time photography, but actually it makes a really good general-purpose lantern as well. It's hard to believe that something weighing only 8g can kick out this much light! As you can see in the cover image above, it floods the interior of the Trailstar with consistent white illumination. That's partly thanks to the clever design of the cuben bag, which acts as a diffuser and reflector.
Battery life remains an open question, and you need a screwdriver to replace the coin batteries, but so far I'm thoroughly impressed.
Double Black Diamond down throw
I found this item on Amazon, after a Twitter discussion last year, but hadn't had a chance to try it out until last night. It's pretty simple: a lightweight (450g-ish) 60×70" stitched-through down blanket. I've heard of some people heavily modding these blankets, but the only modification I've made is to stitch in a basic footbox.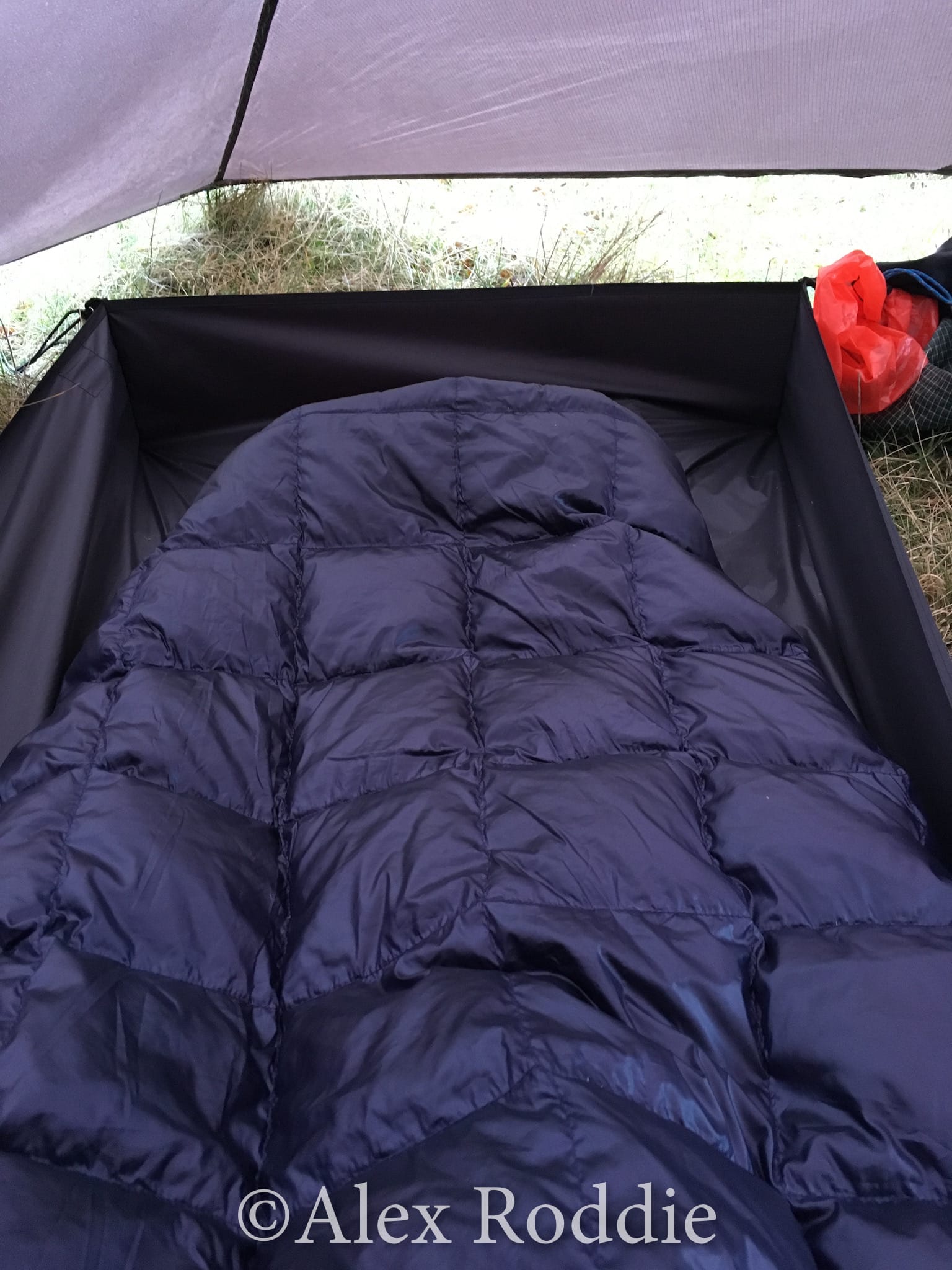 It doesn't contain much down, and at £27 it isn't going to be fantastic quality. However, the fabric is breathable enough and it does compress to a tiny size. The main drawback is that the blanket isn't particularly long – even I can't pull it over my face (and I'm not exactly a six-footer).
Temperatures overnight dropped to around 6˚C. Wearing my usual sleeping clothes plus a lightweight synthetic insulated pullover, woolly hat and warm socks, I slept in reasonable comfort under the quilt. I wasn't exactly toasty warm, but I wasn't kept awake with cold either.
I'd classify this 'down throw' as a one-season ultralight quilt, probably suitable for 10˚C without additional clothing for most people. It's certainly a bargain at the price. And if you feel like doing a little MYOG, it's a blank canvas for your modifications.
Oookworks custom Oooktub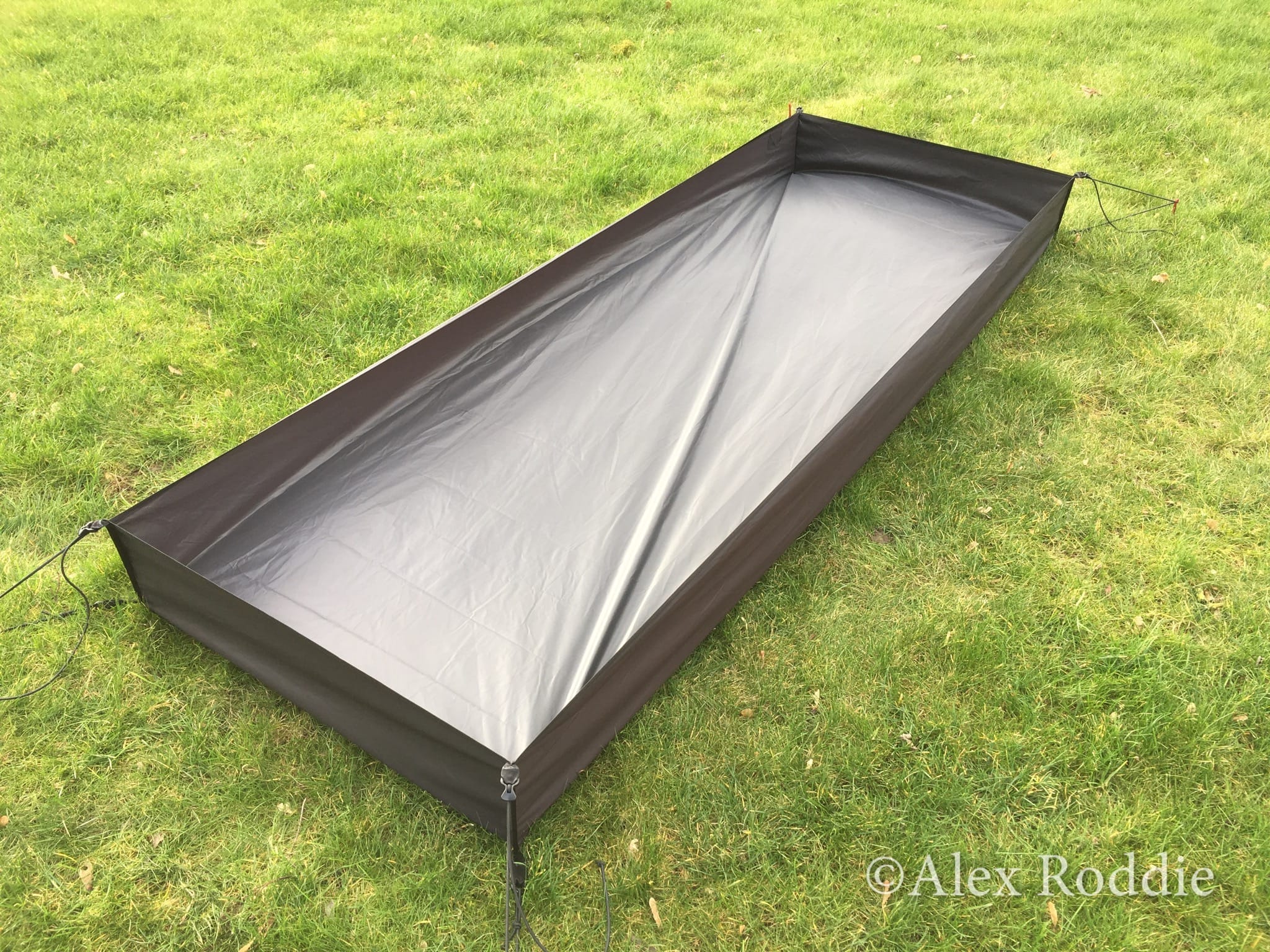 Finally, this was my first outing with my new custom-made Oookworks Oooktub. This is a bathtub groundsheet for ultralight shelters, designed to prevent water from getting into your sleeping area1.
Initially, I purchased a 220x70cm 30d silnylon Oooktub from Sean's eBay store. However, when I received it, I wasn't 100% sure it was best for my needs. It turns out that a 220cm-long tub is a little long to fit sideways in the back of a Trailstar, and after handling it I had doubts that the lightweight silnylon would be the right material for my requirements.
I emailed Sean, and he was extremely helpful. I returned the original tub and he made a new one for me in 70d PU-coated nylon, with the slightly smaller dimensions of 200x70cm. He also increased the height of the bathtub walls. Despite the fact that I assured him I didn't need a rapid turnaround, the new tub was with me only a couple of days later.
The new tub weighs 270g and is a perfect fit under the Trailstar in both orientations. It's a clever design – each corner is pegged out with a bungee cord, which keeps the bathtub walls upright. The great thing about these rectangular tubs is that they can be used with almost any kind of backpacking shelter.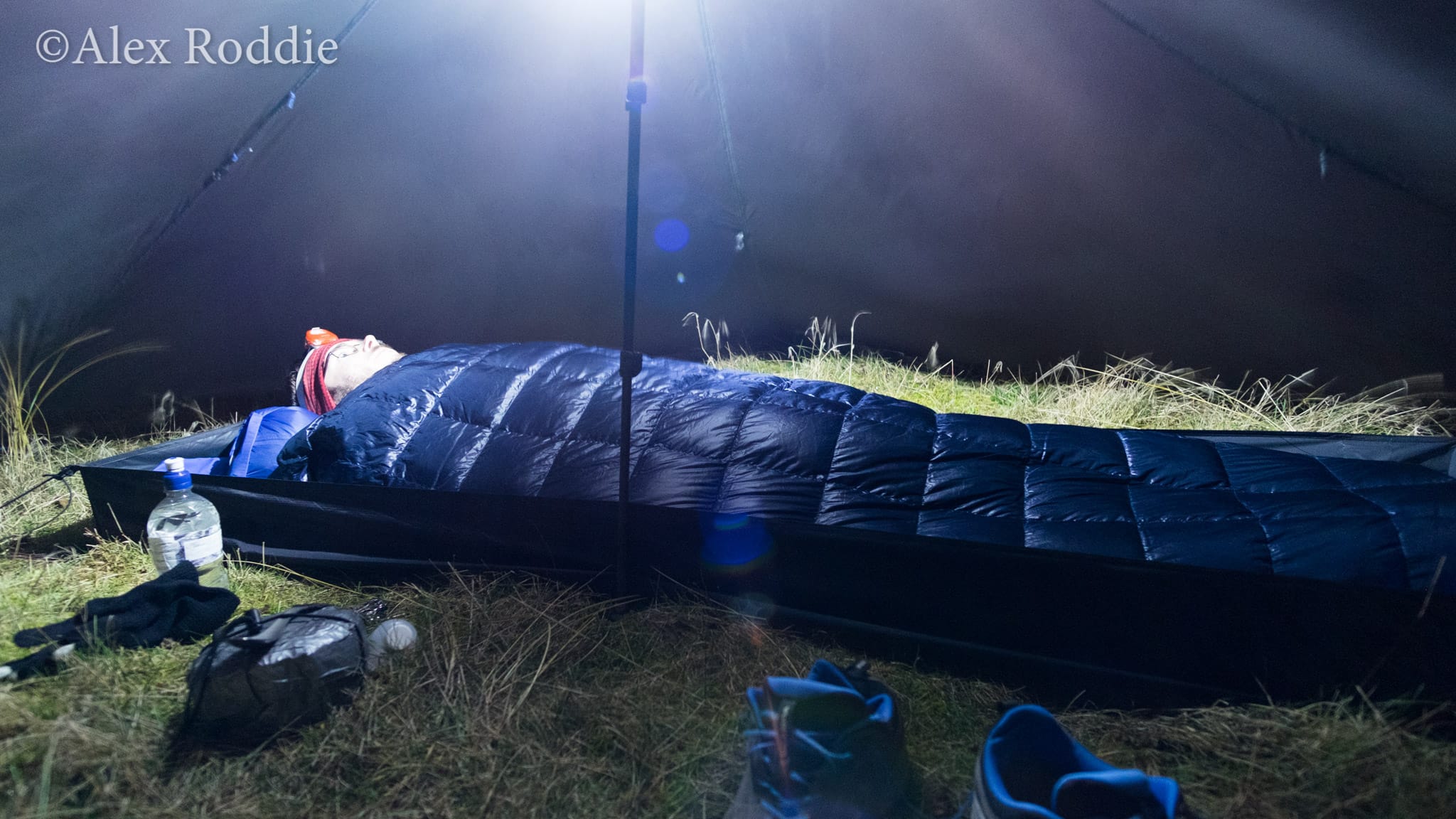 My first test of the Oooktub didn't exactly push it to its limits. The ground was damp, but well drained; there was no groundwater to keep out. Nevertheless, I found the tub a comfortable size to sleep on, with a little room for clothing and other small items pushed up around the edge. It doesn't provide the huge coverage of a Polycro sheet, but it does offer far greater security when camping on marginal, boggy pitches.
Top marks and great service from Oookworks. I have a feeling that this will be an item that I'll enjoy using for years to come.
Disclaimer: I purchased these items and have no relationship with the manufacturers.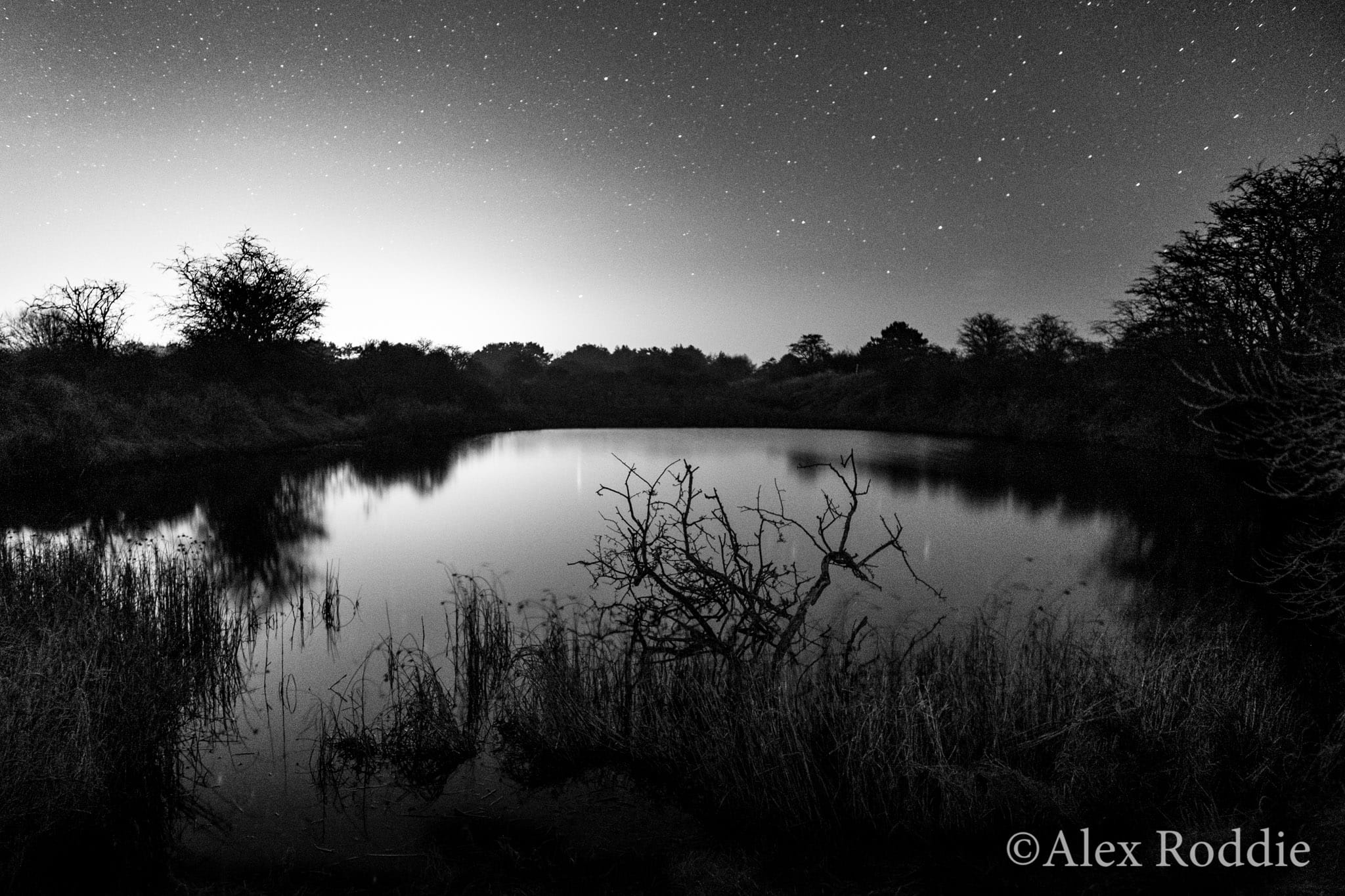 ---
Alexroddie.com relies on support from readers like you. Please consider making a small donation on PayPal. Thank you!

Read my recent post on 'stupid light' for a few more thoughts about bathtub groundsheets, and why I decided to get one. ↩
Alex Roddie Newsletter
Join the newsletter to receive the latest updates in your inbox.
Comments