Lightweight backpacking in the Scottish Highlands: a mini-guide
If you're used to lightweight or ultralight backpacking in the sunny mountains of the USA, the prospect of applying the same philosophy to the Scottish Highlands can be bewildering. Here's how to do it safely.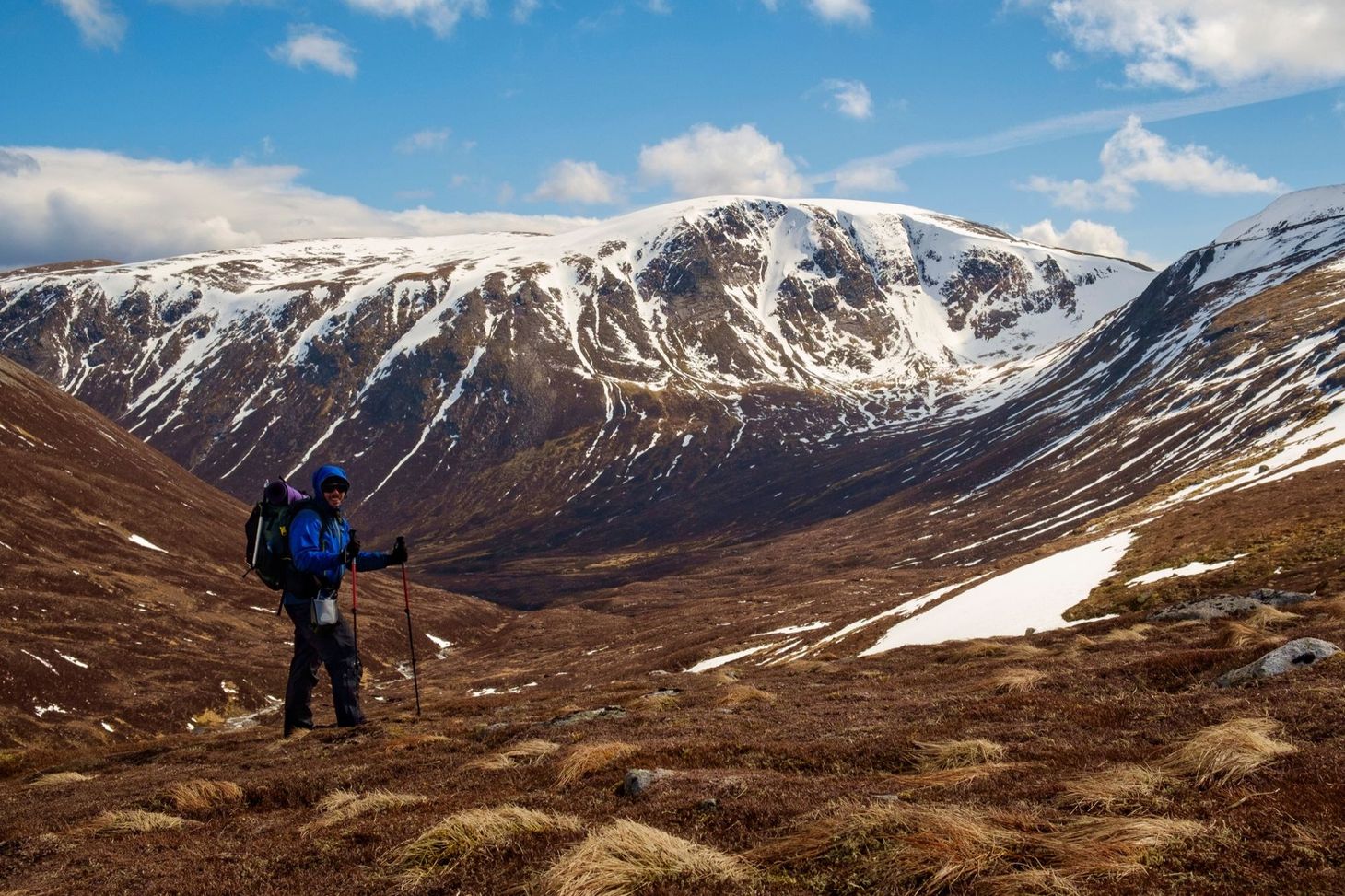 E-BOOK DOWNLOAD LINKS:
This guide can be enjoyed either right here on the web, or as a discrete e-book. Use the e-book download links above to get a copy for your device. This guide is Reader View friendly on Apple devices.
Introduction
The ultralight backpacking gear lists you'll have seen on the internet often feature a base weight1 of 4-5kg (roughly 10lbs). These impressive-looking lists are minimal and highly focused. They are also often tuned to the conditions of the Pacific Crest Trail – the spiritual home of ultralight backpacking. But a gear list that works on the PCT might not work in Scotland.
The American mountain West is a region characterised by reliable sunny weather, brief and predictable storms, warm days, cold nights, and the ability to dry out your gear if it gets wet. Backpackers who have honed their lightweight gear and technique in such environments sometimes struggle to find a happy medium when visiting harsher climates.
Very experienced backpackers can take a 4-5kg base weight to Scotland and stay safe and (reasonably) comfortable. But for the rest of us, 'ultralight' in Scotland means something a little different. Here's what you need to know so you can optimise your pack weight without compromising your safety.
This guide assumes you have prior experience of backpacking, and will be planning three-season objectives. Winter backpacking is a whole different game.
Ultralight = mastery
Various definitions have been proposed over the years, but the one thing everyone agrees upon is that ultralight is not just about weight; it's about optimising what you carry for the expected conditions, trimming the fat, and avoiding packing your fears2. It's about mastery and skill. It isn't about leaving essential safety items behind to hit an arbitrary weight limit. Understanding this is the key to successful lightweight backpacking in Scotland – and, arguably, anywhere.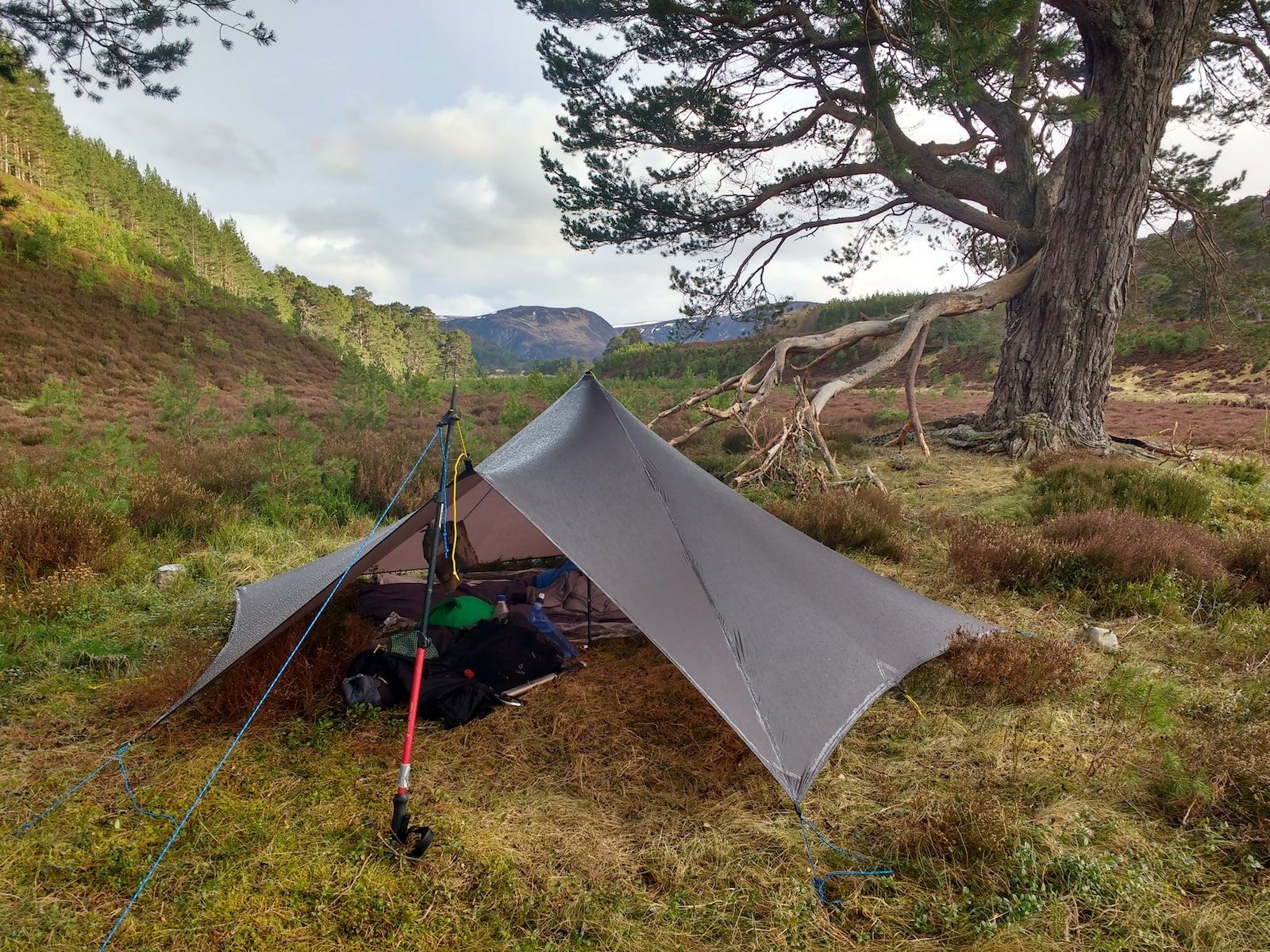 Throughout this guide, I'll be using the terms 'ultralight' and 'lightweight' interchangeably, because I believe there is little of substance to distinguish between them. Both aspire to the same efficient philosophy.
The fundamentals
All forms of backpacking require that certain safety and comfort demands are met:
While walking, we need to be protected from low and high temperatures, precipitation, harsh sunlight, and high winds.
We need tools for safely traversing the anticipated terrain underfoot.
We need to have somewhere dry and warm to sleep, shielded from bad weather, groundwater and invasive wildlife.
We need to drink enough water and eat enough food to meet the demands we place on our bodies.
We need to be able to plan routes, navigate, and communicate with others.
We need some way of comfortably carrying the tools we require to fulfil these goals.
How these requirements are met depends entirely on the environment and the objective. A backpacker in the desert may decide to leave the tent behind because no rain is expected, but this would be a foolish plan in, say, Arctic Scandinavia. Becoming more knowledgeable about the area you're visiting is key to wise kit selection.
At a minimum, backpacking in Scotland requires the following fundamentals:
Warm, waterproof and windproof clothing – your clothing must be able to cope with a wide variety of conditions, from hot to cold weather, dry to sopping wet, and everything in between. The layering system comes into its own in Scotland.
Appropriate footwear – footwear must have adequate grip to deal with both rough and wet ground, but heavy waterproof boots with ankle support are not necessarily required.
Shelter – it must protect you from rain, high winds, and (during the summer season) midges. A waterproof groundsheet is also desirable.
Sleeping insulation – a sleeping bag or quilt to keep you warm, and a pad to lie on.
Food and water – a stove is not always critical, but enough food is. You also need to be able to carry water.
Navigation tools – map and compass are still the most reliable choice, but many other supplementary options are now available.
Pack – a rucksack big enough to accommodate all your gear is a necessity. It should be comfortable to carry for many hours at a time, and you must be able to keep its contents dry.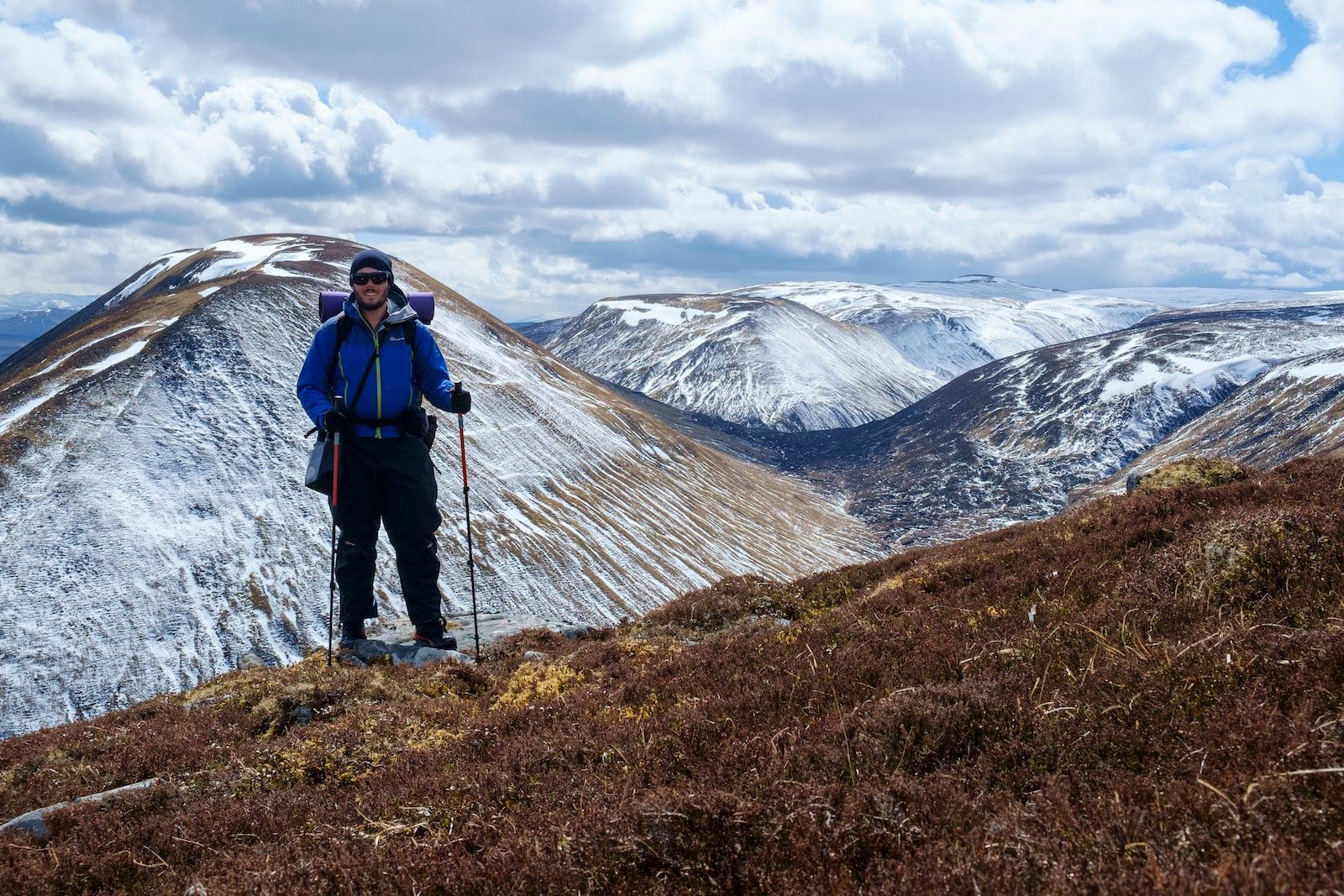 How you implement those fundamentals is a deeply personal question, and as backpackers we spend a lot of time considering how to do it in a way that is best for us. We're all looking for some mixture of comfort, ease of use, affordability, and weight, but the balance lies in a different place for everyone. The learning process never ends – and would we want it any other way?
For a deeper introduction to lightweight backpacking, read this feature I wrote for UKHillwalking.com.
Why go light?
It's more comfortable – all else being equal, carrying a light pack puts less strain on your body than carrying a heavy one. If you want to hike more miles, lightweight backpacking will help you do that. If you just want to feel less knackered at the end of the day, you'll love lightweight backpacking.
There's less faff – carrying less stuff means that many tasks are quicker and simpler, or in some cases can be dispensed with entirely. With every item you leave behind, that's an item you don't have to worry or think about while you're walking.
You need less than you think – you might believe that your nesting saucepans, Aeropress and inflatable pillow are essential for a night on the mountain, but they aren't.
It's satisfying – conventional outdoor wisdom says that throwing more gear at a problem is the answer, but replacing gear with skill and experience can be profoundly rewarding.
Minimalism is beautiful – there's a conceptual elegance in only carrying carefully chosen things that you need, and nothing more.
Conditions you'll encounter
Three-season conditions in Scotland can encompass an incredibly broad spectrum:
Very roughly, the summer season is late May to September, but there's much overlap. In some years you could find yourself fighting blizzards on the Cairngorm Plateau as late as early June or as early as late August. In others, a March heatwave might annihilate the snow pack months early. Seasonal variation is huge.
Scotland's climate is a maritime one. Low-pressure zones frequently blow in off the Atlantic, bringing gale-force winds, heavy rain and dense hill fog. These spells can last for a few hours or several days. Often, multiple low-pressure zones merge into each other, leading to spells of foul weather that run for weeks. It's by no means unusual for much of the summer to be dreary and wet.
Wind speeds can be ferocious on exposed areas. Winds in excess of 80mph (130kmph) are not uncommon, especially in autumn.
Poor visibility high in the hills can be a major factor. If the cloud base is at 450m (1,500ft) and you're climbing mountains at 900m (3,000ft), don't underestimate how much this will affect your pace, navigation, comfort, and even morale.
Weather is changeable on an hourly basis, and forecasts are rarely accurate for more than 48 hours in advance.
It can still be hot and sunny in the Highlands, and three-season hikers may have to cope with high UV levels and dried-up streams (or burns) at certain times.
Aside from the weather, there are other factors that distinguish hiking and hillwalking in Scotland from the PCT:
Trails are rarely waymarked or maintained, and for some routes may not even be in place; for example, the Cape Wrath Trail is largely off-path.
In most areas there is no natural treeline, and the vast majority of forests are dense, managed timber plantations. Most 'wild' camps in the Scottish Highlands are above treeline.
Due to the frequent rainfall, ambient humidity is quite high.
The ground underfoot is widely boggy, even to high altitude in some areas, or covered in low-lying heather. In typical conditions even ground that looks dry will be found to hold a surprising amount of water.
Ticks – and Lyme disease – are a growing hazard in the Scottish Highlands for an increasing chunk of the year. They have been spotted as early as March.
In the summer season, midges can be a huge nuisance. When they hatch depends on the year, but you're typically looking at late May to late September, and during that period they can make life intolerable below around 600m (2,000ft) when the air is calm.
River crossings on off-trail routes can be very serious.
Late-lying snow can be a factor on high-level routes in some mountain ranges well into May (or even June in some years).
Many areas are used for livestock; generally sheep, cattle and red deer. Sheep and cattle are typically found at lower elevations, while deer roam everywhere.
Sadly, there are no big predators in the Highlands.
Scotland is home to many bothies: informal, unstaffed refuges free for the use of all travellers, and governed by an honour code. Bothies are a huge part of Scotland's outdoor culture.
The Highlands are sparsely populated. Not every settlement has the facilities necessary to support hikers, although general stores will be found in many places.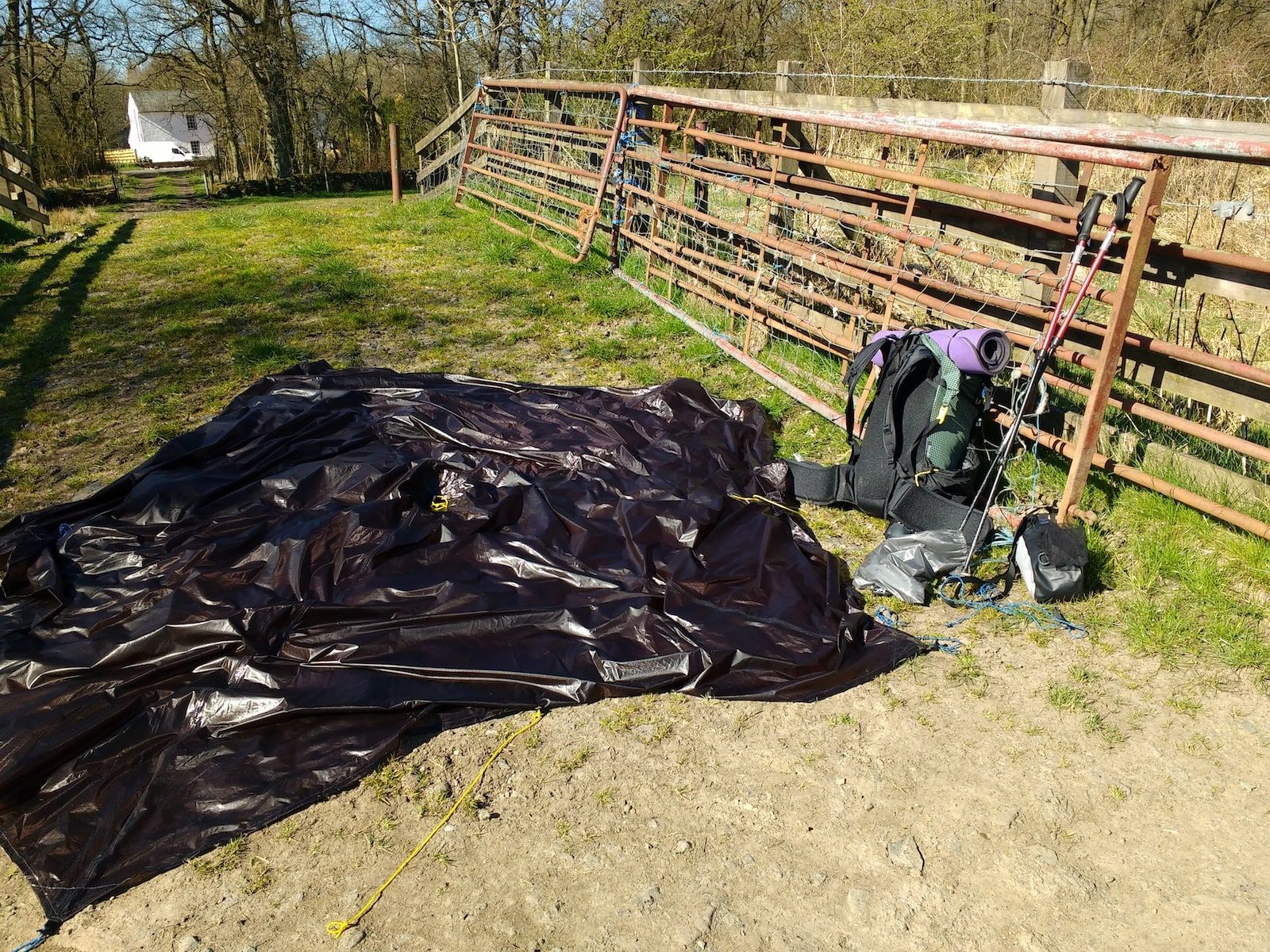 Why gear optimised for the PCT isn't necessarily the best for Scotland
Let's take a look at some of the items you'll find in a typical ultralight gear list designed for a trail like the PCT. Assuming a base weight of about 4.5kg (10lbs), here are some common choices:
Shelter – it'll be a minimalist shelter, probably with bug protection, but things like a bathtub floor and high wind resistance are not typically priorities. Tent pegs are selected based on their performance in soils that are loose, sandy, and/or rocky.
Sleeping bag – a minimalist down quilt rated to between -5˚C and 0˚C (20˚F – 30˚F), weighing roughly 5-600g (1.1-1.3lbs).
Clothing – running shorts are de rigueur, along with a cool and airy hiking shirt offering good UV protection. A light down jacket is almost always carried, as is a windshirt. Some hikers make do without a rain jacket and will rely on an umbrella instead (which doubles as portable shade), but most will carry a minimalist breathable rain shell, typically weighing less than 200g (7oz). Fleece clothing is rarely carried. Depending on the hiker, waterproof trousers may not be carried either; some favour windproof trousers or rain skirts.
Footwear – lightweight, quick-draining running shoes.
Navigation – it's now common for PCT hikers to exclusively use their smartphone for navigation. If paper maps are carried, they'll be basic printouts, probably not topo maps, and almost certainly with no form of waterproofing. A compass may not be carried.
Bear barrel – in certain areas, it's vital to protect your food against bears.
This kit is optimised for hot, dry conditions during the day, cold conditions at night, and short-lived, predictable storms. While some of this gear will work just fine in typical Scottish three-season conditions, other items are not optimal, and could prove inadequate in bad weather.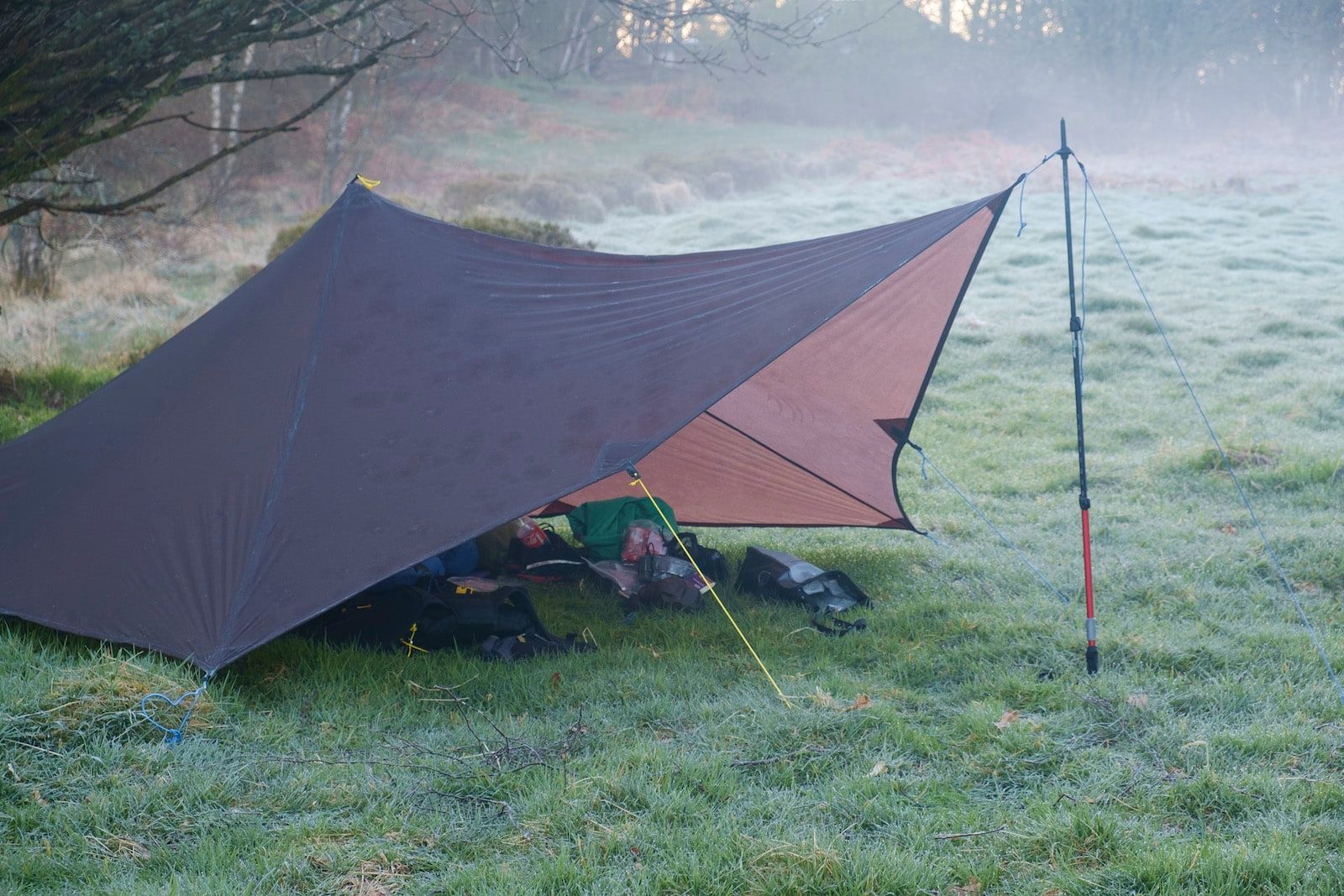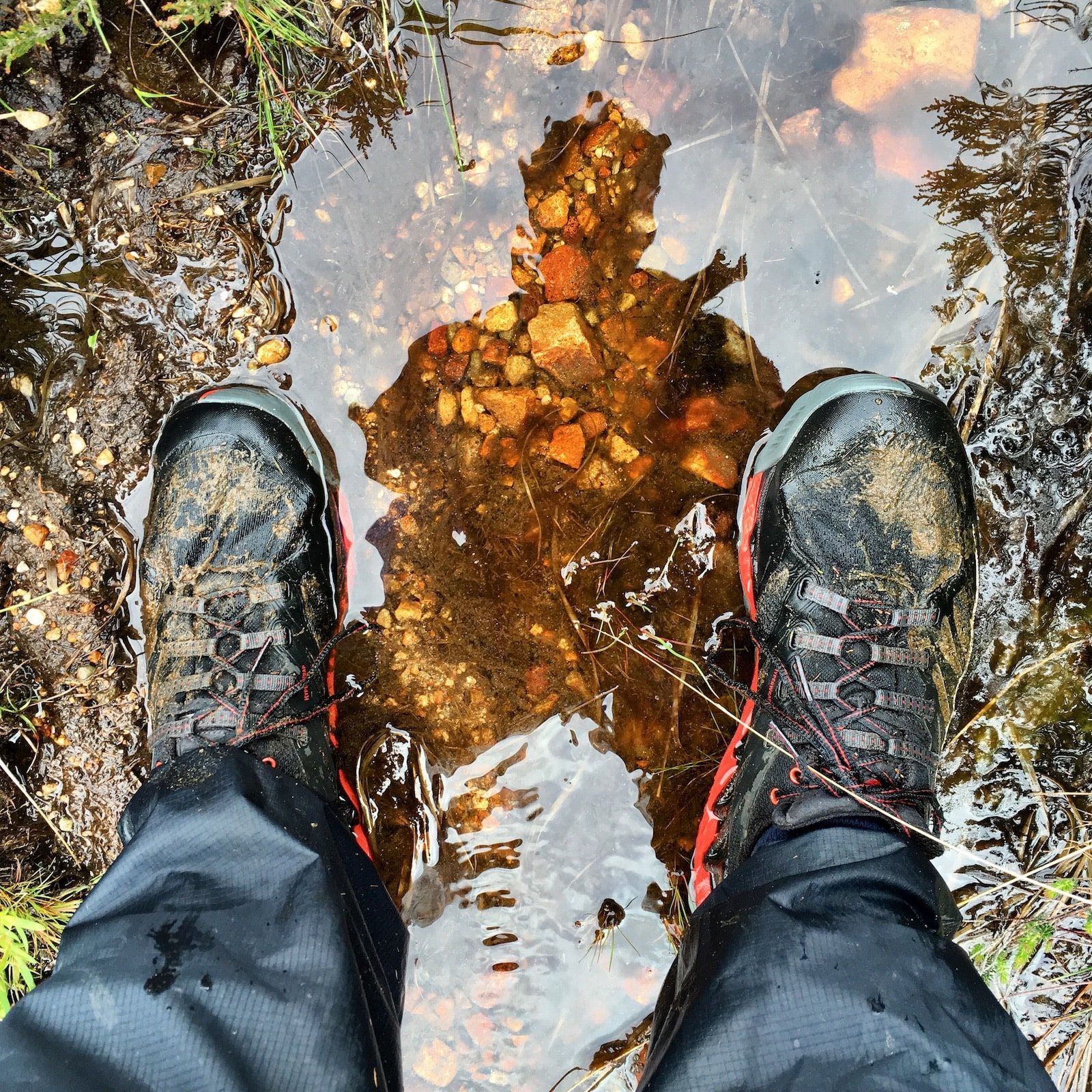 So what's the answer to the conundrum? How do we apply ultralight philosophy to the tough hiking conditions in the Scottish Highlands? If we stop fixating on weight alone, and focus on what we truly require to be safe and sufficiently comfortable, we can arrive at a strain of ultralight optimised for Scotland.
Gear considerations in Scotland
Every hiker is different. I hesitate to be too prescriptive here, because I have hiked in the Highlands with a base weight ranging from 6kg to over 9kg (13-20lbs) and still considered it within the lightweight philosophy, but I think a good rule of thumb is that lightweight backpacking in Scotland will add at least 1kg (2.2lbs) to a similarly efficient and optimised load on the PCT.3
You need clothing and shelter systems that can cope with sustained heavy rain and high winds. In most places there is no treeline to descend to; this landscape is harsh, exposed, and uncompromising, even in summer. There may be scant opportunities to dry out your stuff. The gear you select doesn't have to be heavy, but it does have to be adequate.
Shelter
Lightweight shelters can work in Scotland. In 2015 I hiked the Cape Wrath Trail with the Tarptent Notch, a well-regarded and highly capable shelter featuring bathtub groundsheet and full midge protection for less than 800g (28oz). You'll see plenty of Notches on the PCT too. A lighter version of the Notch made from DCF was announced in early 2018.
In Scotland, you'll have to deal with high winds, rain from multiple directions, groundwater, and midges. While experience and site selection can mitigate against these factors, I'd argue that, for most people, something like the Notch is a realistic minimum.
There is no need to go with a heavy free-standing tent, though. A shelter such as the Mountain Laurel Designs TrailStar or DuoMid is perfect for Scotland. What you are looking for is good all-round coverage and plenty of wind resistance.
Between rainfall and high humidity, condensation is a fact of life and you will be packing away your shelter wet much of the time.
In the spring, before the midges come out, a simple flat groundsheet and breathable bivvy bag can work just fine. However, the spongy ground you'll find in typical conditions can make a flat groundsheet tiresome to use, and most people will appreciate the convenience of a good bathtub groundsheet.
When midges are in full force, you'll appreciate a full mesh inner. No-see-um mesh is essential to keep midges out.
Select tent stakes (or pegs as they're called in the UK) optimised for holding in a variety of ground types. You'll mostly be pitching on soft and peaty soils, but rocky ground will also be encountered. I usually pack a mixture of long Easton Nail pegs, full-length MSR Groundhogs, and titanium nails. Don't skimp on pegs!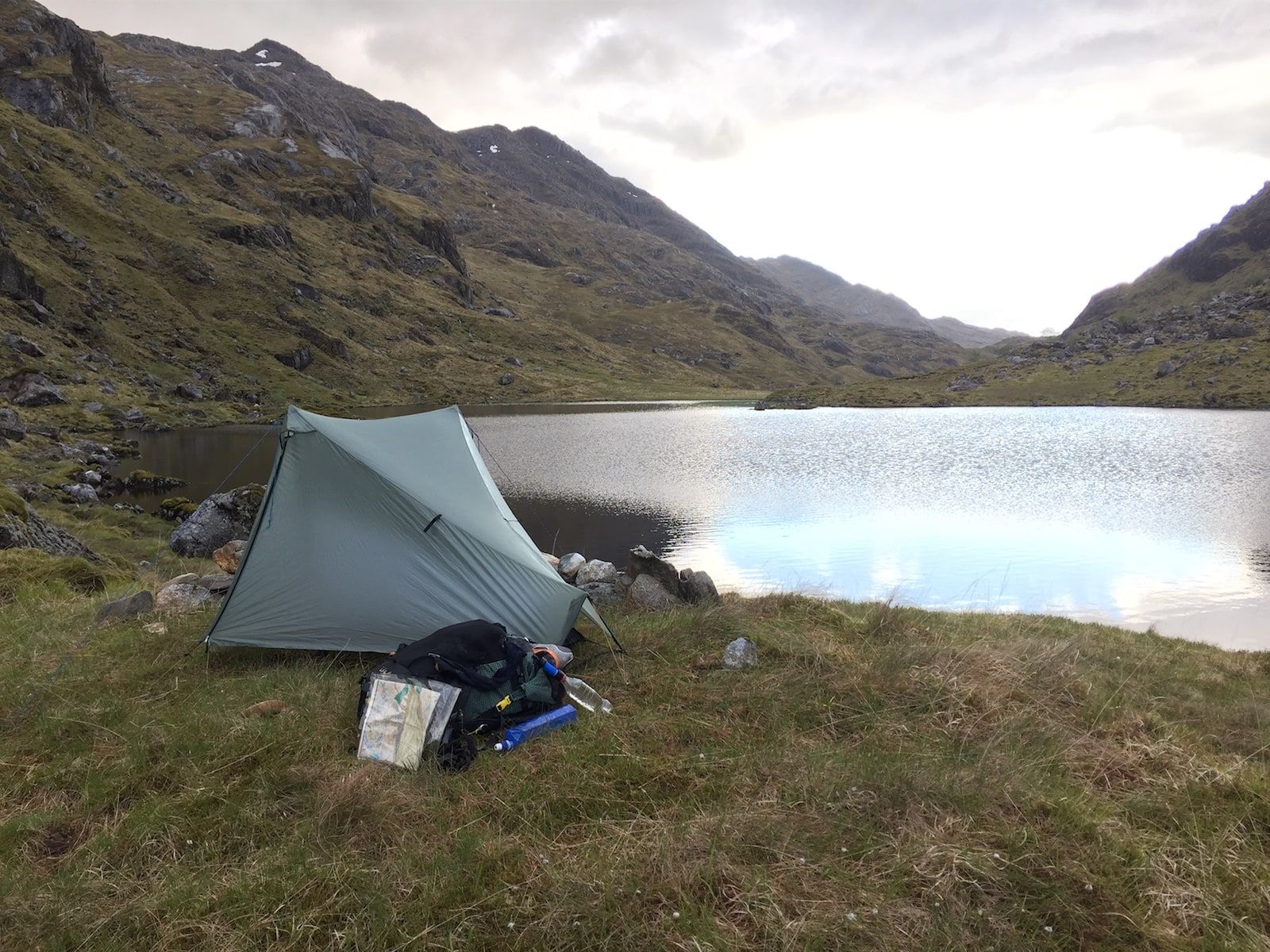 Clothing
A knitted wicking base layer will be more flexible than a cool hiking shirt most of the time. Some hikers prefer to wear shorts, but lightweight walking trousers are a more versatile choice for protection against ticks and cold winds. Zip-off walking trousers offer the best of both worlds.
Select a waterproof jacket with a good hood that turns with your head. It should have a stiffened peak and sufficient adjustment that you can close it down if things get wild. Your jacket needs to be very breathable as you could find yourself slogging uphill in it for hours in soggy, humid conditions; generous ventilation options help here too.
Most people will find that the jackets in the 3-400g (10-14oz) weight range are better for typical Scottish conditions than the sub-200g shells.
An umbrella is rarely feasible unless augmented by a jacket. Although a poncho can be made to work if you're determined, it isn't the best option.
While a rain skirt is doable in Scotland, it's arguable that lightweight waterproof trousers are the better choice, given that you'll need to see where you're putting your feet on eroded trails (or hopping over boulders off-trail). Rain skirts can also be unwieldy in high winds.
A windshirt is a very handy item. In drizzly, cool conditions it can be perfect.
Fleece is more valuable than down insulation in Scottish summer conditions – and becomes essential early or late in the season. Why? You will welcome a warm mid layer to use under your rain jacket, something as a moisture buffer, and to take the chill off the wind and rain. A microfleece top does a better job of this than a down jacket, even if it weighs a bit more.
A lightweight down or synthetic layer is still worth carrying, but in summer the temperature rarely drops below freezing at night. A puffy jacket becomes much more valuable early or late in the season. If you go with down, a hydrophobic fill is worth it – untreated down can become soggy.
Bring dedicated sleeping clothes to wear in your bag. Your walking clothes will get soaked sooner or later, and they may not dry for days. A lightweight pair of long johns and a dedicated sleeping base layer are worth the weight.
Carry lightweight gloves and a beanie, even in summer. Sunhat and sunglasses are usually needed too.
Consider packing an extra pair of socks. You'll have wet feet a lot of the time.
Don't forget the midge head net!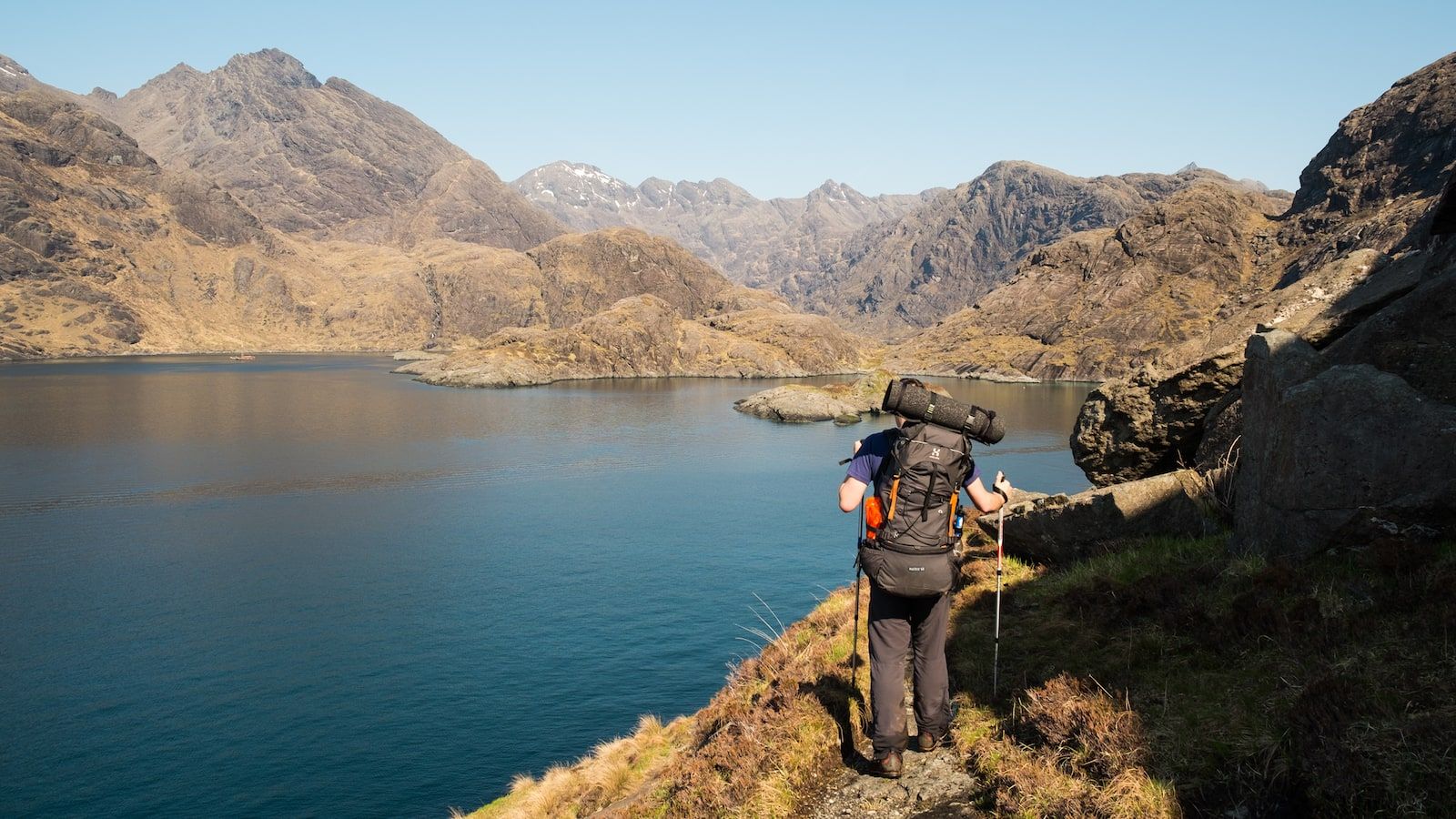 Footwear
Mesh trail shoes work well in Scotland; in fact, given the prevailing wet conditions, I think they're preferable to big boots.
Look for durable uppers and grippy treads designed for off-trail use.
Pack and storage
No special requirements here, but do think about how you're going to keep your gear dry.
Take a belt-and-braces approach. If your pack's made from waterproof fabric, add a pack liner; if it isn't, consider adding a pack liner and individual dry bags for critical items. If you don't have a dual line of defence against water then assume your kit will end up soaking wet at some point.
Bring Ziploc bags for essentials such as your wallet, phone etc.
Sleeping bag
Ultralight quilts work as well in Scotland as they do on the PCT.
In summer, you can expect overnight temperatures of roughly 5-15˚C (40-60F), although frosts are possible at any time of year. Depending on how warm you sleep, a bag rated at 0-5˚C (30-40˚F) is usually the most versatile choice, although you should be able to get away with a lighter bag at lower elevations in summer.
Down is still a good choice for a filling due to its superior warmth-to-weight ratio, but be aware that you'll probably encounter a lot of dampness. A hydrophobic filling could be a wise investment. Alternatively, consider a synthetic filling.
Navigation
It's vital to carry detailed topographic maps at 1:50,000 scale or better (usually from the Ordnance Survey or Harvey) and a compass, and to know how to use them for navigating off-trail in poor visibility and rain.
Paper maps must be waterproofed in some way. Use a waterproof map case, Ziploc bag, or print and laminate your own map sheets. Unprotected paper maps don't last long in gnarly Scottish weather!
Relying purely on a smartphone for navigation is a bad plan, and a good example of stupid light. While many hikers will use a smartphone much of the time, even waterproof models can be rendered inoperable by low temperatures, gloved hands, or simply by rainwater streaming over the screen, making the touchscreen flake out.
Cooking and food
Some stores in towns and villages will stock screw-top gas cartridges and/or denatured alcohol fuel (known in the UK as methylated spirits), although availability varies widely. In 2018, some participants of the TGO Challenge found that gas was more readily found than meths.
Dehydrated backpacking meals can be found in outdoor gear stores in major towns such as Fort William, Inverness, Aviemore, Ullapool etc, but rarely in small village stores. You'll almost always find instant pasta or rice meals and a wide selection of bars, plus fresh goods such as bread, cheese, etc.
A stoveless, no-cook approach is usually feasible, but may get monotonous unless you can resupply at a supermarket every once in a while.
More remote routes may require resupply parcels to be sent to post offices, hotels or hostels. Enquire locally.
Water
Most water in the mountains is safe to drink from streams, but do pay attention to livestock in the area. If in doubt, it's safest to filter or treat your drinking water.
Meltwater from spring snow patches can be infected with Giardia. Always treat water from such sources.
Except in the driest conditions, or when tackling certain routes that are known to be dry (e.g. the Cuillin Ridge or Trotternish Ridge), you'll rarely need to carry more than a litre or two of water at a time. I often simply carry a 500ml bottle and top up when required.
Remember, carrying less water is one of the easiest ways you can save pack weight.
Weather forecasts and apps
Wildlife considerations
No bear barrel required!
If you're staying in a bothy, mice can be a problem. It's important to hang food bags from the ceiling if you want to avoid feeding the resident critters.
Carry tweezers or a Tick Twister for removing ticks, and check yourself every day. It's easier to spot ticks on light-coloured clothing. Tucking your trousers into your socks may help prevent ticks from getting to your skin.
Shoulder-season gear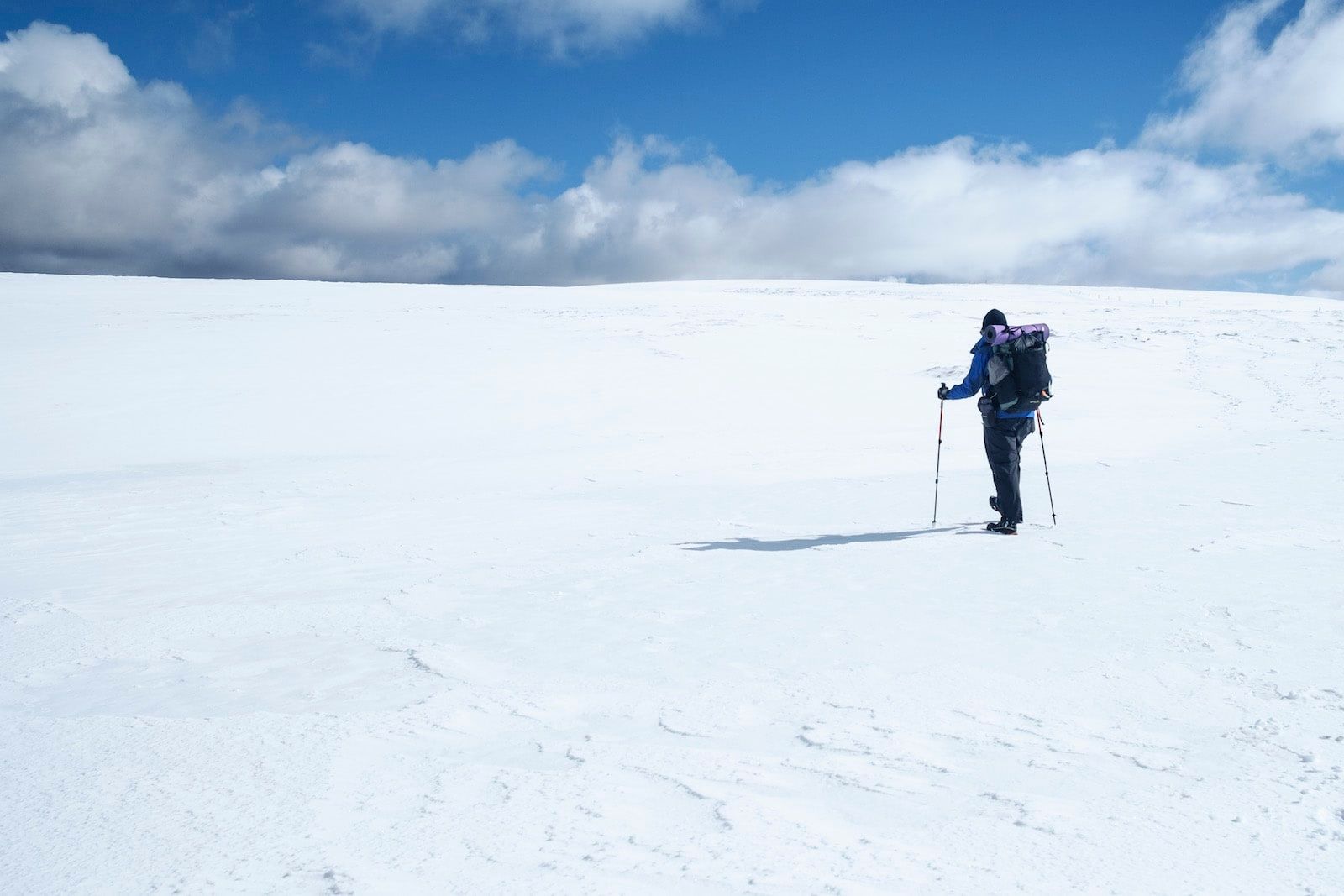 If tackling routes at higher elevation in April, May or October, expect the weather to be potentially much colder, with a higher risk of snow (although you might just be blessed with the best weather of the year, especially in April-May).
A fully featured waterproof jacket and waterproof trousers are especially vital in shoulder-season conditions, as are fleece top and puffy jacket. Consider packing spare clothing. Hypothermia is not to be trifled with.
Most people will want a sleeping bag rated to at least freezing, or lower if planning high camps.
Add beefier gloves. Thin fleece gloves might not cut it on an exposed ridge in a blizzard. Softshell gloves can be a good lightweight compromise, perhaps twinned with waterproof shell mitts.
In seriously gnarly weather, a fleece balaclava and snow goggles can be worth the weight (they become vital in genuine winter conditions).
If hiking in mesh trail shoes, consider adding waterproof socks. They don't usually remain waterproof for long, but can add crucial extra warm for river crossings.
In colder, snowier weather boots can be a better option than mesh shoes, especially if you have much snow to deal with. This is very much a personal choice.
Ice axe and crampons (plus the knowledge of how to use them) are essential if there's much consequential snow still lying on your route. Snow conditions can vary greatly; check sais.gov.uk for detailed information.
Microspikes can sometimes be feasible, but you probably won't find a nice line of steps along the route for you to cross; this makes Microspikes less safe on steeper ground. If in doubt, full crampons are the way to go – or a modified route to avoid the hazard.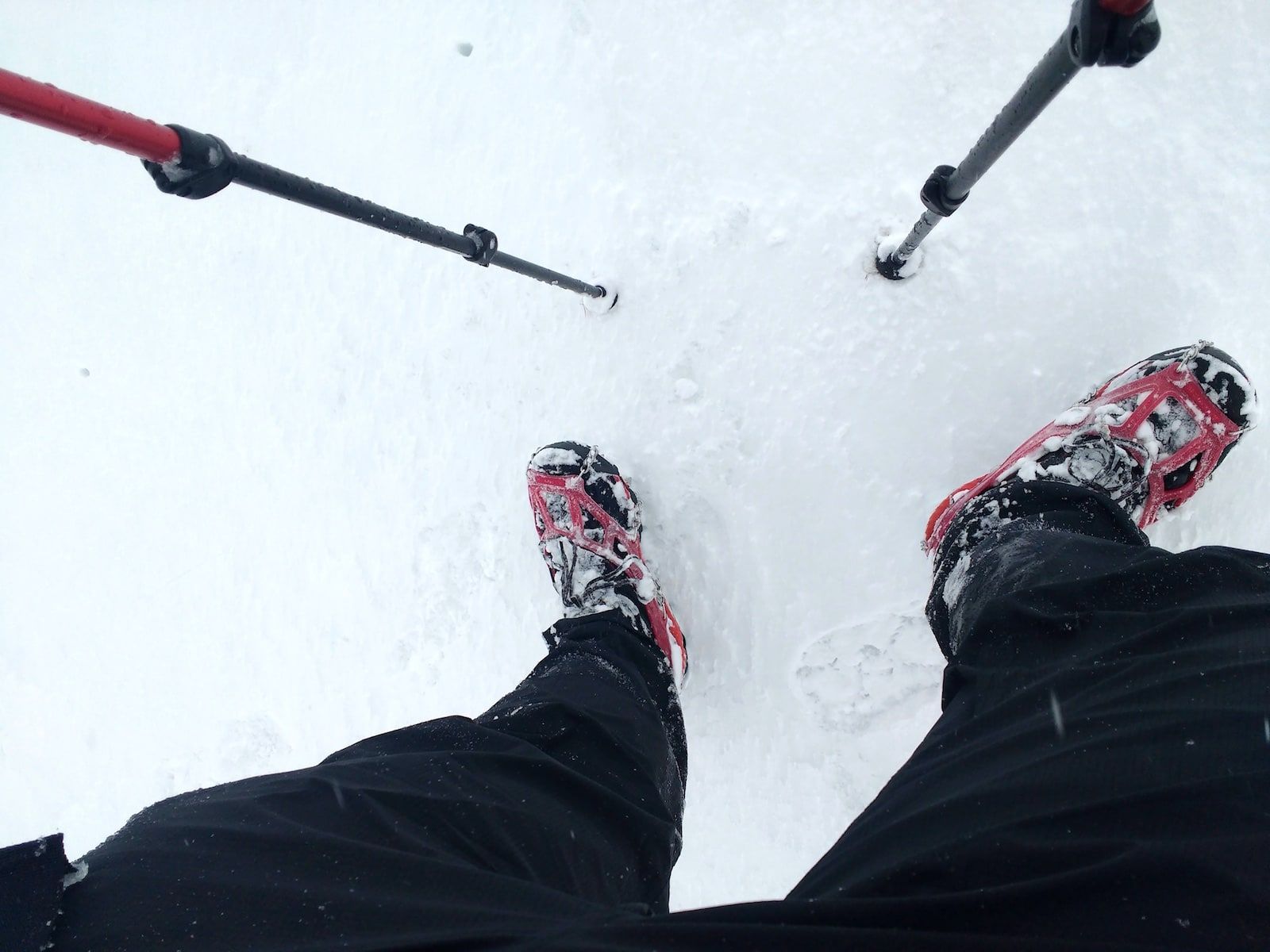 Example routes
The beauty of Scotland is that an infinite variety of routes is possible. Just get your map and start planning. However, there are also many established long-distance trails, and all of them are suited to a lightweight approach.
The West Highland Way
Scotland's first long-distance trail is also its most popular, stretching from Milngavie near Glasgow to Fort William at the base of Ben Nevis. It's roughly 94 miles (151km) in length and most people take 5-8 days to hike it. Unlike some of the other routes mentioned here, the WHW is a waymarked and maintained trail, making it an ideal introduction to Scottish backpacking. It's also a beautifully scenic route. Highlights include Conic Hill, Loch Lomond, Rannoch Moor, and Glen Coe.
Find out more about the West Highland Way here.
The Southern Upland Way
Another waymarked route, the Southern Upland Way is Scotland's only official coast-to-coast path. This route does not enter the Highlands, but still traverses plenty of wild moorland. It's 212 miles (341km) in length.
The Skye Trail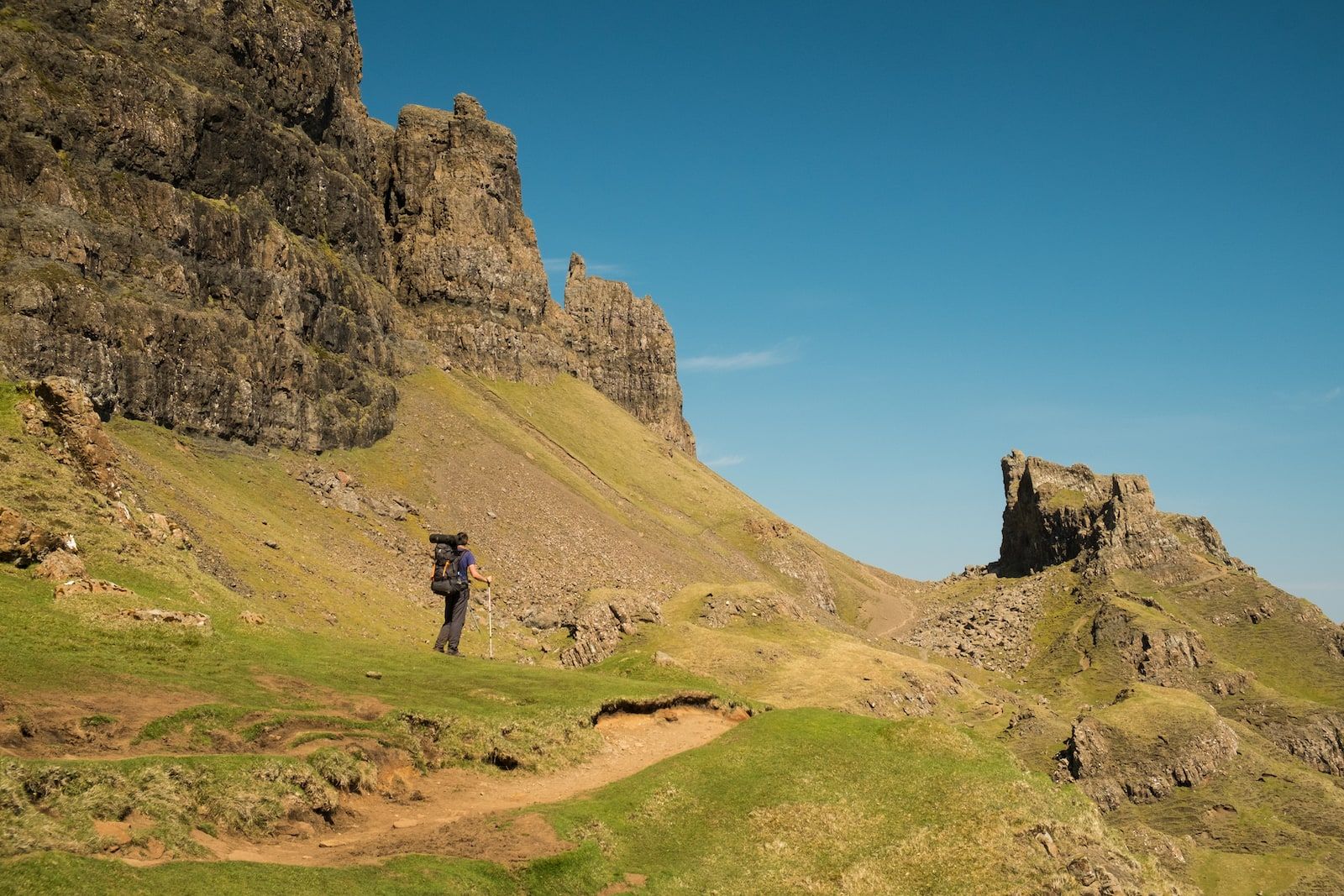 This varied 79-mile (127km) route, largely off-trail, connects many of Skye's best locations from coastline to mountain. It includes the Trotternish Ridge, a major mountain traverse featuring several summits and some of the best walking in Scotland. Not to be missed.
Find out more about the Skye Trail here.
The Cape Wrath Trail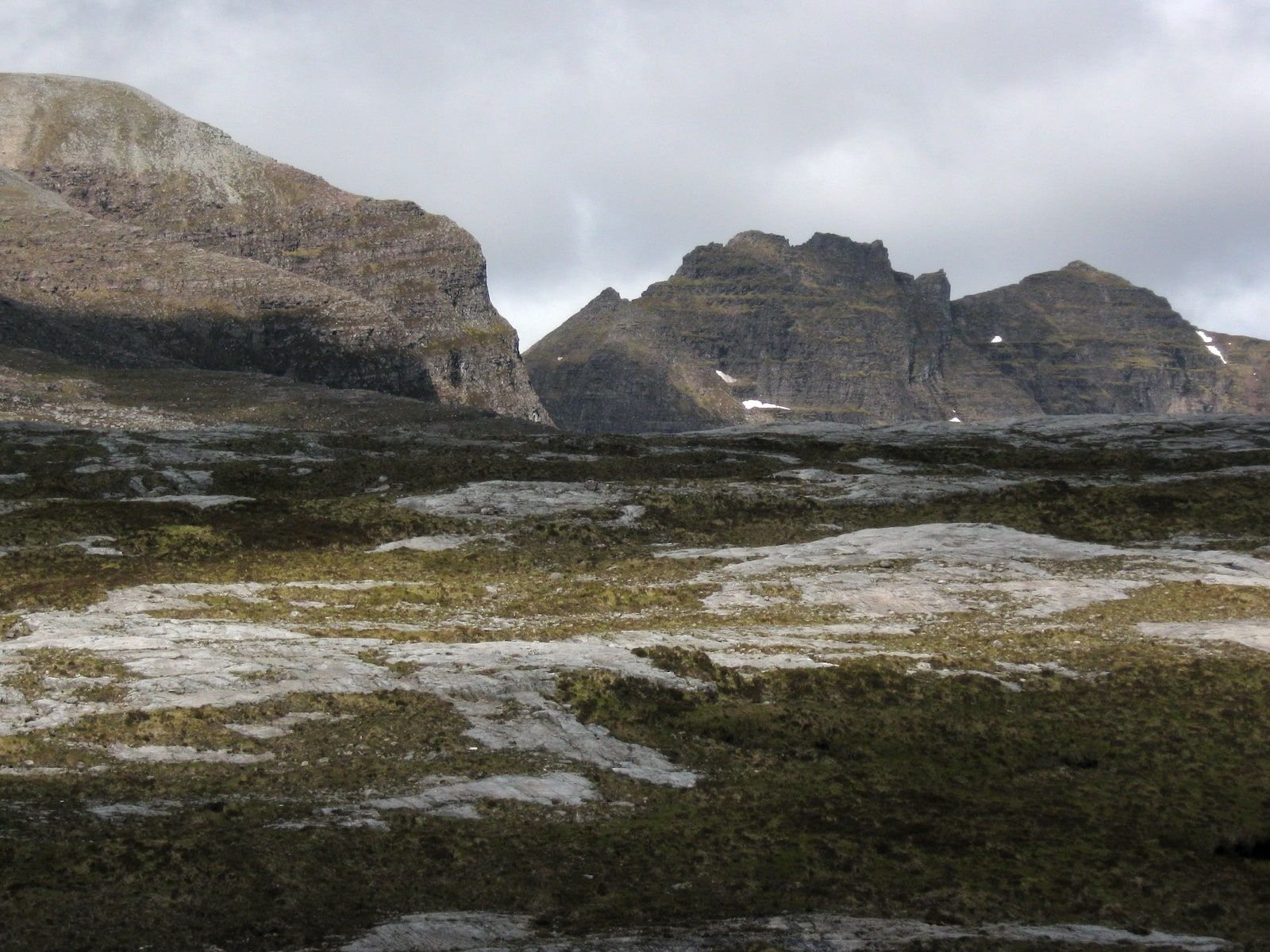 The CWT is an unofficial, unmarked long-distance trail from Fort William to Cape Wrath, the farthest NW point in mainland Britain. Many variants are possible; most routes will be roughly 240 miles (386km) in length, and it's a tough proposition even for experienced backpackers, passing through the wildest and most rugged landscapes in the UK.
Find out more about the Cape Wrath Trail here.
The Scottish National Trail
This is the big one! 547 miles (864km) running the length of Scotland from Kirk Yetholm to Cape Wrath, the SNT covers a wide variety of environments and landscapes, from rural farmland to remote wild land. Although it avoids some of the harder sections of the Cape Wrath Trail, much of the latter part is shared with it.
Summary
Lightweight backpacking in Scotland is possible, but you have to let go of chasing a specific weight goal, and instead focus on what you require.
Going light has a range of benefits from improved comfort to conceptual simplicity.
Weather and environmental conditions in Scotland can be both difficult and highly changeable. Your gear needs to be adequate for a wide range of conditions.
In most cases, adding a few carefully selected items – and perhaps swapping a few items for others – will make all the difference in your readiness to face the Scottish weather.
In the shoulder seasons, gear must be able to cope with potentially severe winter conditions.
To find out more, check out the articles and gear reviews on alexroddie.com and tgomagazine.co.uk.
---
Copyright information
Published in 2018 by Pinnacle Editorial Press
www.alexroddie.com/pinnacle-editorial
Copyright © Alex Roddie
Cover design by the author
The author asserts the moral right under the Copyright, Designs and Patents Act 1988 to be identified as the author of this work.
All rights reserved. No part of this publication may be reproduced, stored in a retrieval system, or transmitted, in any form or by any means without the prior written permission of the publisher, nor may be otherwise circulated in any form of binding or cover other than that in which it is published and without a similar condition being imposed on the subsequent purchaser.
'Base weight' is the weight of your pack minus consumables such as food, water and stove fuel. The weight of these items fluctuates on an hourly basis while on the trail, so one method of measuring pack weight does not count them – instead, only permanent items are counted. Another method is 'skin-out weight', which measures everything you carry from the start of the trail, but for the purpose of this feature we're talking about base weight. ↩
If you're scared of getting wet feet and pack an extra pair of shoes to change into, you're packing your fears. While it's important to be prepared, lightweight backpacking is about treading that fine line between absolute safety and efficiency – after all, time spent in the wild can never be absolutely safe, can it? ↩
For most people, that is. There are people out there who are highly experienced and have a gear list tuned to their precise needs – people who can go lighter. But I've been hillwalking and backpacking in Scotland for 12 years and I hesitate to go below 6kg even in summer. ↩
Alex Roddie Newsletter
Join the newsletter to receive the latest updates in your inbox.
Comments