Mercantour Traverse gear debrief
Ultralight gear choices in the high Alpine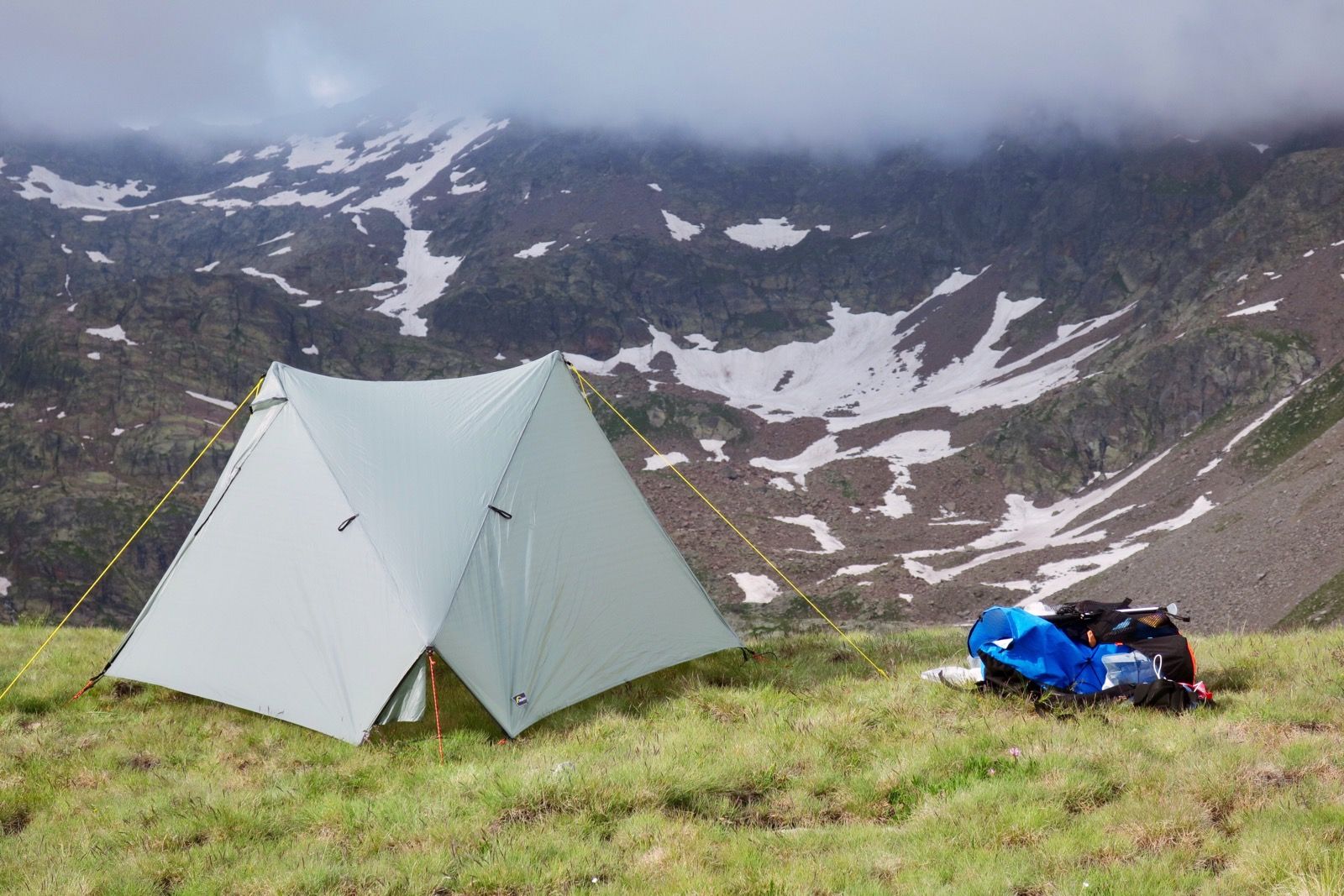 Ultralight gear choices in the high Alpine
In July 2018, I headed to the Alpes Maritimes to hike the Grande Traversée du Mercantour – a route just over 100 miles in length crossing some of the finest mountain landscapes in Southern Europe. I hiked the route in ultralight style with a base weight of 5.2kg. Including food and water, I estimate I carried no more than 9-10kg at any time.
You can view my gear list on Lighterpack here.
Hiking with such a light pack was great. My performance was significantly improved, not only in terms of mileage but also in how I felt at the end of each day. No aches or pains, no blisters, no foot issues; after a challenging 26-mile day over multiple cols I felt like I'd walked fewer than 15. Ultralight isn't for everyone, but when I'm in the mood for it I rarely regret my choice to hike in a UL style.
Overall, I'm satisfied with how my gear performed – I feel it was the most effective setup I've carried in an Alpine environment. That said, backpacking is a constant learning curve and gear selection is always a compromise. Here are some notes on my gear choices and a few remarks on what I'd do differently.
What worked
Most items worked as expected, but here are a few highlights.
As Tucas Millaris wind pants and shorts
Over the years, I've experimented with several different legwear setups, but have never found a system I'm completely happy with. I used convertible walking trousers last year in Norway but found them stuffy. This year I thought I'd try a combo I'd read about but never experienced myself: running shorts coupled with windproof trousers and rain skirt.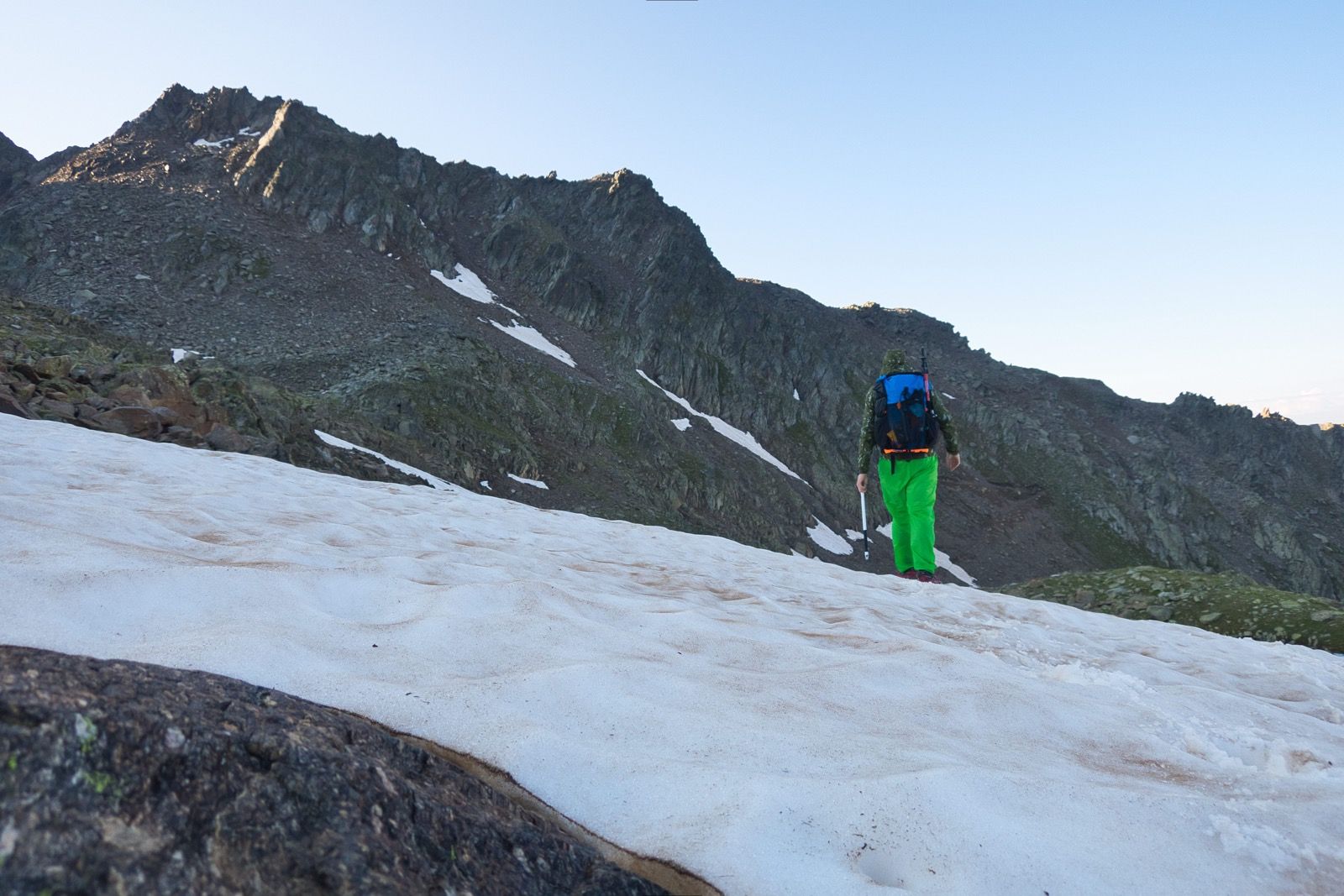 95% of the time, as expected, I just wore the running shorts. I added the As Tucas Millaris wind pants in the chilly mornings and on a few occasions when faced with cold winds and drizzly rain – scenarios in which these lightweight trousers excelled. Their superb breathability made them surprisingly performant in hotter conditions too.
I carried the rain skirt to deal with heavier rain, but I never had to wear it. The storms I experienced on the trail all hit late in the evening after I'd already pitched my shelter.
Would I use this combo in an Alpine environment again? Absolutely. While it's not a good setup for the UK, it works very well in stable, warm weather with short-lived and predictable storms.
Atom Packs Prospector
Watch my first look video of this product here.
I've used ÜLA packs for the last few years, but in 2018 ordered a custom pack from British cottage gear manufacturer Atom Packs. Its first major test was on the Mercantour Traverse.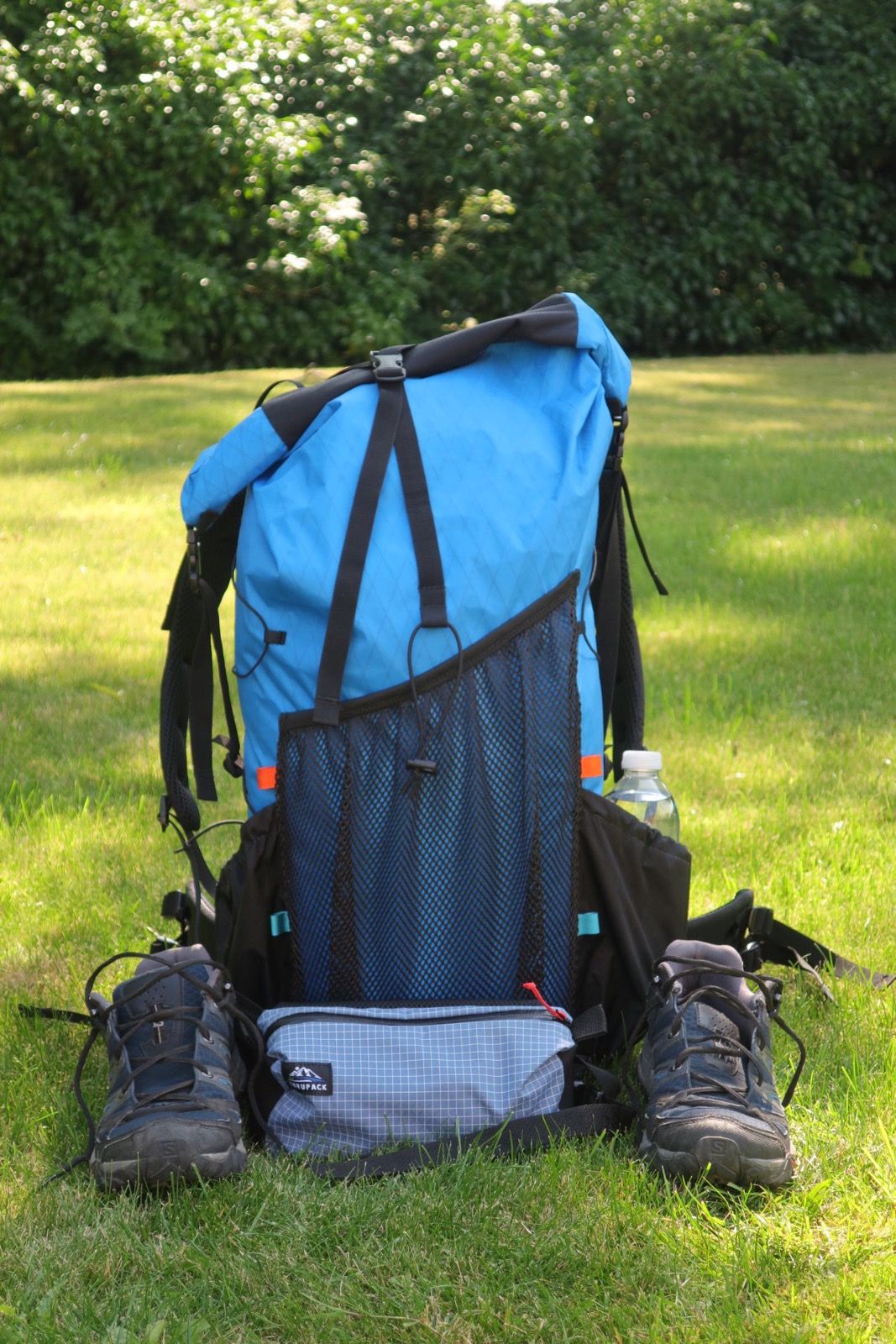 The pack performed extremely well. It was very comfortable carrying the load, it was more than big enough, it was waterproof, and the external storage options were perfect for my requirements. There's little more I can say about the Prospector other than it worked superbly and I'll continue to use it for future trips. Look out for a full review after I've put a few more hundred miles on it…
Thrupack Summit Bum waist pack
I used this waist pack instead of hip belt pockets. It has its own lightweight belt and a capacity of 3 litres, and I found it really convenient for storing my phone, camera, snacks, and a few accessories. I came to prefer it to hip belt pockets due to the fact that I can use it without my pack. It isn't waterproof but the fabric is quite water resistant.
Tarptent Notch 2018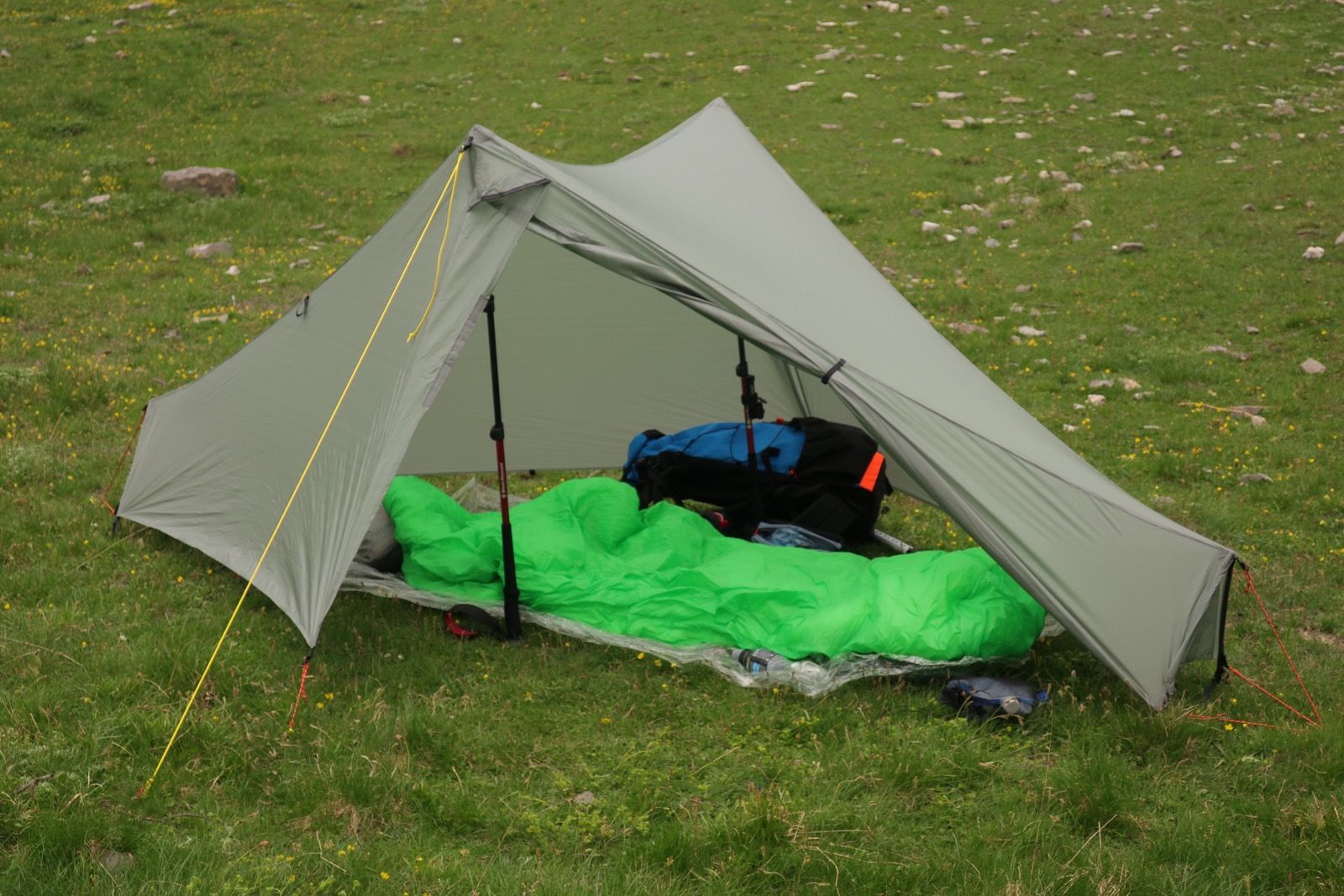 This is the second Tarptent Notch I've owned, so the shelter is a known quantity for me, but I appreciated the improvements in the 2018 version. It's more stable in high winds thanks to tweaked geometry, and the new door clips make it much faster to get in and out of the shelter. I think the clips are more secure in high winds too.
I used the Notch's fly alone, without the inner. This worked perfectly fine for the most part, but – as I'll discuss shortly – I would have appreciated a bathtub groundsheet on one occasion.
Pegs used were a combination of MSR Groundhogs and Alpkit titanium nails. The nails worked much better in the hard, stony ground than the Groundhogs.
Sunday Afternoons Sun Guide Cap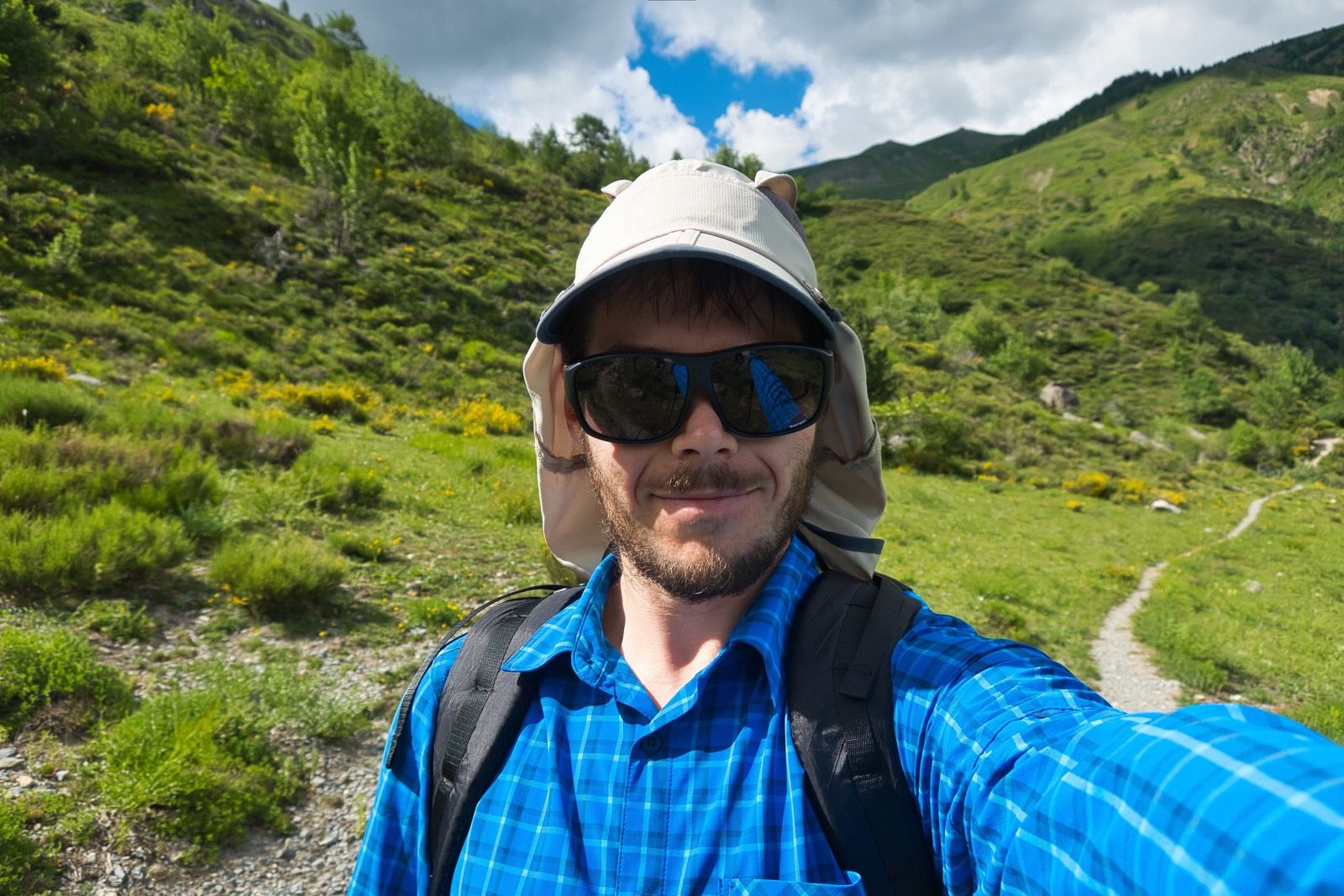 This is a hat I've had on test for TGO. It's optimised for environments with intense sunlight, so it was perfect for Mercantour. Thanks to the generous cape coverage, I had no issues with sunburn on my neck whatsoever, and I think the hat contributed to the fact that I used less sunscreen than expected (one small tube for the week). A great hat for hot, sunny places.
Lightweight ice axe and Microspikes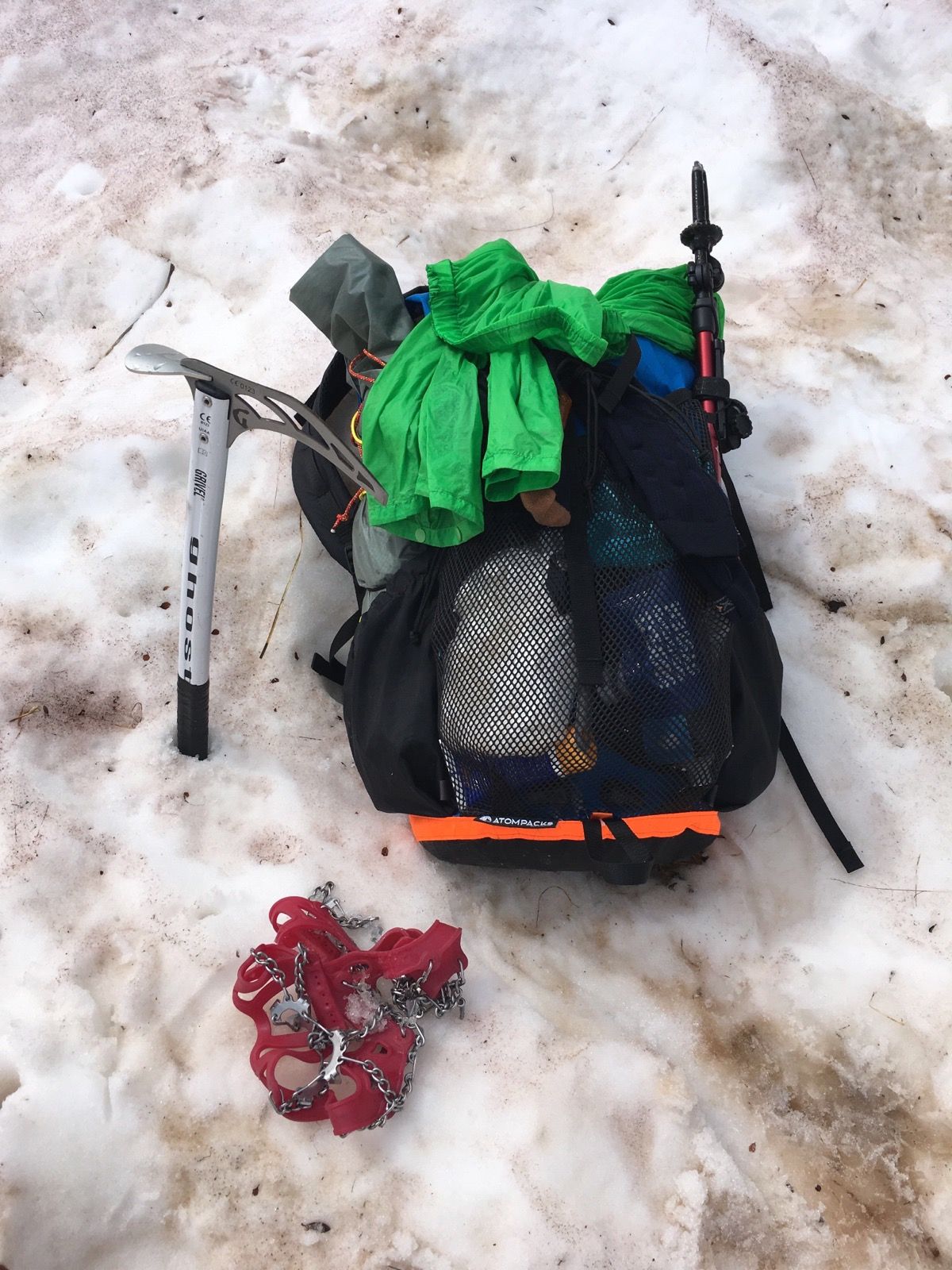 In the snowy conditions I encountered on this trail, packing an ice axe and some traction was a wise choice. I would have managed with spikes alone as the trails were well stepped-out, but I appreciated the extra security of my axe on steep ground. Full crampons would have been overkill for the conditions I experienced.
No-cook, stoveless approach to food
Some find this controversial, but I haven't carried a stove on an international trip for several years now, and I don't miss it. I just carry food that can be eaten without cooking. For me the main advantage is simplicity – there is no net weight difference in most cases, but not having a stove means one fewer thing to worry about, and I never need to look for stove fuel.
What didn't work so well
Polycro groundsheet
A flat polycro groundsheet is a staple UL item, and I've used it extensively with great success. It's a suitable choice if you are not expecting significant groundwater, and for six out of seven nights it worked absolutely fine as expected. However, on my third night my camp was clobbered by a massive storm and, thanks in part to poor site selection, my pitch was flooded – in my defence it was the only available spot that would take a tent. The rain was so hard for an hour that it bounced under the Notch's fly and spattered my quilt too.
I dried my gear out the next day; no harm done. In a colder, wetter environment this would have been a more serious incident.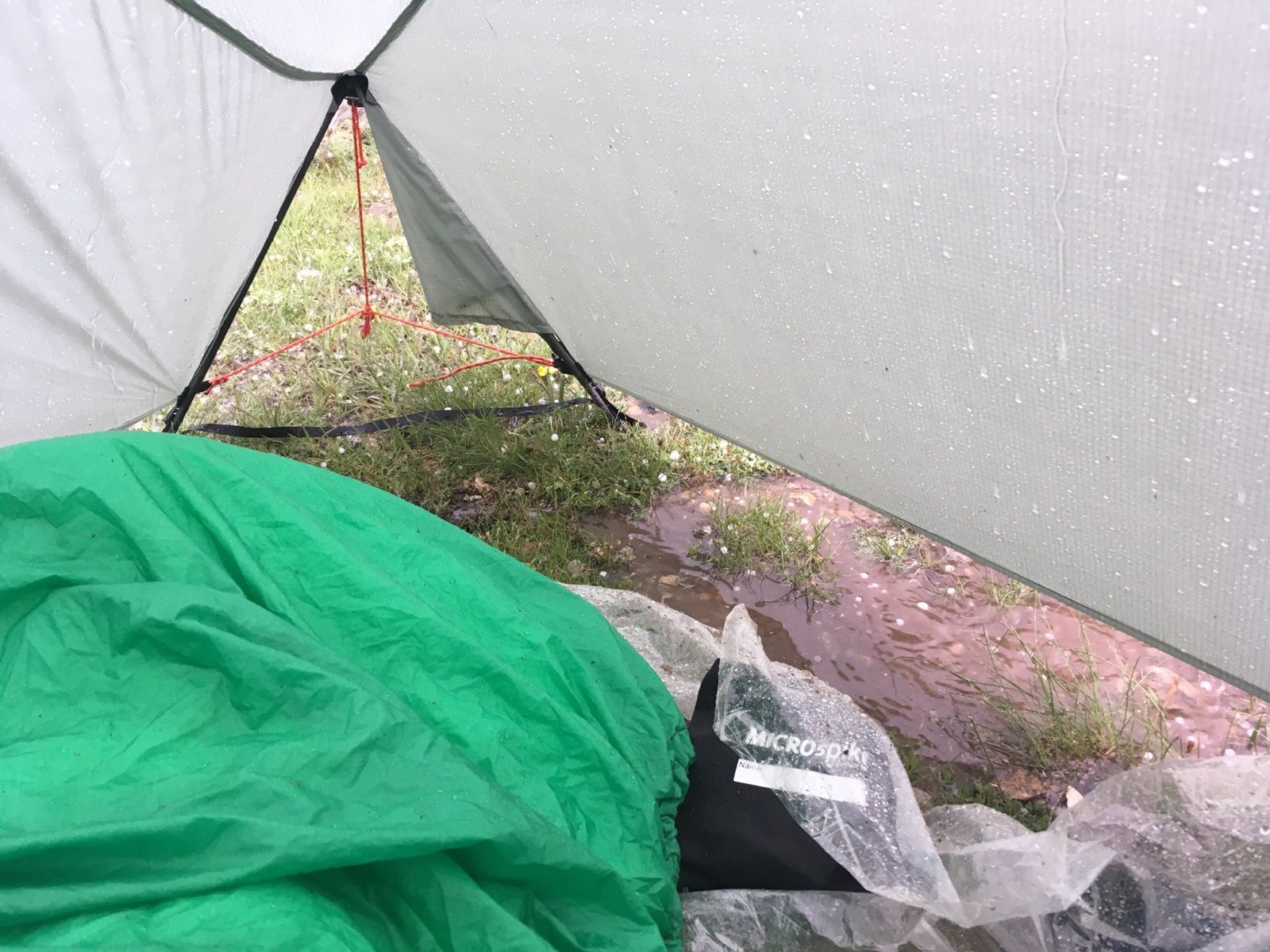 I forgot my long johns
I normally carry long johns to wear at night, but somehow I managed to forget to pack them this time. I ended up wearing the Millaris wind pants instead. Temperatures were mild so I didn't really need my long johns, but it can't be denied that my margin for error was reduced for not carrying them – cold, wet weather would have been challenging.
What I'd do differently
Bivvy bag
Would I take a polycro groundsheet to the Alps again? Yes, but I'd take a lightweight bivvy bag as well. My MLD Superlight bivvy has a silnylon bathtub groundsheet, and its water-resistant upper would help protect my quilt in the event of splashback.
Lightweight synthetic smock
I took a down smock as my sole insulation layer. While this performed absolutely fine, and I never needed a mid layer, a synthetic insulated garment would work a bit better as occasional active insulation thanks to better performance when damp. Of course, if wet and cold weather were expected, I'd take a lightweight fleece layer such as the Montane Allez Micro pull-on as well.
Alex Roddie Newsletter
Join the newsletter to receive the latest updates in your inbox.
Comments