The mountains of my life: Aonach Dubh West Face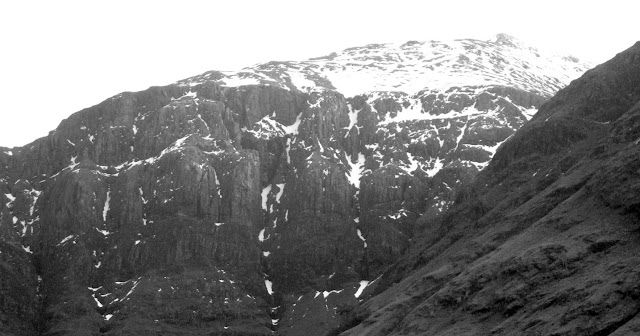 This blog post is part of a series of articles on mountains that have a special significance for me. See also: Bowfell,Tryfan, Stob Ban, and Castor.
Aonach Dubh. For me the very name has the ring of adventure about it. This mountain wall in Glencoe faces west and is vast in scale, divided by near-impossible gullies into a series of battlements, turrets, terraces, rakes, and a hundred lonely and hopeless places where humans rarely venture.The West Face was the first object to catch my attention on my initial visit to Glencoe in January 2007, and over the coming years I waged a determined campaign to explore this sublime and frequently baffling place. In many ways the West Face came to personify my life in Glencoe and became something of an obsession for me.This page from my Glencoe crag book perhaps illustrates what I mean by 'obsession':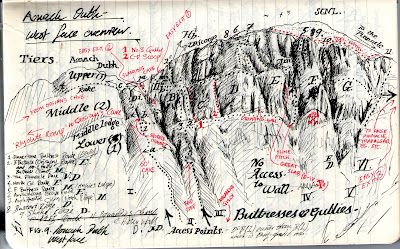 ~ THE LURE OF THE OBSCURE ~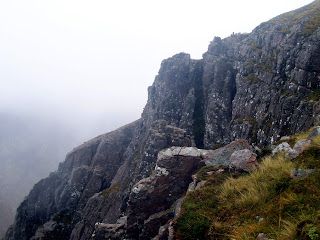 On B-F Buttress
My first climb on the West Face was conducted on a wet and stormy October morning in 2008. My partner in crime was Rachael Murphy, an old friend from my university mountaineering days, and the route we selected was a little-known Grade 3 scramble known simply as B – F Buttress Route. Neither of us understood the confusing topography of the cliffs and from the very start it intimidated us. Our route proved to be a brutal struggle largely consisting of vertical squirming through mud-choked chimneys and pulling on clumps of grass instead of the clean rock holds we had expected.It was an old-fashioned adventure and I absolutely loved it!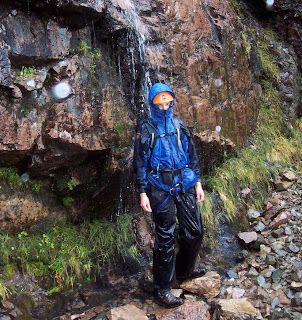 Rach enjoying typical West Face conditions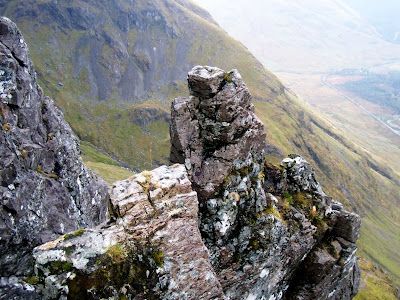 The pinnacle on F Buttress (Amphitheatre S Ridge)
Routes on this cliff rarely go straight from bottom to top. They weave from side to side, and are as much about the voyage as they are the destination. Prior knowledge of features such as the Middle Ledge, which traverses a series of undercut walls, or the Rake, which is blocked by a formidable barrier called the Great Slab, are essential to any ascent of the wall. Some places, such as the Amphitheatre, are impossible to escape without knowing the correct way. It's a serious place to climb, and I soon began to seek out the more unknown routes, always climbing alone.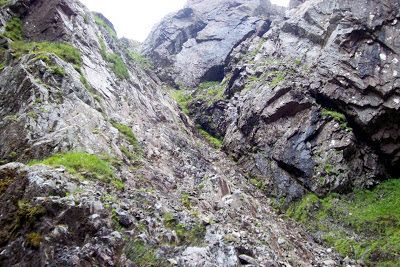 The Great Slab. This evil slab of rock is treacherous in descent
and is the source of epic avalanches in winter.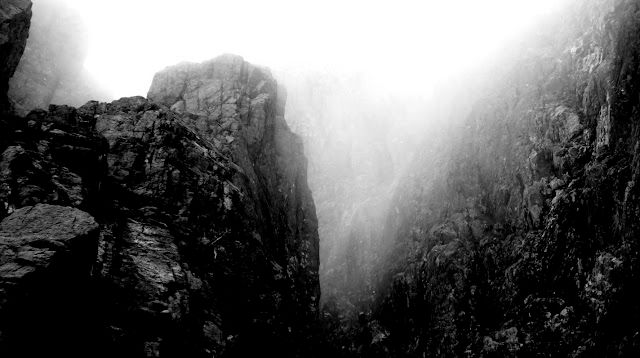 Into the gloom in No.3 Gully
Cragrats sometimes come here, usually to the clean vertical sweep of rock on E Buttress, but rarely venture to the more obscure and vegetated buttresses where nailed boots and a long ice axe are a distinct advantage (even in summer!) It's a lonely cliff which echoes with the cries of ravens but rarely hears the tramp of boots in quantity.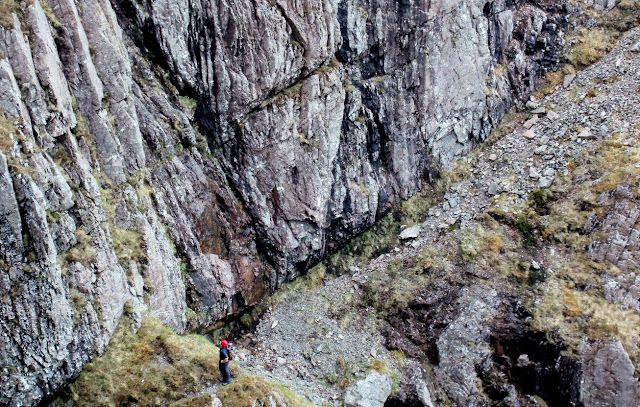 The author alone with his thoughts in the vastness of the Amphitheatre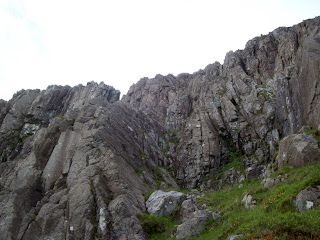 No.2 Gully Buttress, one of my less significant explorations
I started leaving the guidebook behind at some point in 2009 and began seeking out the routes which had never been climbed (or, at least, the ones which had left no evidence of previous ascent). A small number of minor and esoteric new routes in the lower grades bear the first ascent credits of A. Roddie in the journals of the Scottish Mountaineering Club.
~ THE DISCOVERY OF SHRIKE RIDGE ~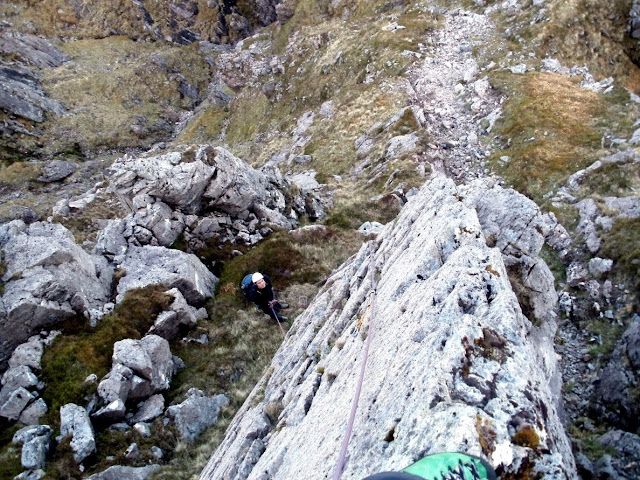 Me leading the razor arete on the third recorded ascent of Shrike Ridge in June 2010
If I have a finest hour as a mountaineer, this is it.
In September 2009
I set out alone onto the cliff with a will to explore the sharp ridges of F Buttress, only one of which is documented. As I was to discover, the central arete is a fine climb and has subsequently become a minor classic at the grade – and one of the finest easy routes on the entire mountain.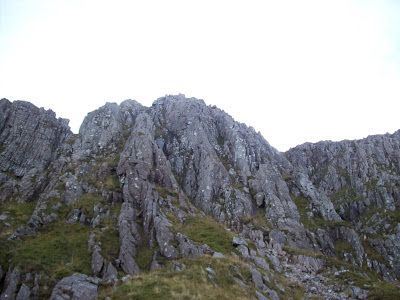 Shrike is the obvious straight edge in the middle
I climbed the initial arete with a rising sense of commitment. The technical standard is nowhere excessively high – it weighs in at Difficult, or rather easy by modern standards – but the exposure is fierce and at one point the ridge is only a few inches wide, with a big drop on both sides and only a wobbly spike for the feet! One particular move is extremely committing and it took time for me to summon up the courage to make it. Even on my second visit, with a rope and my brother James on the other end for safety, I found it difficult.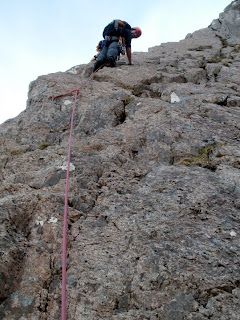 This route is no pushover but the integrity of the line and the quality of the rock, unusual for this side of Aonach Dubh, make it a superb adventure. The first ascent remains one of my finest days out on the West Face and a moment of pride in my mountaineering career.
~ NEAR-DISASTERS ~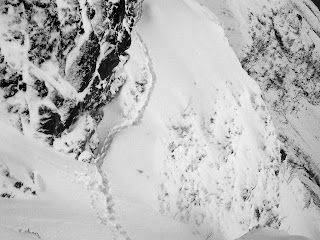 Avalanche conditions on the Middle Ledge
I've already mentioned that Aonach Dubh is a serious cliff. During my time at the Clachaig we saw headtorches of climbers stuck on the mountain several times, and I've also had my fair share of epics and near-disasters.
In 2008 I became cragfast while descending Dinnertime Buttress. I had spent over an hour helping a lost walker on the summit of Bidean and was late for work, so was hurrying in my descent of this easy scramble. A combination of poor visibility and ice on the rocks caused me to lose my way, and I found myself wedged into a funnel-shaped chimney, unable to move! It would have been funny if it hadn't been so frightening, and it took me almost an hour to extricate myself (which I succeeded in doing by removing my rucksack and dropping it down a ravine). Needless to say, I was late for the start of my shift.
In 2009 I was avalanched after retreating from unstable snow conditions during an attempt on C Buttress. The avalanche was terrifying to behold. It began simultaneously in Gullies 2 and 3 and swept towards me as I descended the grassy front of B Buttress. Fortunately most of the force had been expended by the time it hit me, but a wave of snow washed over the front of the buttress and sent me cartwheeling some sixty feet down the slope. I survived with nothing worse than a few bruises and a lost mobile phone.
Finally, in February 2009, the most harrowing incident of all! I have already written up an account of the
Pinnacle Face Incident
so I won't repeat it here.
~ THE DISCOVERY OF 2B SCOOP ~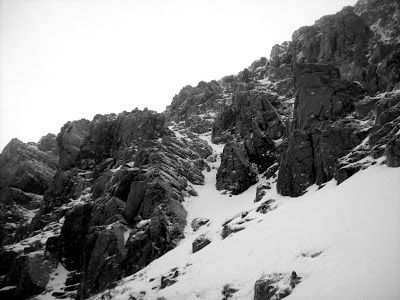 2B Scoop (I/II)
One of the challenges of climbing on the West Face, particularly before a shift behind the bar at the Clachaig, was choosing an escape route. Prior to my discovery of 2B Scoop, I believed there to be only two easy escapes from the wall: go a long way left across avalanche-prone slopes to Dinnertime Buttress, or aaaaalll the way right past F Buttress and into Coire Bheith (a big detour also across avalanche terrain). In January 2010, after climbing the ice route No.3 Gully, by chance I discovered a tiny little gully veering left into the slabby rocks above No.2 Gully Buttress. I investigated, and by chance discovered a short easy route on snow at about Grade I/II which provided a shortcut to the easy slope of Stob Coire nan Lochan above.
This discovery was minor in the annals of Scottish mountaineering – it barely deserves a footnote at best, and has probably been climbed before and left unrecorded – but for me it made a huge impact. Suddenly short climbs on the Middle Tier before a 3 o'clock start at work were feasible. No longer would I have to worry about crossing lethal slopes laden with unstable snow and waiting to avalanche. In the following few months I made use of this shortcut many times and its presence was a great source of comfort to me, although in a perverse way it took some of the spice out of climbing on the cliff!
~ THE GREAT AVALANCHE OF 2010 ~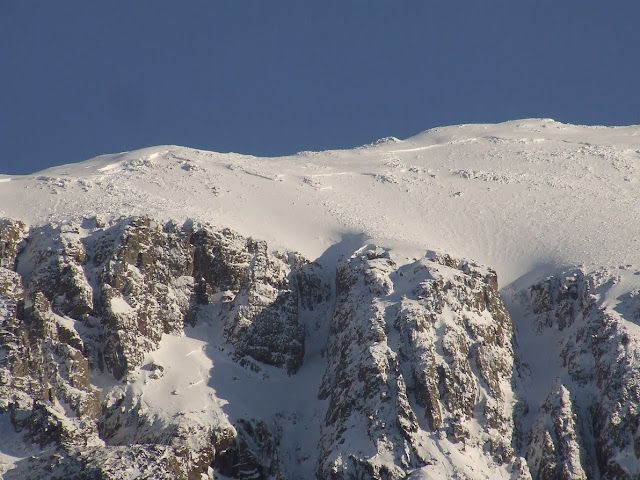 Part of the crown wall at the top of the face. The slabs of snow broke away from this point.
In 2010, after a particularly harsh winter with low temperatures and a great deal of snow, the West Face was struck by an avalanche of vast scale. Thousands of tons of snow broke free from the upper slopes and swept the wall, emptying itself into the gullies and ravines below.
Locals were heard to say that they had seen nothing of the like in living memory, and one Mountain Rescue volunteer of my acquaintance proclaimed that anyone climbing on the cliff at the time would certainly have perished. Fortunately there were no casualties, although the enormous floes of snow in the corrie beneath remained in evidence right into April.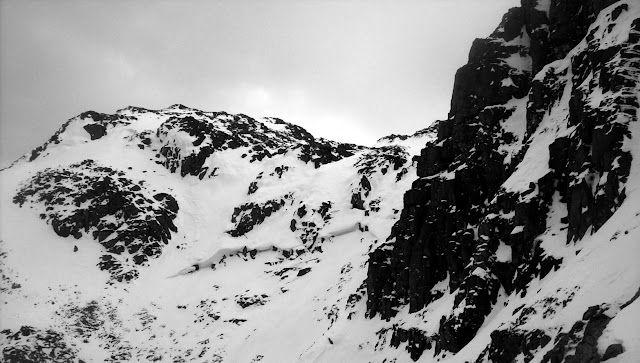 Another crown wall in No.2 Gully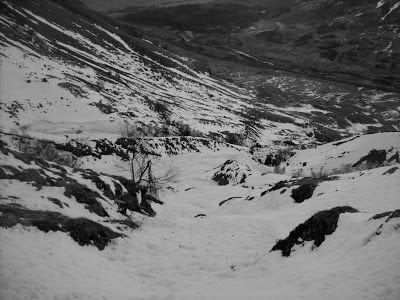 Debris floes in Coire Bheith
When I walked through Coire Bheith weeks after the avalanche I was astonished to see smashed trees, boulders shifted around, and entire watercourses hidden under metres of snow. These mountains may be small by global standards but they have punch!
~ AN OLD FRIEND ~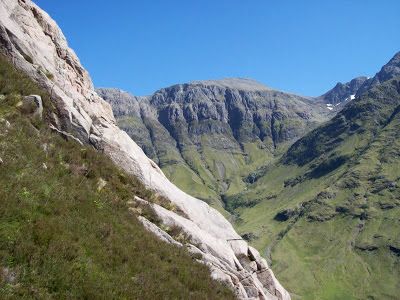 In summer splendour
For all its glowering moods and ferocity, I have nothing but the greatest of respect and fondness of this mountain. Every morning for nearly three years I opened my curtains and looked out on the cliff. It became, quite simply, part of the framework of my mind. I would spend hours every week just looking at it, getting to know it in every weather, learning its ins and outs before I even set foot on its perplexing ways. At work I would peer out of the window when I got a spare moment in between serving meals, and there it would be, looking back at me.
Aonach Dubh is an old friend, and although it has done its best to kill me more than once I think of it as a benign figure which has enriched my life and given me dozens of happy memories. Every walker or climber has a particular hill or crag they get to know better than any other – one which fills them with delight whenever they come back, and yet can always surprise them. The West Face of Aonach Dubh is mine, and I like the fact that no matter how many times I might return, I will never get to know it completely.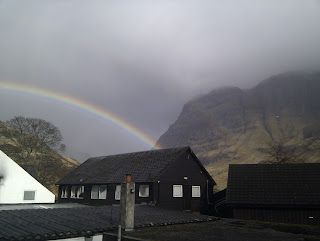 From my old bedroom window in the Clachaig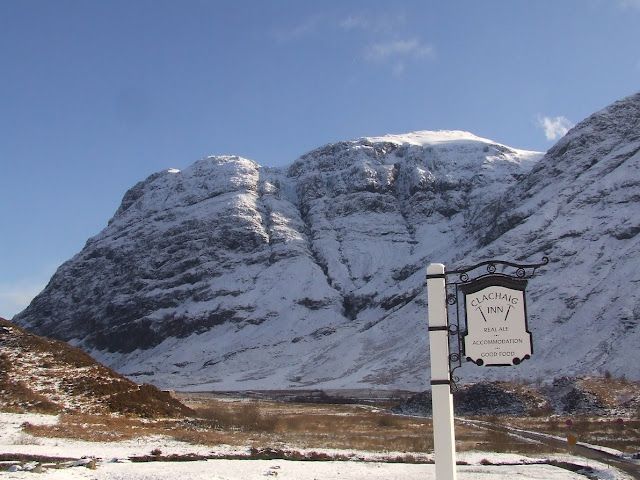 All photos ©Alex Roddie All Rights Reserved
Alex Roddie Newsletter
Join the newsletter to receive the latest updates in your inbox.
Comments