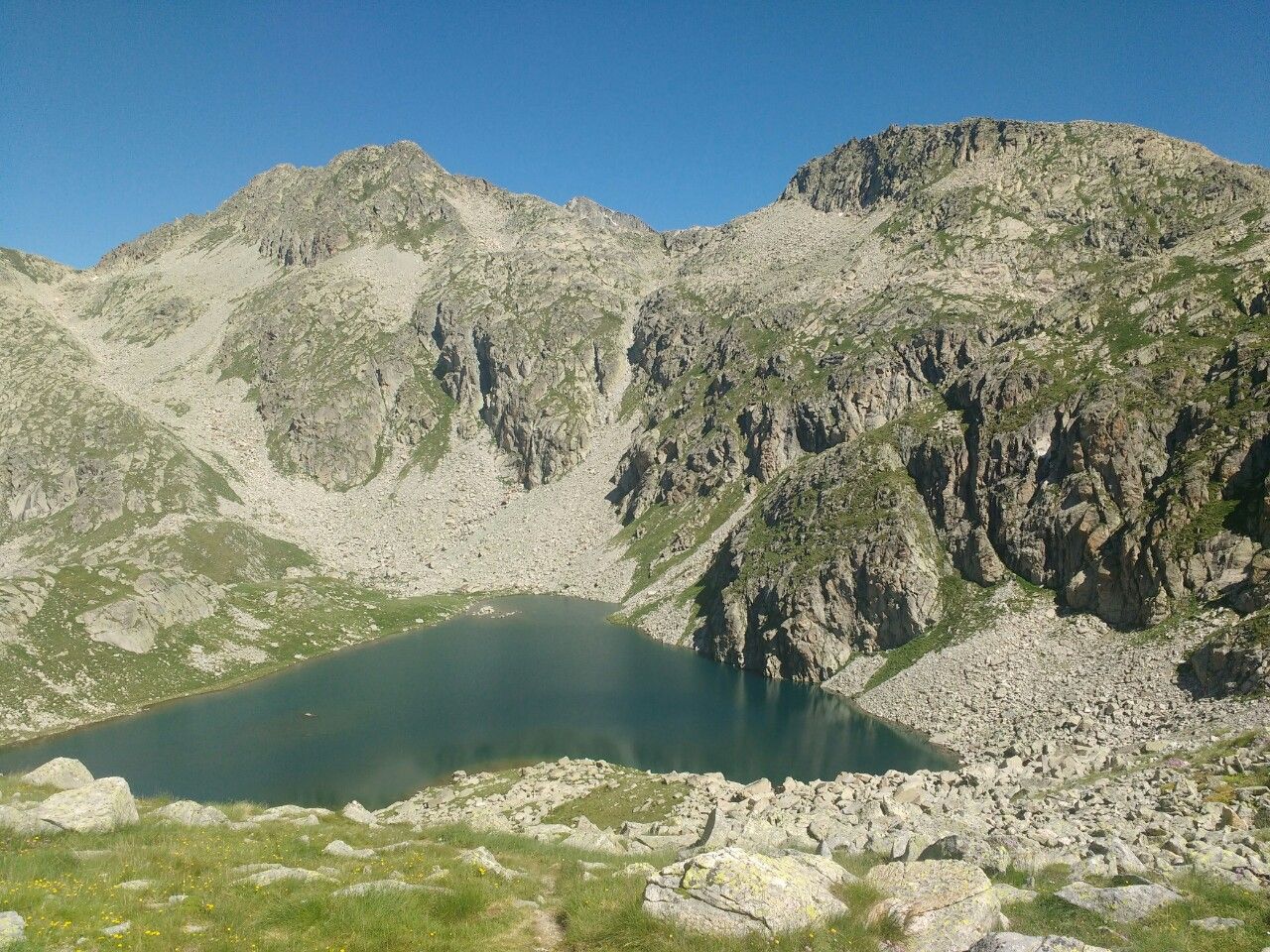 The HRP / GR11 blog series
An exhausting descent
Total miles walked: 113
HRP Stage: GR11 Variant Day 3
Location: Hospital de Vielha, near the tunnel entrance
Well, I don't think I actually got over my stomach bug after all. I woke late this morning, feeling nauseous and headachy, and could hardly face the prospect of breakfast. Somehow I managed to force down a few handfuls of GORP, but I caught a whiff of that jar of Spanish fake Nutella I'd bought for spreading in tortillas, and it almost turned my stomach then and there.
It was a beautiful morning. I struck camp and felt unwell as I struggled up the final 300m to the summit of the pass. I often feel a bit grim when at altitudes above 2,500m, but I should be well acclimatised by this point. I staggered along, hopping from boulder to boulder and negotiating the snowfields with what care I could muster.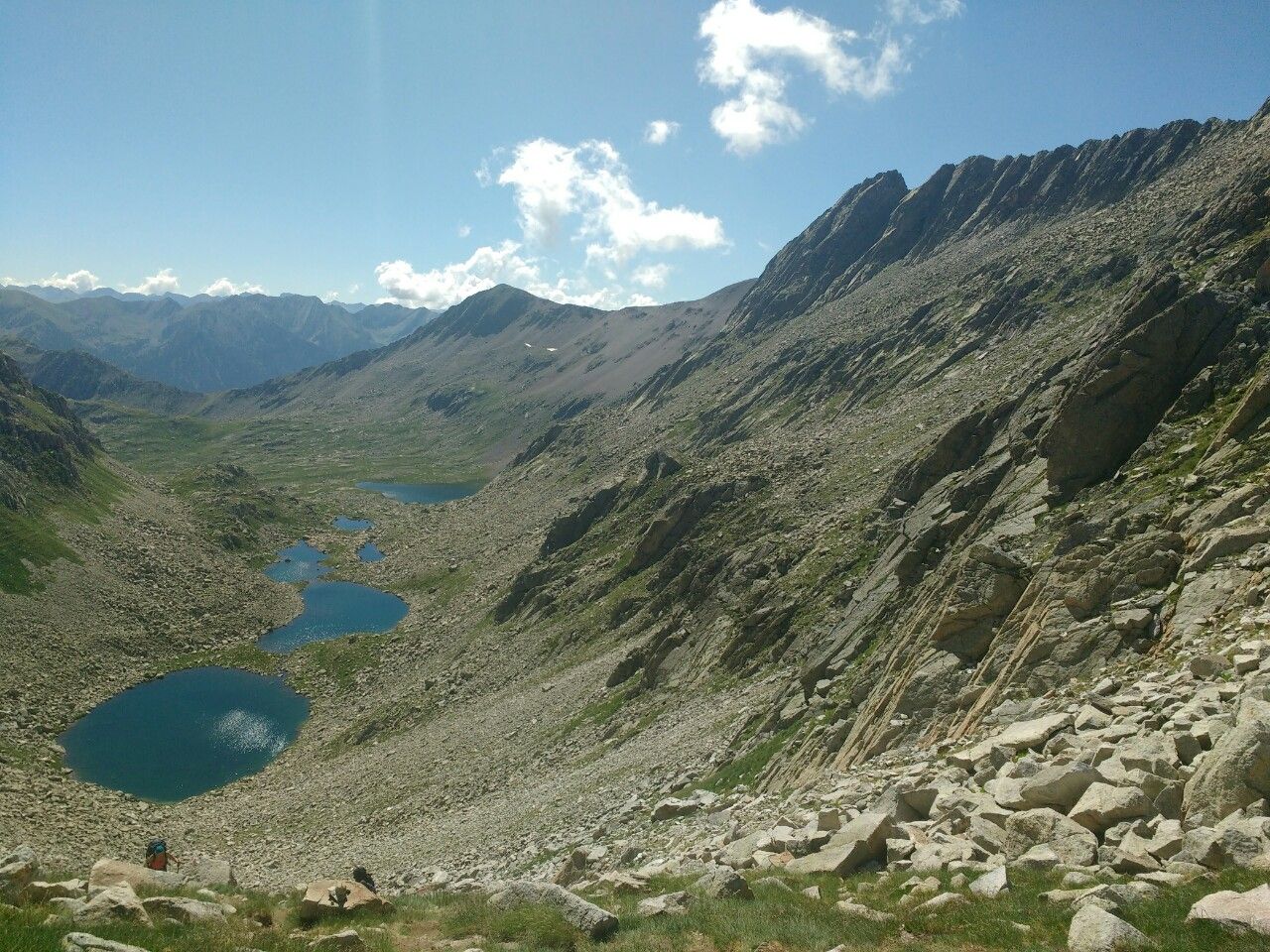 The view from the col was simply magnificent, but I felt too out of it to appreciate the vista as much as I should have done. The landscape on the other side was more of the same: a barren wilderness of shattered rock, dotted with blue lochans. And a hot sun blazed down on it all.
I met quite a few GR11 hikers on this demanding stage. Much of the time, there is no actual path and you have to find the best route across massive boulders between stripes of paint depicting the way. It's never particularly technical, but it does require concentration and I imagine it would be tricky in bad weather. There are plenty of short scrambly steps.
After a hut, there's another short ascent up to another col and I found this just as knackering as the first – if not more so. My stomach churned and I had to remind myself to keep drinking water. My train of thought sounded something like this: Was it those slightly dodgy olives I ate in Benasque? Or the fact that my food bag is frequently the temperature of a volcanic caldera when I retrieve it from my rucksack? Or something to do with the swarms of flies that seem to be everywhere? Could I have swallowed some unfiltered water? I must have Giardia. Or maybe a tick has bitten me and I have Lyme's disease.
The most likely scenario involves those olives, to be honest, or something else I've eaten that disagrees with me… maybe combined with a bit of heat exhaustion. But either way, it isn't fun.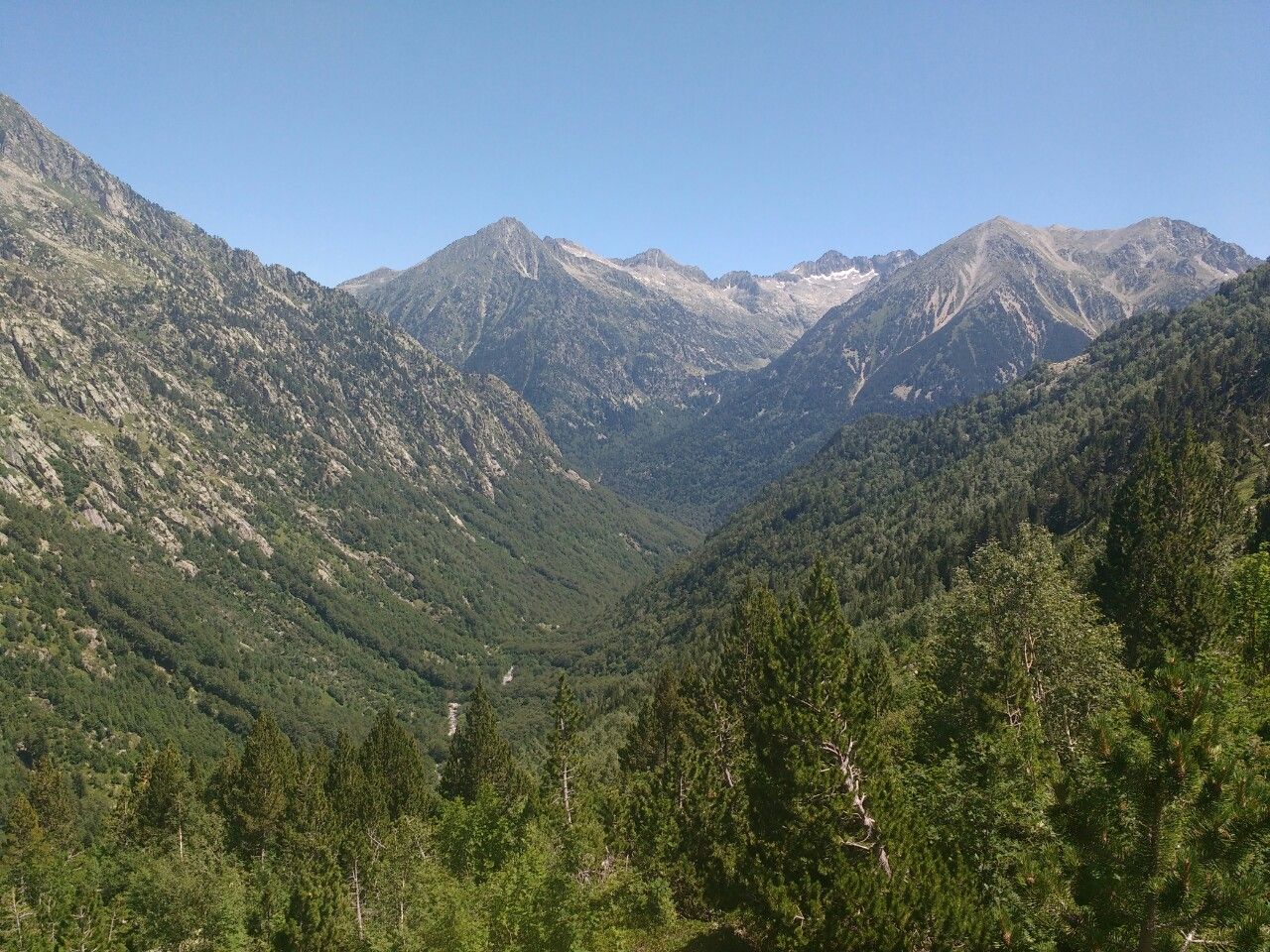 The descent of the Rio Ixalenques was bloody murder. At first I was delighted at the unspoiled forest that fills this valley, but the GR11 essentially disappears into a thicket of tangled blowdowns and doesn't emerge until about 600m lower. Scrambling down a mixture of dense forest, rocky ground, and vertical swamp isn't exactly fun at the best of times, and of course the horseflies came back with a vengeance. By the time I reached a bench next to a bridge over the river, I felt incredibly irritable.
My destination for tonight is the Hospital de Vielha (a refuge, not actually a hospital). Given my baffling illness, which is seriously affecting my ability to hike as well as making me feel generally unwell, I'm actually considering leaving the trail here. There is a tunnel heading north under the mountain to Vielha; there may be a bus, or I could hitch. And from Vielha, there could be a bus heading north into France. I need to check out the options when I find 3G signal.
I'll see how I feel tomorrow, perhaps. But I'm well aware that, from Salardu, the most difficult and remote section of the HRP begins: 7-8 days without resupply to Andorra. I need to be at my best if I'm to succeed, and there are no more escape routes to the north after Salardu.
Alex Roddie Newsletter
Join the newsletter to receive the latest updates in your inbox.
Comments