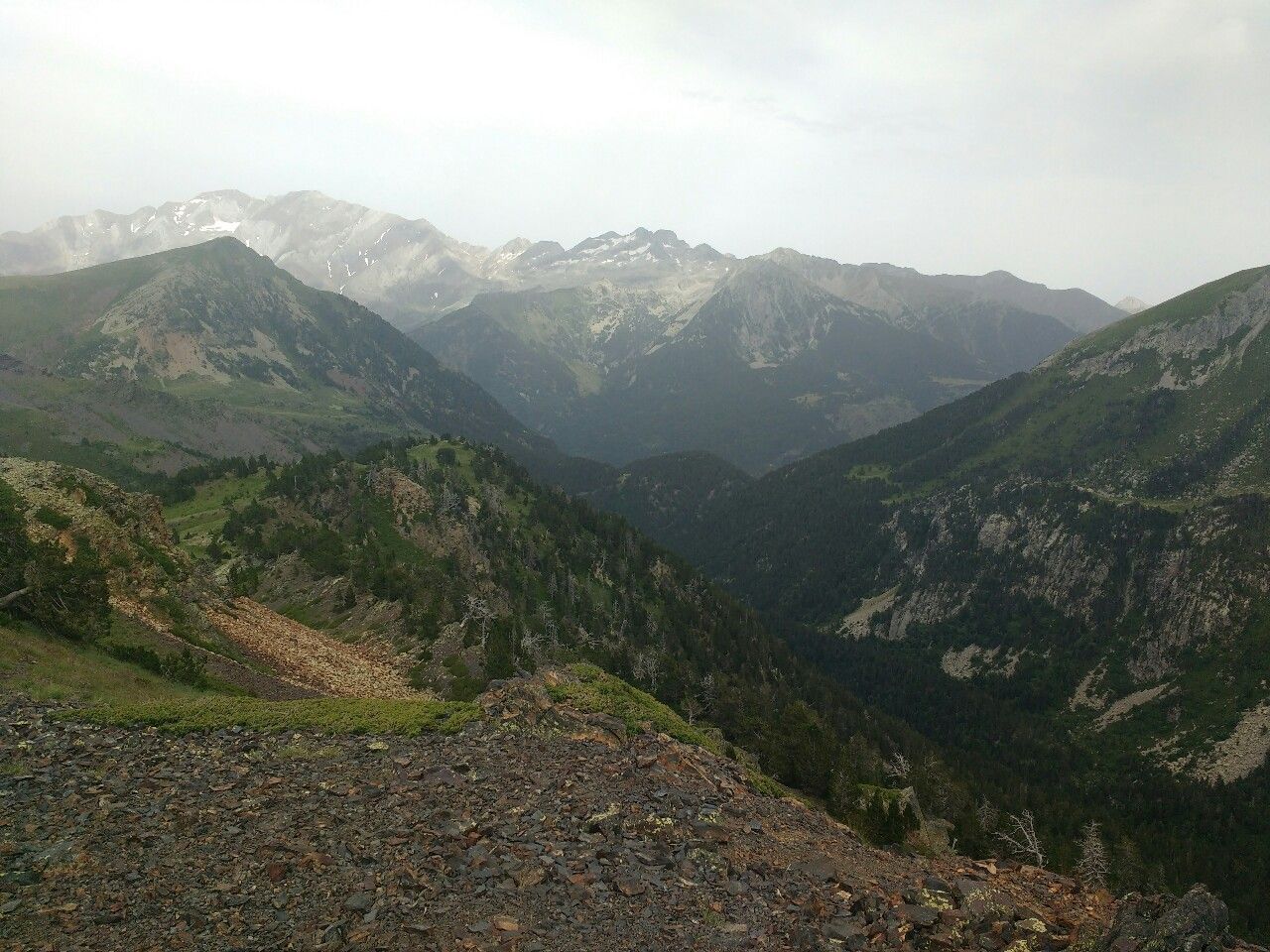 The HRP / GR11 blog series
Chased by thunderstorms
Total miles walked: 79
HRP Stage: 19
Location: Camping el Forcallo, Viados
It's been a strange sort of day. It started with a sense of irritation and annoyance at the various forms of insect life that had invaded my camp the night before, and continued to make themselves a nuisance early in the morning: legions of flies, horseflies (bites now cover both legs, and one even managed to bite me through my so-called bugproof shirt), and even a few mosquitos. I struck camp quickly and began the final descent to Parzan.
The sky had an odd sort of look to it: increasingly hazy, with a heavy, almost liquid appearance. I could sense rain in the air and I knew the weather was on the verge of breaking.
When I reached Parzan, four miles later, I was pleasantly surprised. Joosten says there is no shop here, but I'd heard the situation had improved. There are now two large supermarkets; the first on your right as you enter the town is not the best, stocking mainly alcohol and food in bulk pack, but you could do a resupply here. The better choice is the small shop next to the petrol station. This shop stocks every food item you could need, and also has a decent selection of outdoor gear, even footwear. The cafe next door does excellent coffee and has free WiFi.
As I sat on the terrace updating my trail journal and drinking my first cup of coffee in over a week, the weather suddenly changed. A huge gusts of wind swept through the village, and thirty seconds later a heavy rain shower followed it. I decided to stay put for a while.
I ended up staying in Parzan for several hours, waiting for the rain to stop. I made friends with an incredibly fluffy dog who seemed to belong to the petrol station, and was clearly suffering from the heat. The rain didn't cool things down much; the petrol station's thermometer read 34 degrees. After lunch, I couldn't justify staying in town any longer, so I put on my poncho and started hiking back up the road to the GR11.
The rain was intermittent by this point but the humidity was now dreadful. My orange silnylon poncho is not breathable; it's designed to be well ventilated instead. That's fine if there's a bit of a breeze, or if the temperature isn't 34 degrees and you have the height of Ben Nevis to climb on about fifty switchbacks up a dirt road, but today I suffered badly from condensation. It was so warm I sometimes found it preferable just to hike in my windshirt and to allow myself to get a bit damp. I soon dried out when it stopped raining again.
The Paso de los Caballos is without doubt the least interesting col I've traversed on this trip so far. A dirt road leads up to a hydro station, then over the col itself. There's an awful cabane just beyond the col, filthy inside and with a chimneystack on the verge of collapsing in on itself. Joosten says it's best regarded as an emergency shelter, and I agree. Things improve for a while on the other side of the col, though – the path is a delight for a few miles as it descends through open pine forest. Then the GR11 becomes a recently bulldozed dirt road and stays like that all the way to Viados.
On the way up, regular showers forced me to wear my poncho, and it did keep me dry – but unfortunately the bright orange colour attracted swarms of flies that followed me and tried their best to fly directly into my face. For some reason they were also obsessed with the handles of my trekking poles (perhaps due to the salt from my sweat?). I hiked faster than usual to try and get away from them, which I didn't succeed in doing until about a hundred metres below the col, where there was a breeze. It felt much cooler up there.
I heard the first distant rumble of thunder about a mile below the col. I looked around but could see no thunderclouds, just the same old haze. I kept walking. Light rain came and went; I put on and took off my poncho several times an hour. My plan had been to find somewhere to camp not far beneath the col, but then I looked behind me and saw a sky the colour of pencil lead. There was no defined thundercloud, just a vast mass of darker cloud, as if the persistent haze obscured its structure.
I increased my pace and forgot my plan of camping high. I've been warned about Pyrenean thunderstorms.
About halfway down, the rain had completely stopped but the thunder drew ever closer. I saw the occasional flash, and counted to eight before the boom reached me. Down the horrible bulldozed track; past the man in the bulldozer gouging out the next section of mountain to build this brutal road to nowhere.
When I was two miles from Viados the sky behind me was the colour of coal dust. It looked absolutely terrifying and occasionally I saw lightning bolts streak out of the cloud and strafe the mountain tops. By this point I was power walking, probably nudging 7mph, and I counted six crocodile between flash and thunder. It was not raining but I had my poncho on because I expected it to pour at any moment.
I strode past the large Catholic youth campsite on the Camino de Santiago. Only a few hundred yards to go. Three crocodile.
I got to the campsite, paid for my pitch in the office, and erected my Trailstar just in time. Two minutes after my shelter was up, the storm broke on Viados and the thunder became so violent I could hear other campers screaming between blasts. The rain came down in sheets, in waves, and I tightened the guy ropes from inside, anxiously watching the puddles forming around the perimeter of the flysheet, hoping I'd selected the right pitch so that water couldn't flow into my sleeping area.
Two hours later, it's dark, the storm is moving away, but occasional flashes still illuminate the inside of my tarp. It's still raining, but my sleeping area hasn't flooded (touch wood). As I type up today's trail journal I realise that I've done a seventeen-mile day without intending to or even noticing – which just goes to show that being chased by a thunderstorm is a powerful motivator!
The forecast is for two more days of storms. In these conditions, there is no question of taking the northern, high-level route. I'll follow the GR11 to Benasque and assess things when I get there. I would still like to take the route north of Aneto, but today has taught me that thunderstorms are no laughing matter in these mountains, even at valley level. I shudder to think what it would be like spending a night up high in this.
Alex Roddie Newsletter
Join the newsletter to receive the latest updates in your inbox.
Comments